User:OctoRed/Mario vs. Bowser
Jump to navigation
Jump to search
Mario vs. Bowser​
Mario vs. Bowser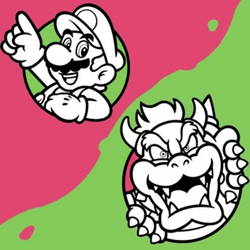 | | |
| --- | --- |
| Time: | June 20, 2:00 PM EST |
| Colors: | Salsa vs. Guac |
| Popularity: | N/A% Mario | Bowser N/A% |
| Wins: | N/A% Mario | Bowser N/A% |
| Score: | N/A% Mario | Bowser N/A% |
| Winner: | N/A |
Rules
Join on my talk page
You do not have to wear the Splatfest Tee Replica
Tell me if there is a friend of yours that wants to join through my talk page.
The Results will be finished by Tuesday.
If there are disconnects and the other team wins, then the match will not count.
Synergy will be counted.
FC: 5998-8257-4667
Stages
Random!
People
Mods
OctoRed
Mario
OctoRed
Bowser