Character
Jump to navigation
Jump to search
This article lists characters in the Splatoon series.
Playable characters
Important characters
Vendors
Antagonist
The Octarians are the main antagonistic species of the story mode in Splatoon. They reside in Octo Valley, and are responsible for stealing Zapfish from Inkopolis. Their main ink color is dark fuchsia. The Octarians fought against the Inklings for territory in the Great Turf War and lost. Unlike Inklings, the species includes a great number of sub-species that act differently from each other.
Salmonids are a family of Salmon and Trout introduced in Splatoon 2's Salmon Run. They reside far off the coast from Inkopolis on man-made islands called "Spawning Areas". Like Octarians, they have many different varieties.
Notable species
Inklings are a sentient race of squid-like humanoids who are the main playable species in the Splatoon universe.
Octolings are the Octarian equivalent to Inkling, being octopus-like humanoids.
Jellyfish can be seen scattered in Inkopolis Plaza and across various Stages.
A species and type of currency in Splatoon and Splatoon 2. Their sole use is to increase the number of slots on gear or reroll all gear abilities on a select piece of gear.
Creatures that appear in Splatoon's Octo Valley and Splatoon 2's Octo Canyon modes. The player must rescue one at the end of every level in order to proceed in the story. To take the Zapfish, the player must burst its shield with ink, like the Rainmaker's shield. Then they must touch it and the screen and music will change to say that they have passed the level.
Bands
Other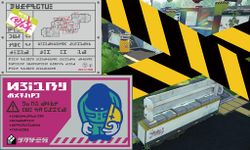 Moles[1] that act as construction workers.
Sally and Hara Wataru, a pair of graffiti artists.
Marie mentions having a friend who is a Blackbelly Skate.
Marina mentions that one of her friends is a Sea Sponge.
References
↑ SplatoonJP on Twitter. Splatoon Japan (2015-07-27). Retrieved on 2015 July 27.