Sankichi Hinodeya
This article or section is a stub.
You can help the wiki by

adding

to it.
This page is under construction.


Please excuse its informal appearance while it is being worked on. We hope to have it completed as soon as possible!
Can you help us get it done?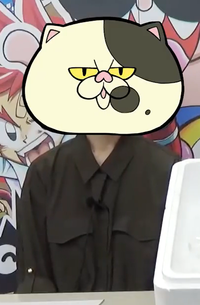 Sankichi Hinodeya (ひのでや参吉 Hinodeya Sankichi) is the creator of the Splatoon manga who worked on Kanitama-Kun, Arincho-Kun, Mega Man, and The Dempa Men before being attached to the Splatoon characters so much that he had to work on the Splatoon manga more.
History
Sankichi joined Twitter on September 2010, posting a sneak peek of Kanitama-Kun.
Sankichi posted a first look at a manga for Splatoon on April 2015.
Sankichi made the very first and unoffical issue of the Splatoon manga on May 2015 and was seen in June's CoroCoro issue.
Sankichi made and published another one-shot Splatoon on December 2015 and was in CoroCoro's December issue as well.
Trivia
He is the only Splatoon worker/fan in the CoroCoro video who's face is not shown, presumably for privacy reasons.