Inkipedia:Policy
Jump to navigation
Jump to search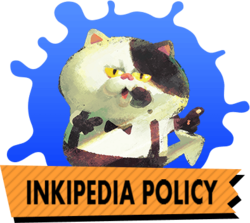 Here at Inkipedia, we strive to create a safe, friendly community for all visitors. Because of this goal, we have a strict policy that all users must follow. If you have any questions or concerns about our policy, please feel free to visit the discussion page or talk to an administrator.
The 7 NOs of Inkipedia
Formatting, Layout, and Article Procedures
Scope of the Wiki
User Accounts
About Inkipedia

Thank you for following these rules, and have a tenta-cool time!