Inkipedia:Policy/Inappropriate content
Jump to navigation
Jump to search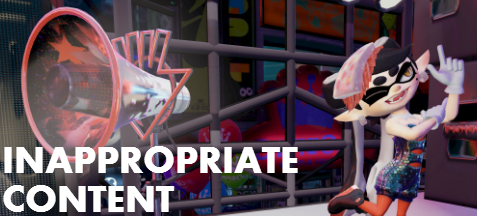 Here at Inkipedia, we do not tolerate inappropriate content of any sort.
---
Inappropriate content is anything that was created or placed on the wiki that is not appropriate for Splatoon's target audience. Inkipedia is visited by a wide range of users, many of whom are children or want a safe, clean environment to read and edit. If you see any inappropriate content, please remove it and notify an administrator immediately.
Examples of inappropriate content
Using curse words (no questions- if you have to question it, it's a curse word)
Linking to inappropriate pages
Nudity
Unapproved references to sex, drugs, or alcohol
Any other act that an administrator finds harmful to the wiki and children that may visit it
Consequences of posting inappropriate content
Administrators have the right to block any user for any amount of time. They may also determine if an account of inappropriate content counts as minor or major. The block times listed below are merely suggestions.
Minor offenses
1st offense: 1-day block
2nd offense: 3-day block
3rd offense: 1-month block
Major offenses
1st offense: 1-month block
2nd offense: 1-year block
3rd offense: Indefinite ban
Extremely major offenses
1st offense: Indefinite ban