Splatune 3 (Splatoon 3 Original Soundtrack)
From Inkipedia, the Splatoon wiki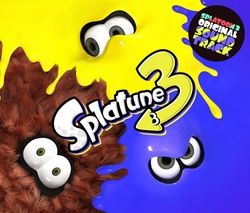 The real world!
This article or section discusses subjects found
in real life
.

This page or section is under construction.
Please excuse its informal appearance while it is being worked on. We hope to have it completed as soon as possible!
Can you help us get it done?
Splatune 3 is the original soundtrack for Splatoon 3. It was released in Japan on 26 April 2023.[1][2] It has four discs and includes both the game's soundtrack and the Deep Cut Concert at Nintendo Live 2022.
Tracklist

Translation needed
Translations and romanizations need to be checked
edit
The tracklist has been published on the My Nintendo Store in the Japanese region.[3]
The Tricolor Turf War variant of "Splatfest – Match Opening" is absent from the soundtrack. The songs from previous games that only play in the Battle Lobby and the jukebox are also absent, but other songs from previous games are featured (namely Cap'n Cuttlefish's Theme, Octoling Rendezvous, and all returning Salmon Run music).
Disc 1
Disc 2
Disc 3
Track no.
English song title
Japanese song title
Romanization
English artist name
Japanese artist name
1
Deep Cut's Theme
すりみ連合のテーマ
Surimi Rengō no Tēma
Deep Cut
すりみ連合
2
"Alterna Citizen Program M-00: Init (Test Noise)"
オルタナ市民プログラム M-00:Init(テストノイズ)
Orutana Shimin Puroguramu M-00: Init (Tesuto Noizu)
3
Surprise and Shine
驚天動地ゴンタクレー
Kyōtendōchi Gontakure
Deep Cut
すりみ連合
4
"Treasure Obtained"
オタカラ ゲット
Otakara Getto
5
"Reformation"
改心
Kaishin
6
"Combining the Treasures"
オタカラ合体
Otakara Gattai
7
"So Smooth"
トゥルトゥル
Turuturu
8
"Thrilling Corporate News"
商会ワクワクニュース
Shōkai Wakuwaku Nyūsu
Grizzco
クマサン商会
9
In Filtration
-
Octoplush
MOF8
10
Hide and Sleek
疾風怒涛カチコンドル
Shippūdotō Kachikondoru
Deep Cut
すりみ連合
11
Smeared Canvas
天命反転ローリンストン
Tenmei Hanten Rōrinsuton
12
"Mr. Grizz Appears"
クマサン登場
Kuma-san Tōjō
Grizzco
クマサン商会
13
"Rocket Launch"
ロケット打ち上げ
Roketto Uchiage
14
"Go, Agent 3!"
行っけー3号!!
Ikkē 3-gō!!
15
Bear with Me
クマサンからのおねがい
Kuma-san kara no Onegai
Grizzco
クマサン商会
16
Calamari Inkantation 3MIX
シオカラ節 Three Mix
Shiokara-bushi Three Mix
Deep Cut x Squid Sisters
すりみ連合 × シオカラーズ
17
"Massive Fuzzball"
巨大な毛玉
Kyodai na Kedama
18
Wave Goodbye
シオカゼの星
Shiokaze no Hoshi
Squid Sisters
シオカラーズ
19
"Alterna Citizen Program M-??: mY dEAR"
オルタナ市民プログラム M-??:mY dEAR
Orutana Shimin Puroguramu M-??: mY dEAR
20
"Anarchy Poisons"
蛮殻三毒楽(今様)
Bankara Sandokugaku (Imayō)
Deep Cut
すりみ連合
21
"Anarchy Splatcast (Splatfest)"
バンカラジオ(フェス)
Bankarajio (Fesu)
22
Anarchy Rainbow
蛮殻ミックスモダン
Bankara Mikkusu Modan
23
"Splatfest – Theme Announcement"
フェス お題発表
Fesu – O Dai Happyō
24
Soak & Stomp
-
Anglerfish
25
"Splatfest – Match Opening"
フェスマッチ オープニング
Fesu Matchi – Ōpuningu
Deep Cut
すりみ連合
26
Fins in the Air
衝天プチョフィンザ
Shōten Puchofinza
27
Till Depth Do Us Part
張拳ゴーアヘッド
Hariken Gō Aheddo
28
Liquid Sunshine
春風とペトリコール
Harukaze to Petorikōru
Squid Sisters feat. Ian BGM
シオカラーズ feat. RANOMAT
29
Now or Never!
イマ・ヌラネバー!
Ima Nuranebā!
Deep Cut
すりみ連合
30
"Splatfest – Battle Victory"[a]
上げ潮ノッテモーテル
Ageshio Notte Mōteru
31
"Splatfest – Battle Defeat"[a]
辛酸ナメマンタ
Shinsan Name Manta
32
City of Color (2023)
ハイカラシンカ'23
Haikara Shinka 23
Squid Sisters
シオカラーズ
33
Tomorrow's Nostalgia Today
BRANDNEW HOMETOWN ~それより明日の話を~
BRANDNEW HOMETOWN Soreyori Ashita no Hanashi wo
34
"Splatfest – Final Results"
フェス 最終結果発表
Fesu – Saishū Kekka Happyō
Deep Cut
すりみ連合
35
"Splattack! (

18 February 2021

Trailer[b])"
Splattack! (2021.2.18 PV)
-
36
"Clickbait (Demo Tape)"
Clickbait (Demo Tape)
C-Side
37
"Paintscraper (Uotora Demo)"
Paintscraper (Uotora Demo)
38
"SFX: Splattershot"
SE:スプラシューター
SE: Supurashūtā
39
"SFX: Tri-Stringer"
SE:トライストリンガー
SE: Torai Sutoringā
40
"SFX: Splatana Stamper"
SE:ジムワイパー
SE: Jimu Waipā
41
"SFX: Trizooka"
SE:ウルトラショット
SE: Urutora Shotto
42
"SFX: Killer Wail 5.1"
SE:メガホンレーザー5.1ch
SE: Megahon Rēzā 5.1ch
43
"SFX: Tacticooler"
SE:エナジースタンド
SE: Enajī Sutando
44
"SFX: Crab Tank"
SE:カニタンク
SE: Kani Tanku
45
"SFX: Wave Breaker"
SE:ホップソナー
SE: Hoppu Sonā
46
"SFX: Clam Blitz Open Goal (No. 1)"
SE:ガチアサリのゴール開放(その1)
SE: Gachi Asari no Gōru Kaihō (Sono 1)
47
"SFX: Clam Blitz Open Goal (No. 2)"
SE:ガチアサリのゴール開放(その2)
SE: Gachi Asari no Gōru Kaihō (Sono 2)
48
"SFX: Deep Cut's Motto (Splatfest)"
SE:声(すりみ連合)フェス時キメ台詞
SE: Koe (Surimi Rengō) Fesu-ji Kimezerifu
49
"SFX: Inkling Girl – Booyah/This Way"
SE:声(イカガール)ナイス/カモン
SE: Koe (Ika Gāru) Naisu/Kamon
50
"SFX: Inkling Boy – Booyah/This Way"
SE:声(イカボーイ)ナイス/カモン
SE: Koe (Ika Bōi) Naisu/Kamon
51
"SFX: Octoling Girl – Booyah/This Way"
SE:声(タコガール)ナイス/カモン
SE: Koe (Tako Gāru) Naisu/Kamon
52
"SFX: Octoling Boy – Booyah/This Way"
SE:声(タコボーイ)ナイス/カモン
SE: Koe (Tako Bōi) Naisu/Kamon
Disc 4
Translation notes
↑ 1.0 1.1

The conjectural English song title describes where the track is used, not a direct translation of the Japanese names.

↑ The trailer debuted in the Nintendo Direct on

17 February 2021

, or

18 February 2021

for some regions including Japan.
Articles
Included in the booklet enclosed with the album are several fictional articles about certain bands.[4]
Japanese
スタジオでいつものごとく遅刻のキクラ待ち中
1回やめたバンドにまた入ってくるのlなんてキクラくらいじゃない?まあ入れてやる方も大概か
Clickbaitはさ、リハスタでの音出しのときに、ウオトラがタムでドンドコ叩きだしたのがきっかけかな。あとジョワーンって変なシンバルと。あれ聴いて俺とキクラが「デデデデデデ」って出ないほうがウソでしょ
この曲をいろんなところでアレンジとかカバーしてもらってるのは素直に嬉しいと思ってる。なんかシャケの大群が来たときにバイオリン?でやってたのは、あまりにワケわかんなくて笑えたけど
Paintscraperはウオトラが作ってきたデモがもとで。自分でギターも弾いたらしいんだけど、これがめっちゃへ口へロで笑えるんだけど、なんか変な味があるのよ。機会があったらそのデモを流したいくらい
酔った勢いで書く。これ今年に入ってだけでも5億回は言ったけど、Now or NeverはC-Sideのオリジナルです。なんか昔ハイカラのスキップなんとかんとかいう連中が無断カバーしやがったけど、俺たちあいつらのリリース前に録ってるから。こっちがリリースしてなかっただけ
深夜の一人メシほど美味いものがあったら教えて
ラジオやってる変な3人組のバージョンは面白いから許す。イントロなんていってんのあれ
もういっこ。あのスキッドなんたらのギタボ、ICHIYAってパンカラ生まれよ。おれ同中だから。でハイカラ行くって言いだして行って、しばらくしてバンドデビューしたからっていうんで聴いてみたら、音軽すぎてヘソでインクわいたわ
じゃなんで連中のSplattack(合ってる?笑をC-Sideでカバーしたの、オマージュじゃんてよく言われるけど、あんたらの曲ならこれぐらいカッコよくできますけど?ていうかこっちのほうが300倍よくね?って言ってるだけで、オマージュとかそういうのじゃねーから
まあなんか今?名前変えてバンカラでうろちょろしてるらしいけど、どのツラ下げて帰ってきたの?って感じすわ
まああいつらの音?は前よりマシになってんじゃない
ゆうべはしゃべりすぎた。今のハイカラはスカしすぎてると思う。ただ、ちょっと昔だけど、フロムボトムは面白いかな。あのバイオリンの子と一緒にやってみたいわ
きかせてやりたいんだよ。パンカラだろうがハイカラだろうが、このごちゃませの時代に帰り等く、ほんとにピュアな音
Translation[5]
Waiting for Kikura, who's late to the studio, as usual.
Who else but Kikura would come back to a band they quit once? Well, I'm pretty sure that the guys who let 'em back in probs would too.
I think Clickbait was first made when Uotora started hitting the drums while we were setting up the sound in our rehearsal studio. There was this funky cymbal noise that sounded like a "WHAM"! When Kikura and I first heard that, there was no way we wouldn't start singing "dededededede"!
I'm honestly happy that people are covering that song with different arrangements and in various locations. When that school of salmon attacked, I heard the version they played with the violin. It was so incomprehensible that I couldn't help but laugh at it.
Paintscraper is based on a demo that Uotora made. I heard that he played the guitar himself too. It's very silly and ridiculous, but it has a unique charm to it. If I get the chance, I'd like to share it.
If they tell you that you can't double dip, why not triple dip? Know what I mean? I tried to make a song without knowing if it was cool or not. How did it turn out?
I'm typing this in a drunken stupor. I've said this half a billion times this year alone, but Now or Never is a C-Side original. Some guys from Inkopolis, Squid...something...covered it without permission, but we recorded it before they released it, we just didn't release it.
If there's anything better than a late night meal alone, let me know.
I can forgive the version by the three weird guys that played on the radio because it's funny. I do wonder what the intro is supposed to be saying though.
One more thing. That guitarist of squid-something, Ichiya, was born in the Splatlands. I should know- I went to school with him. He decided he was going to go to Inkopolis, and then after a little while, he told me that he had debuted with a band. I tried listening to them just to find out that their sound was so soft that it made my ink churn.
"Then why did you cover their song "Splattack" C-Side?" Well, people often say it's a homage to their song, but any of you guys would be able to make a song that's just as cool. I mean our song is this one 300 times better, right? Just wanted to make it clear that we're not trying to pay homage to it or anything like that.
What's he doing now? Apparently, he changed the band's name and hangs around the Splatlands now. It just makes me think: "You have some nerve to come crawling back home."
Oh, their music? Well, I guess it's not as bad as it used to be.
I rambled too much last night. I think the Inkopolis scene is too skanky, but Bottom Feeders are pretty cool even though it's been a while since I've listened to them. I'd like to hang out with that violin girl.
I'd like to play songs for everyone. No matter if they're from the Splatlands or Inkopolis, I want to create really fresh tunes that make people feel at home in this era of chaos.
Japanese
Front Roeって?
昨年春にインディーズレーベル・AGARIから突如デピューしたのち、一気にヒットチャートに躍り出たFront Roe。
メディアには一切登場せず、素顔も公開されていません。パワフルながらポップで、やんちゃだった青春時代を後から懐かしむようなそのサウンドを、爆音で聴きつつバトルに明け替れている方も多いのではないでしょぅか?
Front Roeの正体は? "10年代中盤にハイカラシティで活動していたバンド、Squid Squad (ジュークボックスに曲が入っていたりするので、ぜひ聴いてみてくださいね)が前身だというのは、公然の秘密となっています。Front Roeとなってからは、活動の拠点をバンカラ地方に移してはいますが、中心都市であるバンカラ街ではライブやプロモーションを行っていないようです。
なぜなんでしょうか?
交代したメンバーは?脱退劇があった?
Squid Squad時代のベーシストは、現在WARABI氏とのユニット"Diss-Pair" での活動も知られるIKKAN氏。
リーダーのICHIYA氏との音楽性の相違から、お互いに頭からインクをすうほどの壮絶な応酬の末、ある日突然スタジオに来なくなってそれっきというのが通説です。Front Roeでは「004CIm」とクレジットされている小柄な男性がベいています。
鉄板曲の盗作騒動?
Front RoeはSquid Squad時代の曲は一切変しないようてSquid Squadのライブのトリで必ず演奏されていた曲"Now or Never"まつわるエピソードがあります。
今まで、アイドルのシオカラーズやWet Floorなど、いくつかのアーティストにカバーされてきたこの曲ですが,あろうことか昨要、歌詞だけを変えて無断でオリジナル曲とし自分たちが先、Squid Squadがパクりだ」と主張するグループそれが今バンカラ街でブレイク中のC-Sideです。

この件に関して、Front Roeの所属事務所は「ノーコメント」そらく怒り心頭なのだと思います!

旧バンドの再結成はある?
IKKAN氏を含めた、Squid Squadの再結成を望む声は根強くありま果たしてその可能性はあるのでしょうか?
あるTV番組のインタビュアーがIKKAN氏にこの質問をしたところ、彼は「いい質問ですね」と答えるなり中座し、それきり戻らなかっけ
また、ドラムのMURASAKI氏とごく親しいらしい関係筋の情報による彼が行きつけのバーのマスターに
「可能性はあるといえばあるし、ないといえばない。やるときはやるし、やらないときはやらないだろう」
というような話をしているところを、聞いた人がいたりいなかったりするようです。
いかがでしたか?
Translation[5]
The Secrets of Front Roe
Who is Front Roe? Front Roe has shot to the top of the charts after their sudden debut with the indie label "AGARI" last spring. [translation 1]
They have never made any public appearances nor have their true faces been revealed to the public. Many of you may be listening to their music's powerful yet poppy sound that makes you nostalgic for your youthful days of rebelliousness, listening to explosive tracks, and spending all your time in battles.
Who are the members of Front Roe? It is an open secret that the band's name was formerly known as Squid Squad (you can find their songs on the jukebox!), a band that was active around the mid-'10s in Inkopolis. Since their rebranding into Front Roe, they have moved their base of activities to the Splatlands, however they do not seem to be performing or promoting their music in the main city, Splatsville.
Why is that?
What about the members who were replaced? Were there any departures?
The bassist of Squid Squad was Quinn, known better in recent times for his work with Mashup as part of the duo "Diss-Pair".
It is commonly believed that the creative differences with the frontman Ichiya, him and Quinn got into an argument so heated that they ended up shooting each other in the head with ink. Soon after that, they just stopped showing up to the studio entirely and the band fell apart from there.
The small man taking up the role of bassist for Front Roe is only credited as "004Clm".
Plagiarism of a classic song? It seems that while Front Roe never performs any songs from the Squid Squad era, however is an ongoing incident related to "Now or Never," a song always played at the end of Squid Squad's live shows.
While the song has been covered by several artists, including idols Callie and Marie and the band Wet Floor, last year a group called C-Side claimed that they were original creators of the song and that the Squid Squad version is a rip-off, changing only the lyrics and claiming it was their original song without permission.
While Front Roe has "no comment" on this matter, they are presumably outraged at these accusations!
Is there a possibility for a Squid Squad reunion? There is a strong desire among fans for a Squid Squad reunion with Quinn but is there any chance of this happening?
When a TV interviewer asked Quinn this question, he replied, "That's a good question," and left the room, never to return.
A source is close to Murasaki, the drummer, reported that he told the owner of a bar he frequented: "It is possible, and it is not possible. When it is, it is, and when it's not, it's not." Reportedly, other people have heard him say similar things in the past.
What do you think?
Translation Notes
↑ あがり agari can refer to green tea sold in sushi shops, which fits Squid Squad's sushi-themed naming scheme.
Japanese
ホタル (シオカラーズ) x イイダ (テンタクルズ) x マンタロー (すりみ連合)
言わずと知れた国民的アイドルのシオカラーズ, 世界で戦うトツプアーテイストのテンタクルズ, バンカラ街で開花し各地で人気急上昇中のすりみ連合一今をときめくグループのメンバーに, 最近の青楽活動や今今後の展望を語つてもらった。
ホタル : イイダちゃんはマンタローくんに会うの初めてだっけ?
イイダ: すりみ連合さんの曲は聴かせていただいてたんですが, お会いするのは初めてですね。テンタクルズのイイダです。よろしくお願いしま。
マンタロー: エイエイ! (こちらこそ初めまして, 聴いていただいてたなんて 恐悦至極です! テンタクルズさんは偉大すぎてもはや次元の違う方たちだと思ってたので, お語できる日が来るなんて夢みたいです!)
ホタル: テンタクルズ、今は世界で活躍しとるもんね。
イイダ: ありがたいことに今もワールドツアー中です。でもシオカラーズさんが新曲を出すと聞いて、あわてて帰国しました。リリースイベントは絶対に逃したくなかったので!
ホタル: なんか悪いな〜。すりみ連合もどんどん活動範囲が広がっとるね。バンカライブも大盛り上がりやったし。
マンタロー: エイ〜(おかげさまで!ライブでは進行表ちゃんと見てなくてすみません・..・シオカラーズさんの登場に本気でビックリしちゃって。フウカちゃんもウツホちゃんも「ウチらが主役のライブに割り込まれて、ついカッとなってしもた....・」って反省してました)
ホタル: 終わってから大あわてで土下座しに来たもんね。あのあとみんなで朝まで打ち上げしたんよな〜。
「今の魅力を知ってもらいたい」
マンタロー: エイイ!(アネゴたちは最近曲作りに力を入れてますよね。「シオカゼの星」、サイコーでした!!)
イイダ: アネゴ?
ホタル: この歌はアオリちゃんが「遠い昔の祖先やこの星への想いを歌にしたい!」って詞を書きはじめて、Shy-Ho-Shyさんに曲を作ってもらったんよ。
イイダ: 途中に入る「元祖正調塩辛節」のサンプリングが、歴史を感じさせて胸に迫ります...
マンタロー: エイエイ!(一方の「BRANDNEWHOMETOWN 〜それより明日の話を〜」では新プロデューサーのYou★Me氏を迎えたとか!)
イイダ: Bメロに入ったあたりからキックの音が鳴りを潜め、民謡の独特のりを感じさせる展開に入っていきますよね。今までのシオカラーズには無かったアンニュイさ、大人の色気が立ち込めています。どこか「思い出の中に閉じ込めないで、今の自分たちを見て」という切実さを感じました…..
ホタル: まぁ、デビューから時間も経ってハイカラシティの景色も少しずつ変わってきたことだし、大人になったアタシたちの雰囲気もプラスしたいなって。
イイダ: 過去の作品から大きく変化を感じるのは、アタック強めのキックとSuperSaw系のベースで作るソリッドなピートですね。ワタシもこういうEDM系の音作りが大好きなんですけど…
マンタロー: エイ、エイエエイ!(わかります!Aメロの入 りで Gmaj7/A のオンコードから入ってくるのも、 13th的なテンションの解釈が可能で….....)
ホタル: はいストップストップ!音楽オタクが2人いるとヤバいな…
イイダ: す、すみません!そうそう、フェス用に書き下ろされた「春風とペトリコール」は、珍しく外部のアーティストをフィーチャーした作品ですよね。何か心境の変化があったんですか?
ホタル: シオカラーズのこれからを考えたときに、今のハイカラシティの魅力を外のヒトにも知ってもらうには、もっと活動の幅を拡げてもいいのかなって思ったんよ。それでバンカラ地方の新進気鋭の歌手RANOMATとコラボさせてもらって。
イイダ: このRANOMATさんとは、いったいどういう経緯で......?
ホタル: それはね〜〜。
マンタロー: エエイ?!(コラボといえば、ビジー・パケーションさんとのコラボ曲って今までのテンタクルズには無かった挑戦的な楽曲ばかりですね?!)
イイダ: ぇっ? えーとそうですね、テーマは「いつもと違 う側に立つ」だったんです。
「音楽的に衝突してしまったこともあったんです」
イイダ: たとえばヒメセンパイは普段スリリングなラップを得意としていますが、今回はかなり「まともな歌いかた」をしてくれています。逆にワタシがラップやピアノのプレイで大暴れしたりして。本業のときとはガラッと変えて楽しもうと、遊び心全開でやってみました。
ホタル: そういえば2人の立ち位置やね。
マンタロー: エイー?(かなりぶっ飛んだアレンジですけど、これはビジバケさん側の作家性ですか?)
イイダ: 実はヒメセンパイが中心になってまとめてくれたんです。ワタシはつい自分のパートを減らしがちなんですが、センパイが「イイダもっとハジけさせたいよな~1って勇気づけてくれたので増やしてみたり。あとビジバケさんは音楽性と裏腹に真面目な良い方ばかりなんですけど、彼らの持ち味を活かすために、センパイがあえて何も言わずに彼らに任せた部分もありましたね。
ホタル: ヒメちゃんって意外と周り見てるタイプやんね。元気しとるん?
イイダ: はい!実は音楽的に衝突して、センパイが出て行ってしまったこともあったんですが...
マンタロー: エエーイ?!(えぇーッ?!)
イイダ: 全然連絡つかなくて、もうすっごく心配したんですよ!ワタシは音楽活動さえできれば幸せだったんですが、センパイは物足りなさを感じていたみたいです。ある意味テンタはもう世界を獲ってしまった、天井が見えてしまったと。それで失踪している間、元々やりたかったロックを中心に動画サイトをひたすらディグしてたらしくて。そこで並外れたプレイをしていた若者たちに高をかけて組み上げたのがビジー・バケーションなんです。ある日突然センパイからメッセージが送られてきて,「激ヤバなヤツら見つけた。アタシたち、化けるぜ」って(笑)
マンタロー: エッ!!(カッコいい!!)
イイダ: それからはすっかり元気です。初回合わせでは、「サイタン・ケーロ」のサビの「アーー」で全部の楽器の弦が切れましたね。
ホタル: 元気がすぎる。
イイダ: ガンガンになっていく曲調ですし、攻めの気持ちでマイクに向かっていたみたいです。
「それでできたのが、3人で初めて作った曲だった」
イイダ: 輝るような曲調といえば、すりみ連合さんの「疾風怒涛カチコンドル」もそうですよね。
マンタロー: エイ(中学の頃、先輩から隣の中学にカチコミするときの応援歌を依頼されたんだ。ボクとウツホちゃんはどっちでも良かったんだけど、フウカちゃんが「きっちり応援さしてもらいます」って3万ゲソで引き受けて。それでできたのが3人で初めて作った「疾風怒涛カチコンドル」だったんだ)
ホタル: え、そういう歌だったん?
マンタロー: エイエイ(その歌を3人でよく通ってたボウリング屋の店長さんがたまたま聞いてて、店のCMソングを作ってくれって依頼されたんだ。ボクとウツホちゃんはどっちでも良かったんだけど、フウカちゃんが30万ゲソで引き受けて。それでできたのが2曲目の「天命反転ローリンストン」だったんだ)
ホタル: さっきからギャラが生々しいな。
イイダ: この曲、主旋律とハモリが途中で逆転ますよね。これはタイトルの「天命反転」にかかってるんですか?
マンタロー: エイ!(そうです!ボクらの家には、かつて大災害で地球上の生物が絶滅の危機に陥ったっていう言い伝えの歌が残ってて。ウツホちゃんが「地球もデカいボウリング玉じゃ!」って学校の廊下で地球儀を転がしてるの見たら、いつもボウリングで最後に逆転されろボクの中でキーワードが結びついていって、「地球という自転する石の上で、生命の繁栄と滅亡の運命が反転する」というテーマが形になったというか)
ホタル: 治安悪すぎだろその中学。
マンタロー: エーイ!(そのCMソングのおかげもあって、バンカラ街では名前が通るようになりました!最近はもっぱらバンカラ地方を盛り上げるためにフェス用の曲を作ってます!)
「その先に、いったい何があるんだろう」
ホタル: 2人は、これから先どうしたいとかあるん?アタシは応援してくれてるみんなの期待にはしっかり応えながらも、少しずつ新しいシオカラーズに挑戦していきたいって思っとるよ。なんだか手のかかる後輩も増えてきそうなカンジするしね。
イイダ: ワタシはワールドツアーを実現したことで「世界の果てのさらにその先に、いったい何があるんだろう」という気持ちがあふれてきて。このカオスな世界の先には案外、我々の理解を超えた秩序の世界があるのかもしれません。世界の果てを見つめることは、自分の内面を選かれることに似ているのかもしれない.....・とにかく今はそんな思いが爆発しそうで、アートの力で何か新しいフィールドを構築したいと思っているところです。
ホタル: すごい.....何を言ってるのか全くわからない。マンタローくんは?
マンタロー: エイ〜(ウツホちゃんは「バンカラから世界のてっぺん獲るんじゃー!」なんて言ってるし、フウカちゃんは「ガッポガッポもうけたいどすな」って言ってるけど。ボクは音楽を通じて、バンカラとハイカラのヒトがもっと仲良くなれるようにしていけたらいいなと思ってるんだ。こんなこと言うと、生粋のバンカラ気質の2人にはニラまれちゃうんだけどね)
Translation[5]
Marie (Squid Sisters) x Marina (Off the Hook) x Big Man (Deep Cut)
We asked members from well-known national idol duo The Squid Sisters, the world famous artists Off the Hook, and the rapidly rising popular trio which blossomed in Splatsville, Deep Cut, to talk about their recent music activities and future plans.
Marie: So Marina, is this your first time meeting Big Man?
Marina: I've been listening to Deep Cut's music, but this is the first time for me to meet him. I'm Marina, and I'm a member of Off the Hook. It's nice to meet you!
Big Man: Ay! Ay! (It's nice to meet you too! I'm so glad you enjoy our music! I've always thought Off the Hook is an amazing band, talking to you is like a dream come true!)
Marie: Off the Hook is on a world tour right now, right?
Marina: We're still on a tour, but when I heard that the Squid Sisters were dropping a new song, I rushed back to Inkopolis. I didn't want to miss the release event!
Marie: I'm sorry you had to get back in such a rush. Deep Cut is also expanding the scope of their activities. Bankalive was a huge success.
Big Man: Ay~ (It's thanks to you! I'm sorry that I forgot to look at the set list.... I was really surprised by the appearance of the Squid Sisters. Shiver and Frye apologized as well. They both said "We were the main performers at the live show and they interrupted us...but we still lost our tempers".)
Marie: Yeah, after the show was over you rushed over and got down on your knees to apologize to us. But after that, we stayed up and hung out until the morning.~
"I want people to see the appeal of the present."
Big Man: Ayy! (Boss and her team have been putting a lot of effort into songwriting lately, right? "Wave Goodbye" was fantastic!)
Marina: …Boss?
Marie: Well, Callie wrote the lyrics to this song. She said "I want to write a song about my feelings toward my distant ancestors and this planet!" Then Shy-Ho-Shy wrote the melody.
Marina: The sample from "The Chorus of Calamari Country" halfway through the song was such a heartwarming reminder of our history…
Big Man: Ay, Ay (On the other hand, "Tomorrow's Nostalgia Today" features a new producer, You★Me!) [translation 1]
Marina: The kicking sound fades away around the B melody, and instead, the song takes on the unique groove of a folk song. There is a sense of maturity that has not been present in the Squid Sisters works up to this point. I felt the sincere message of "Don't confine us to your memories, look at us now."
Marie: Well, the landscape of Inkopolis has changed little by little since our debut so we wanted to add a "grown-up" element to the song.
Marina: What I feel is a big change from your past works is the strong kick of the solid beat created by the SuperSaw bass. I do love this kind of EDM type sound creation.
Big Man: Ay, Ay, Aaay! (I know! It also comes in from the Gmaj7/A on-chord as the A melody enters, which can be interpreted as a 13th-like tension...)
Marie: Yes, yes, stop, stop! I don't think I can handle two music geeks in one room...
Marina: Ah, sorry! Well you created "Liquid Sunshine" for the Splatfest, but I noticed it features outside artists, which is strange for a Squid Sisters song. Did you have any change of heart regarding collaborations?
Marie: When I thought about the future of the Squid Sisters, I felt that in order for people outside of the city to know the appeal of the current Inkopolis, it would be good to expand the scope of our outreach efforts. Due to this I collaborated with IanBGM, an up-and-coming artist from the Splatlands.
Marina: So how in the world did you get in touch with this...IanBGM...?
Marie: Well...you know~
Big Man: A-Ay!? (Speaking of collaborations, the collaboration songs performed with Damp Socks are all unconventional and challenging songs for Off the Hook, aren't they?!)
Marina: Huh? Well yes, our theme was to "try to cross the lines of typicality"
"There were some times where we clashed musically..."
Marina: For example, Pearl usually specializes in thrilling raps, but this time she sang in a very "normal" way. On the other hand, I went on a riot with my rapping and piano playing. I tried to have fun by making a complete change from my main style and doing it with a playful attitude.
Marie: Speaking of which, I'm wondering about the two of you and where you stand at the moment.
Big Man: Ayyy? (The arrangement is quite outlandish, is it a creative decision by Damp Socks?)
Marina: Actually, Pearl took the lead in coordinating this project. I tend to cut back on my own vocal parts, but she encouraged me by saying, "I want to make your part more lively- don't you?". Also, despite their style of music, the members of Damp Socks are all good, diligent people, and in order to make the most of their unique qualities, Pearl decided to leave some things up to them without saying a word.
Marie: Unexpectedly, Pearl is the type of person who is always on the lookout for people around her, isn't she? How are you doing?
Marina: Yes, she is! But we actually had a musical clash and Pearl even left...
Big Man: A-Ay?! (W-What?!)
Marina: I couldn't get in touch with her at all, and I was really worried! As long as I could keep playing music, I was happy, but Pearl seemed to feel that it wasn't fulfilling enough. In a way, Off the Hook had already won the world, and we had reached our zenith. During the time of her disappearance, Pearl spent a lot of time on video sites digging for rock music, which is what she had always wanted to perform. She put together Damp Socks by asking some of the young people who were playing exceptionally well to come and play with us. Then one day I got a message from her saying, "I found some really sick dudes. We could be the next big hit!" (laughs).
Big Man: Ay!! (Cool!!)
Marina: We've been all good since then. During our first practice, all the strings of all the instruments broke when we played the chorus of "Tentacle to the Metal".
Marie: You guys have too much energy.
Marina: It is a song that gets quite gung-ho, and it seems that she went to the microphone with an aggressive spirit.
"That was the first song the three of us ever wrote together."
Marina: While we're talking about smoking tunes, Hide and Sleek comes to mind.
Big Man: Ay. (When I was in middle school, a senior asked me to sing a cheering song for their upcoming competition against a neighboring school. Frye and I were fine with whatever, but Shiver insisted, "We'll cheer for you," ...for the price of 30,000 G. The result was "Hide and Sleek", the first song the three of us ever created together.)
Marie: Oh, so that was the reason behind the song's creation?
Big Man: Ay, ay. (The manager of a bowling alley that the three of us frequented happened to hear the song and asked us to write a commercial song for his establishment. Frye and I were fine with whatever, but Shiver agreed to do it ...for the price of 300,000 G. The result was our second song, "Smeared Canvas"[translation 2])
Marie: Your fee is a bit much, isn't it?
Marina: I noticed that the main melody and the harmony are reversed in the middle of this song. Does this have something to do with the title of the song, "Smeared Canvas"?
Big Man: Ay! (That's right! We still have a song in my hometown that tells a story about a catastrophe that threatened to wipe out all life on earth. Then one day, Frye said "The earth is a big bowling ball, too!" After that I thought about how I always end up getting beaten during the last round of bowling, and I started to connect the keywords in my mind, and the song's theme of "the destiny of life's prosperity and destruction, reversing on the spinning stone called the earth" took shape.)
Marie: Your middle school sounds extremely unsafe.
Big Man: Ayy! (Thanks in part to that commercial song, our name has become well-known in Splatsville! Nowadays, we're exclusively writing songs for the Splatfests that will liven up the Splatlands!)
"What lies beyond the world?"
Marie: What do you two want to do in the future? While I want to live up to the expectations of everyone who supports us, I would like to gradually take on the challenge of creating a new generation for the Squid Sisters. I have a feeling that there will be more young people depending on us.
Marina: As I realized the success of the world tour, I was overwhelmed with thoughts about "What is there beyond the end of the world?" Beyond this chaotic world, there may be a world of order that is beyond our comprehension. Gazing at the end of the world may be similar to being able to choose one's inner self....In any case, I feel like I am about to explode with such a thought, and I would like to construct a new frontier with the power of art.
Marie: I have no idea what you are talking about but that's amazing. What about you ...Big Man?
Big Man: Ay~ (Well Frye says, "I'm going to capture the world, starting with Splatsville!" and Shiver says, "I want to make a fortune, don't you?" With how much Splatlandian pride they have, they're going to be a little irritated when I say this, but... I hope that through music, I can help the people of the Splatlands and Inkopolis become closer to one another!)
Translation notes
Changes
Some songs contain slight changes in arrangement from the versions used in the game.
All songs by C-Side and Damp Socks feat. Off the Hook now have proper endings instead of fade outs.

Clickbait (Demo Tape) does not fade out early.

The drum fills at the start of C-Side's songs are now an even volume with the rest of the song instead of being 1db louder than everything that follows.
Clickbait has a new guitar solo in the second half that can't be heard in-game.
All Alterna hub world music now smoothly transitions between each different version that plays as more gold records are collected.
The formant synth at the start of Nine Out of Tension has a different starting position.
Whenever the low-pass filter is used in Ride or Fry, the song goes out of tune, about 18 cents sharp.
A snare drum loop is added throughout Seep & Destroy. Previously, this could only be heard in the version of the song that plays in the hub world when standing near a kettle.
A synth was removed from Seep & Destroy during the vocoder section.
Both Surprise and Shine and Bear with Me smoothly transition between the versions that play in each phase of the boss battles.
The third phase of Bear with Me includes an additional bass loop.
Hide and Sleek and Smeared Canvas are both missing the drum fills that start the songs in-game.
Hide and Sleek has a slightly different instrumental and vocals.
The instrumental for Smeared Canvas changes to match the first class version as the track fades out.
Anarchy Poisons transitions between all three different versions throughout the track, with Bird Mix first, Snake Mix second, and Boar Mix third (which also begins a loop a second time as the track fades out towards the end).
Anarchy Poisons features some added drums at the start as the Bird Mix version fades in.
Anarchy Rainbow features an additional kick drum during the chorus.
Fins in the Air has a slightly different instrumental and vocals.
Till Depth Do Us Part has slightly changed vocals with different filtering.
The synth arpeggio at the start of "Splatfest – Match Opening" is missing.
Calamari Inkantation 3MIX has a slightly different intro and instrumental.
Frye's vocals in Calamari Inkantation 3MIX are slightly different, having more reverb and being filtered more.
Tracks which play in-game with a filter to sound like they are playing from a speaker, such as "Lobby Terminal", "Alterna Citizen Program M-02: Challenge Course (Offshore at Dusk)", and "Alterna Citizen Program M-??: mY dEAR", are included in Splatune 3 in their original high quality without any filter.
Credits
Music By
Sound Effects By
Performers
C-Side (except disc3: 36, 37)
Recorded & Mixed By
Originally Mastered By
Live Arrange & Direction
Live Musician
Live Mixing Engineer
Kazuo Takei (Public Address)
TD & Mixing Engineer
Choreography
Live Stage Direction
Live Stage Coordinator
Mastering Engineer
Gallery
References