Crab-N-Go
From Inkipedia, the Splatoon wiki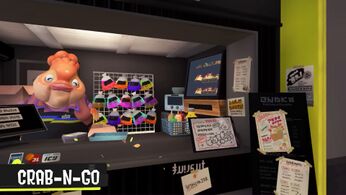 The Crab-N-Go stall is a concession stand inside of the lobby in Splatsville, run by Staff. It is located to the right of the lobby's entrance.
Description
The Crab-N-Go is a concession stand that replaces the Crust Bucket from Splatoon 2. The player can buy a food or drink that will give them bonuses for the next twenty battles. Each food and drink requires a different ticket.
Foods from the Crab-N-Go boost the amount of cash or level experience earned from multiplayer matches, while drinks increase both the amount of experience gear receives per battle and the chances of rolling a certain ability on gear when it attains enough experience.
It is located inside the battle lobby.
List of items
Foods
Foods increase the amount of cash or level experience gained after every online battle (except Private Battles) for twenty battles.
Drinks
All drinks increase the number of gear experience awarded after an online battle by 50% for twenty battles. In addition, drinks increase the chance that a gear's secondary ability slots will be filled with the drink's corresponding ability.
Quotes
"
Speaking of surveying, be sure to survey the Crab-N-Go snack stand in the lobby. The food and drink you purchase here with tickets can help you and your teammates in battle, or even help you earn more experience or cash. Plus, I mean... it's delicious. Look at this stuff!
"

— @SplatoonNA on Twitter

[1]
Badges
Ordering a certain number of concessions will reward the player with special badges that they can use on their Splashtag.
Crab-N-Go Badges
Ordered 10 concession
Ordered 100 concession
Ordered 1000 concession
Gallery
Trivia
There are stickers on the counter that resemble current-day credit card companies, which businesses apply to counters to tell the customer which cards they can use when paying. The stickers resemble the cards of Mastercard and American Express.
Etymology
Crab-N-Go is a pun on the word crab and the phrase grab-and-go, a term for pre-packaged, ready-to-eat food.
Names in other languages
Language
Name
Meaning
 Japanese

サンカクス


sankakusu
River Delta
 Dutch
Goudelieves Bikbalie
Marigold's Munch Counter
 French (NOA)
Kiosque du hall
Lobby kiosk
 French (NOE)
Snack du hall
Lobby snack
 German
Imbissschalter
Snack Counter
 Russian

Кусь да Крась


Kus' da Kras'
Bite and paint
 Chinese (Simplified)

三角洲


Sānjiǎozhōu
River delta, from Japanese
 Chinese (Traditional)

三角洲


Sānjiǎozhōu
River delta, from Japanese
Food and drinks
Translation needed




fill in the blanks edit
English
Japanese
Dutch
French
(NTSC)
French
(PAL)
German
Italian
Russian
Spanish
(NTSC)
Spanish
(PAL)
Chinese
(Simplified)
Chinese
(Traditional)
Korean
Crab Trap Sandwich
アゲバサミサンド
(Fried claw sandwich)
Krabbenbroodje
(Crab sandwich)
Sandwich au crabe mini-jackpot
(Mini-jackpot crab sandwich)
Krabbenbrot
(Crab bread)
Криль-клешнеброт
Kril'-kleshnebrot
(Krill-claw sandwich)
炸钳三明治
(Fried claw sandwich)
Commercial Crab Trap Sandwich
アゲアゲバサミサンド
(Fried-fried claw sandwich)
Krabbenbroodje speciaal
(Special-served crab sandwich)
Sandwich au crabe jackpot
(Jackpot crab sandwich)
Deluxe-Krabbenbrot
(Deluxe crab bread)
Криль-клешнеброт «ДелиКусь»
Kril'-kleshnebrot «DeliKus'»
(Krill-claw sandwich «DeliBite»)
酥脆炸钳三明治
(Crispy fried claw sandwich)
The Pescatariat
マキアミロール360°
(Fishnet roll 360°)
Zeewierwrap
(Kelp wrap)
Tortilla au poisson Exp +
(XP+ fish tortilla)
Gusto-Rollilla
Тортилья «Флотилия»
Tortil'ya «Flotiliya»
(Tortilla «Flotilla»)
围网面包卷360°
(Fishnet breadroll 360°)
The Pescatariat Royale
マキアミロール720°
(Fishnet roll 720°)
Zeewierwrap deluxe
(Kelp wrap deluxe)
Tortilla au poisson Exp ++
(XP++ fish tortilla)
Deluxe-Rollilla
Тортилья «Армада Люкс»
Tortil'ya «Armada Lyuks»
(Tortilla «Armada Lux»)
围网面包卷720°
(Fishnet breadroll 720°)
Mega Mountain a la Marigold
ビッグマザーマウンテン
(Big mother mountain)
Goudelieves bunkerberg
(Marigold's devour mountain)
Montagne jackpot à la Carpucine
(Jackpot mountain à la Marigold)
Fressalienberg á la Adorada
(Foodstuffs mountain á la Marigold)
Калорийная куш-бомба «Крася»
Kaloriynaya kush-bomba «Krasya»
(High-calorie jackpot-bomb «Marigold»)
阿母大山峰
(Mother's big mountain)
Marigold'en Garden Greens
ビッグマザーガーデン
(Big mother garden)
Groenvoer à la Goudelieve
(Greenfodder a la Marigold)
Salade à la Carpucine Exp ++
(XP++ Salad à la Carpucine)
Adoradas Gartengold
(Marigold's garden gold)
Красина капустка
Krasina kapustka
(Marigold's cabbage)
阿母大花园
(Mother's big garden)
Main Mega Pucker-Up
メインセーブレモン
(Main-saver lemon)
Hoofdsinas
(Main orangeade)
Jus de citron éco-principale
(Main-saver lemon juice)
Hauptspar-Limo
(Main-saver limo)
Цитрусовый Основец
Tsitrusovyy Osnovets
(Citrus Base)
主要武器节能柠檬汁
(Main weapon saver lemon juice)
Sub Berry Blaster Blitz
サブセーブベリー
(Sub-saver berry)
Subspaarcassis
(Sub save cassis)
Jus de myrtille éco-secondaire
(Sub-saver blueberry juice)
Sekundärspar-Beerensaft
(Sub-saver berry juice)
Ягодный Запасун
Yagodnyy Zapasun
(Berry Reserve)
次要武器节能莓果汁
(Sub weapon saver berry juice)
Ink-Well Chiller
インクチャージメロン
(Ink-charger melon)
Bijvulmeloenade
(Refill melonade)
Jus de melon réservoir plein
(Full ink tank melon juice)
Muntermacher-Melonensaft
(pick-me-up melon juice)
Арбузный Быструх
Arbuznyy Bystrukh
(Watermelon Speed)
墨汁蓄力哈密瓜汁
(Ink charge melon juice)
Speedy Gazpacho
ヒトダッシュトマト
(Kid-dash tomato)
Hardlooplimo
(Run sweetened drink)
Jus de tomate sprint
(Sprint tomato juice)
Sprinter-Tomatensaft
(Sprint tomato juice)
Томатная Спринта
Tomatnaya Sprinta
(Tomato Sprint)
人类冲刺番茄汁
(Human dash tomato juice)
Cherry Apple Fizz
イカダッシュトマト
(Squid-dash apple)
Zwemsmoothie
(Swim smoothie)
Jus de pomme natation
(Swimming apple juice)
Blitzschwimmer-Kirschsaft
(bolt-swimmer cherry juice)
Вишневый Плавун
Vishnevyy Plavun
(Cherry Swimmer)
鱿鱼冲刺苹果汁
(Squid dash apple juice)
Ma's Special Blend
スペシャルチャージラムネ
(Special-charge ramune)
Vitamineshake speciaal
(Vitamin shake special)
Smoothie recharge spéciale
(Special refill smoothie)
Spezialfix-Shake
(Special-fix shake)
Насосная Шипучка
Nasosnaya Shipuchka
(Pumping Pop)
特殊武器蓄力弹珠汽水
(Special weapon charge Ramune)
Salty Melon Special
スペシャルセーブラテ
(Special-saver latte)
Speciaalslushie
(Special slushie)
Jus de kiwi baisse minime
(Minimal depletion kiwi juice)
Spezialbewahrer-Kiwisaft
(Special keeper kiwi juice)
Резервный Киви-микс
Rezervnyy Kivi-miks
(Reserve Kiwi mix)
特殊武器节能拿铁
(Special weapon saver latte)
Smoothie Especial
スペシャルアップサイダー
(Special-up cider)
Specialistensoda
(Specialist soda)
Limonade spéciale +
(Special+ lemon soda)
Speziapower-Smoothie
(Special-power smoothie)
Смузи «Особый»
Smuzi «Osobyy»
(Smoothie «Special»)
特殊武器提升汽水
(Special weapon power up soda)
Matcha Reviver
ショートリスタートモカ
(Short-restart mocha)
Comebackijsthee
(Quick Respawn ice tea)
Thé matcha retour rapide
(Quick comeback matcha tea)
Comeback-Matcha
(Comeback matcha)
Маття «Феникс»
Mattya «Feniks»
(Matcha «Phoenix»)
快速复活摩卡
(Fast respawn mocha)
Citrus Hip-Hopper
ショートジャンプオレンジ
(Short-jump orange)
Turbotonic
(Turbo tonic water)
Jus d'orange saut éclair
(Lightning-speed jump orange juice)
Sprungkraft-Orangensaft
(Jump power orange juice)
Апельсиновый Прыг
Apel'sinovyy Pryg
(Orange Jump)
快速跳跃柳橙汁
(Fast jumping citrus juice)
Super Sub Juicer
サブアップウォーター
(Sub-up water)
Subtopgazeuse
(Sub top fizzy drink)
Citronnade secondaire +
(Sub+ lemonade)
Sekundärpower-Saft
(secondary power juice)
Лимонный Про-Запас
Limonnyy Pro-Zapas
(Lemon Pro-Reserve)
次要武器提升水
(Sub weapon power up water)
Stompin' Grape
カンジキグレープ
(Snowshoe grape)
Inktmixer
(Ink mixer)
Jus de raisin semelles-buvard
(Blotting soles grape juice)
Immunkraft-Traubensaft
(Immune power grape juice)
Виноградный Краскостой
Vinogradnyy Kraskostoy
(Grape Paintproof)
雪鞋葡萄汁
(Snow boots grape juice)
Sub Lime
サブライトライム
(Sub-light lime)
Subsiroop
(Sub squash)
Jus de citron anti-secondaire
(Anti-sub lemon juice)
Sekundär-Limmete Light
(Secondary lime light)
Лаймовый Антизапасник
Laymovyy Antizapasnik
(Lime Anti-reserve)
次要武器减轻青柠汁
(Sub weapon reduction lime juice)
Actionberry Twist
アクションストロングベリー
(Action-strong berry)
Actievruchtensap
(Action fruit juice)
Jus multivitaminé action
(Action multivitamin juice)
Akziobeeren-Sirup
(accioberries sirup)
Морс «Плюс-Эффект»
Mors «Plyus-Effekt»
(Fruit-drink «Plus Effect»)
行动强化莓果汁
(Action enhancer berry juice)
Translation notes
References
See also