Cooler Heads
From Inkipedia, the Splatoon wiki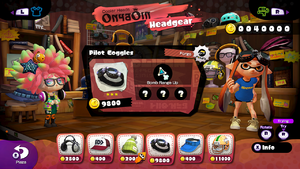 Cooler Heads (Japanese: おかしら堂 Okashira-dō) is a headgear shop in Booyah Base run by Annie, a shy sea anemone, and Moe, a clownfish.
Description
Cooler Heads sells hats, headbands, glasses, and other accessories that can be purchased with cash earned from multiplayer matches and amiibo challenges. Players can tilt
to rotate their Inkling and click
to try on the highlighted item, and pressing
purchases this item. Pressing
or
allows players to enter Jelly Fresh and pressing
or
similarly allows them to enter Ammo Knights, while pressing
takes players back to Inkopolis Plaza.
displays further information about the selected item.
Audio
List of Merchandise
List of Cooler Heads Merchandise
Image
Title
Brand
Cost
Main Ability
Star Count
B-ball Headband
Zink
300
Backwards Cap
Zekko
700
Bike Helmet(

NA

)
Cycle Helmet(

EU/OC

)
Skalop
11,000
Black Arrowbands
Zekko
2,800
Bobble Hat
Splash Mob
2,000
Camo Mesh(

NA

)
Camo Mesh Cap(

EU/OC

)
Firefin
2,500
Camping Hat
Inkline
800
CoroCoro Cap
Zekko
8,700
Designer Headphones(

NA

)
Colourful Headphones(

EU/OC

)
Forge
2,500
Fake Contacts
Tentatek
2,000
FishFry Visor
Firefin
500
Five-Panel Cap(

NA

)
5-Panel Cap(

EU/OC

)
Zekko
2,000
Gas Mask
Forge
11,000
Golf Visor
Zink
400
Jet Cap
Firefin
700
Jogging Headband
Zekko
400
Jungle Hat(

NA

)
Safari Hat(

EU/OC

)
Firefin
9,000
Lightweight Cap
Inkline
700
Paintball Mask
Forge
10,000
Pilot Goggles
Forge
9,800
Retro Specs
Splash Mob
500
Safari Hat(

NA

)
Jungle Hat(

EU/OC

)
Forge
2,300
Short Beanie
Inkline
600
Skate Helmet
Skalop
2,500
Snorkel Mask(

NA

)
Snorkel(

EU/OC

)
Forge
3,000
Splash Goggles
Forge
2,800
Sporty Bobble Hat
Skalop
800
Squash Headband
Zink
400
Squid-Stitch Cap
Skalop
8,500
Squidvader Cap
Skalop
2,300
Streetstyle Cap(

NA

)
Fashion Cap(

EU/OC

)
Skalop
600
Striped Beanie
Splash Mob
1,500
Studio Headphones
Forge
2,800
Takoroka Mesh
Takoroka
400
Tennis Headband
Tentatek
300
Tentacles Helmet
Forge
11,000
Tinted Shades(

NA

)
Coloured Shades(

EU/OC

)
Zekko
350
Two-Stripe Mesh(

NA

)
2-Stripe Mesh Cap(

EU/OC

)
Krak-On
700
Urchins Cap
Skalop
600
Visor Skate Helmet
Skalop
10,000
White Arrowbands
Zekko
8,000
Zekko Mesh
Zekko
500
Quotes
"
Ahh... hello... Oh! I...I'm very sorry, but... Well, the thing is... I'm afraid we have... a sort of rule here, you see... We don't sell to people who aren't fresh enough... Maybe if you reach, say... Level 4... I might be able to help you then...? If you go to the Lobby, and play some, ermmm... Turf Wars...? That might help your level go up... (Moe: GET OUTTA HERE!)
"

— Annie and Moe on not being

level

4.

(

EU/OC

)
"
Ahh...hello... Welcome to Cooler Heads... I hope you'll take a look around... All the gear here has, you know, abilities and stuff... If you want to know more, you could press [home] and look at the manual... If you... like... (Moe: LOSER ALERT!)
"

— Annie and Moe upon entering the shop for the first time above

level

4

(

EU/OC

)
"
Oh, um...hello. (Moe: GIVE US YER CASH!)
"

— Annie and Moe upon entering the shop
"
Y-you'll buy it... ? [Confirm] Y-you'll equip it?
"

— Annie during a purchase
"
Thanks, um, a lot! Y-you know you can tap Equip on to swap out your gear, right? (Moe: YOU'LL BE BACK!)
"

— Annie and Moe after purchase
"
Ahhhh... I'm awfully sorry, but… it looks like you don't have quite enough money.. (Moe: YER BROKE!)
"

— Annie and Moe on not enough money
Gallery
Names in other languages
Language
Name
Meaning
 Japanese
おかしら堂
Okashiradō
Whole-fish hall (okashira means "head and tail")
 Spanish
De Cabeza
Headlong; cabeza meaning "head"
 French (NOA)
Kamatête
From tête, meaning "head"
 German
Tent-à-Tête
French for Tent-on-Head
 Italian
Testa a posto
From the saying avere la testa a posto (have your head in place), being a good person.
 Russian
Холодные головы
Kholodnyye golovy
Cold heads