Crableg Capital
From Inkipedia, the Splatoon wiki
Splatoon 3​
Crableg Capital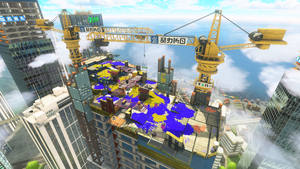 | | |
| --- | --- |
| Introduced | 1 September 2023 |
| Total area | 2,145p |
| Features | Inkrails |
| Hazards | Abyss |

This page or section is under construction.
Please excuse its informal appearance while it is being worked on. We hope to have it completed as soon as possible!
Can you help us get it done?
Crableg Capital is a multiplayer stage in Splatoon 3. It is set in a skyscraper area that is under construction.
Splatoon 3
Crableg Capital debuted in Splatoon 3 as part of the Drizzle Season 2023. Similar to the Splatoon incarnation of Hammerhead Bridge, the stage heavily features grates as ways to travel the stage, along with a lower area that remains inkable.
Maps
Gallery
Quotes
Trivia
Hagglefish Market can be seen near the coast on one side of the stage, which Big Man mentions in one of the stage dialogues.
One of the buildings behind one of the team spawn resembles the Bank of China Tower in Hong Kong.
Etymology
Names in other languages
Language
Name
Meaning
 Japanese

タカアシ経済特区


Takaashi Keizaitokku
Stilt (tall leg) Special economic zone[note 1]
 Dutch

Visstickdistrict

Fish stick district
 French

Quartier Crabe-ciels

A pun on gratte-ciel (skyscraper) and crabe (crab) + quarter
 German

Seespinnen-Skyline

Majidae Skyline
 Italian

Granchiacieli

A pun on grattacielo (skyscraper) and granchi (crabs)
 Russian

Крабхэттен


Krabhetten
Crabhattan[note 2]
 Spanish

Distrito Rascalópodo

A pun on rascacielos ("skyscraper") + -ópodo suffix ("-opod") + District
 Chinese (Simplified)

高脚经济特区


gāojiǎo jīngjì tèqū (Mandarin)
Tall leg special economic zone
 Chinese (Traditional)

高腳經濟特區


gāojiǎo jīngjì tèqū (Mandarin)
Tall leg special economic zone
 Korean

거미게 경제특구


geomige gyeongjeteukgu
Spider crab special economic zone
 Internal

Spider

From "Japanese spider crab"
Translation notes
↑ From краб krab ("crab") and Манхэттен Manhetten ("Manhattan")