Splatfest
Splatfest
Splatfest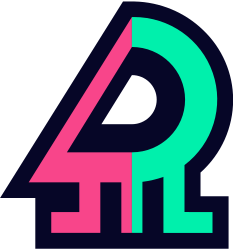 Battle alongside players on your Splatfest team.(

NA

)
Battle alongside players who voted the same way as you.(

EU/OC

)
Type
Online multiplayer mode (with Turf War being the only mode)
Players
8 (4v4)
Ranked
No
Weapons
All
Controllers
GamePad
JoyCon
Nintendo Switch Pro Controller
Release Date
Launch (playable only during event)
"
Pick a side and battle it out in these special Turf War events. Find out about the latest Splatfests in Inkopolis Plaza, and be sure to pledge allegiance to your favorite side in the week leading up! Then help your side win by competing in Turf War battles!
"

— Splatoon's official website,

[1]
Splatfest, known as Festival or Fes in Japan, is a special event in Splatoon and Splatoon 2 in which Inklings choose between two teams, such as Cats or Dogs, and compete in Turf Wars for Super Sea Snails.
Description
In Splatoon, Splatfest was a recurring event hosted by the Squid Sisters, Callie and Marie. During this event, Inklings were able to choose between two teams and participate in battles against each other. Inklings were limited to two colors during the Splatfest, reflecting which side they were on. The clothing section of the equip screen also became locked and all players were forced to wear the Splatfest Tee, which changed in color and design based on an Inkling's chosen team, though they could still change hats, shoes, and weapons. Inkopolis Plaza and all the stages were decorated with a flood of Miiverse posts from the Splatfest/Festival tag on the Splatoon community, some of which took the form of neon signs, banners, and even fireworks. Nighttime also descended over Inkopolis and all Turf War stages. Fireworks went off periodically in the plaza, and specks of light resembling fireflies or fire embers could be seen rising into the sky. Both Callie and Marie danced throughout the entire duration of this event, singing and dancing to Splatfest - City of Color. For the most part, each Splatfest lasted 24 hours, during which time the region involved was isolated and Splatfest players would only face off against players from their own region. Meanwhile, all other regions continued to play amongst each other. A few choice Splatfests deviated from these rules. Super Sea Snails were awarded to participating players upon Splatfest's conclusion.
Splatfests return in Splatoon 2, now hosted by Off the Hook's members, Pearl and Marina. Besides this, the structure is largely the same. Although Miiverse is not compatible with the Nintendo Switch, Splatoon 2's exclusive drawing feature allows for players to submit doodles that appear in-game as neon signs, banners, fireworks, or graffiti, as well as uploading doodles to social media accounts. Inkopolis Square is decorated similarly to Inkopolis Plaza in the first games and all areas once again become locked in nighttime as Pearl and Marina perform in Inkopolis Square.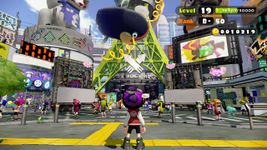 Preparation
Before a Splatfest begins, Inkopolis Plaza and Inkopolis Square experience a variety of visual upgrades to prepare for the event. One week before a Splatfest in Splatoon, a voting booth appears next to the Miiverse Mailbox and the event's theme is announced by Callie and Marie during their Inkopolis News segment. Pearl and Marina similarly announce the event's theme a week prior during their Off the Hook segment in Splatoon 2 while the voting booth appears in the square. Inklings receive a themed Splatfest Tee, a piece of gear that is wearable only until the Splatfest ends, once they join a team. Two days before a Splatfest, neon signs adorned with up-and-down-pointing arrows appear on walls and buildings. The day before it takes place, the Plaza becomes noticeably more crowded and two large trucks supporting stage scaffolding appear in the area's center. In Splatoon 2, one day before the Splatfest, a large performance stage appears in the plaza, above the entrance to the battle lobby. On the tower behind the stage is a screen displaying the two battling teams' mascots.
During a Splatfest, Regular & Ranked Battle options are not available, as they are temporarily replaced by the Splatfest Battle option; however, Private Battles can still be accessed.[2]
Splatfest Power
Splatfest Power is a feature introduced in Version 2.6.0 of Splatoon as a way of tracking players' skill during Splatfests, replacing the Vibe meter. While Splatfest matchmaking was previously based on play styles, players are now matched based on similar Splatfest Power levels. It is initially determined by one's Rank and may rise or fall depending on how well one does in battles.
Splatoon
Approximate Rank
Initial Splatfest Power
Below Level 10
C
1000
B
1200
A
1400
S
1600
S+
1700
Based on the team's Splatfest Power Level, the average of the four members of the team's Splatfest power, upon victory will gain more EXP points towards higher titles for bigger Super Sea Snails award, for example: If the player has 1688 Splatfest Power and the average Power Level of the team is more than 1700, and wins a Splatfest battle, the player will get +9 EXP, +7 winning points based on the team's power level and +2 bonus for winning.
After each Splatfest Battle, players on the winning team get roughly ten points toward their Splatfest Power, the losing team loses roughly ten, depends on the difference between the two teams' Spaltfest power level, and the player on the winning team with the highest Splatfest Power gains an additional one to two points.
The top 100 players with the highest Splatfest Power will be shown on Splatnet and in the social network sites of Splatoon.
Reward Tiers
Super Sea Snails are awarded to participants based on the size of their team, matches won, and ground covered, which dictate each player's Splatfest Title.
Splatoon
Title
Total EXP required
Super Sea Snails
Winning team
Losing team
[Team Name] Fanboy/Fangirl (

NA/EU/OC

)


Normal [Team Name] Boy/Girl

(

EU/OC

)
–
4
2
[Team Name] Fiend (

NA/EU/OC

)


Full-on [Team Name] Boy/Girl

(

EU/OC

)
10
6
3
[Team Name] Defender (

NA/EU/OC

)


Super [Team Name] Boy/Girl

(

EU/OC

)
35
10
5
[Team Name] Champion (

NA/EU/OC

)


Charismatic [Team Name] Boy/Girl

(

EU/OC

)
85
16

10

[Team Name] King/Queen (

NA/EU/OC

)


Eternal [Team Name] Boy/Girl

(

EU/OC

)
184
24

18
| Splatfest Power Level | Winning points |
| --- | --- |
| 0-1399 | +3 |
| 1400-1499 | +4 |
| 1500-1599 | +5 |
| 1600-1699 | +6 |
| 1700+ | +7 |
Splatfest EXP is earned by participating in and winning matches. Winning a match earns you a point based on the Splatfest Power, and your participation bonus is based on how much BP worth of ground you covered in ink during the match. If you cover 200–399 BP worth of ground, you earn 1 bonus participation EXP; if you cover 400+ BP worth of ground, you earn 2 bonus participation EXP, also the player on the winning team with the highest Splatfest Power gains an additional 2. One can earn a maximum of 11 EXP per match if your team wins, you have the highest Splatfest Power among your team, and you cover at least 400 BP worth of ground during the match.
One hour after Splatfest concludes, the results are announced during a broadcast. The results are based on team popularity, the percentage of the vote each team received, and wins, the percentage of matches each team won. Win percentage is worth six times more than the value of popularity. Players are awarded Super Sea Snails based on the Splatfest Title they have earned. Players on the winning team will earn more Super Sea Snails that those on the losing team.
To collect their prize, players must log into Splatoon before the next Splatfest theme is announced. The new Splatfest announcement overrides the announcement of the winners of the previous Splatfest, and no Super Sea Snails will be bestowed.
Splatoon 2
Title
Total EXP required
Super Sea Snails
Winning team
Losing team
[Team Name] Fanboy/Fangirl
–
3
2
[Team Name] Fiend
10
5
3
[Team Name] Defender
35
9
7
[Team Name] Champion
85
16
13
[Team Name] King/Queen
184
24
21
Victory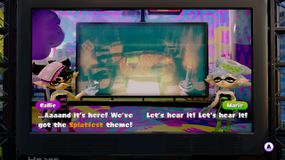 Splatoon
The final score is calculated based both on popularity and on wins. The formula in Splatoon is as follows:
Final Score (out of 700) = Popularity Percentage + (Win Percentage × 6)
When the Squid Sisters announce the results, the highest of the popularity and win percentages are both individually highlighted before the final results are shown.
The formula used to use Win Percentage × 4, but this was changed in version 2.2.0.
The formula was at first Win Percentage × 2, but this was changed in version 2.0.0 in the August Update.
Splatoon 2
In Splatoon 2, the final score is a straight tally of how many categories each team has a majority percentage in. There are three categories:
Popularity
Solo Wins
Team Wins
When Off the Hook announces the results, the highest of each category are all individually highlighted before the final results are shown, just as in the previous game.
Upcoming or ongoing Splatfests
No upcoming Splatfest events announced
Completed Splatfests in Splatoon
Summary
The following table lists all Splatfests in every region. Bold text signifies a Splatfest victory.
Splatfests in North America
Callie
Marie

Cats

Dogs

Roller Coasters

Water Slides

Marshmallows

Hot Dogs

Autobots

Decepticons

Art

Science

Cars

Planes

Pirates

Ninjas

Burgers

Pizza

Naughty

Nice

Past

Future

Pokémon Red

Pokémon Blue

Snowman

Sandcastle

SpongeBob

Patrick

Fancy Party

Costume Party

Early Bird

Night Owl

Callie

Marie

Splatfests in Europe and Oceania
Callie
Marie

Rock

Pop

Eating

Sleeping

North Pole

South Pole

Singing

Dancing

Messy

Tidy

Cats

Dogs

Zombies

Ghosts

Pro-pineapple

Anti-pineapple

Fit

Rich

Barbarian

Ninja

Pokémon Red

Pokémon Blue

Hoverboard

Jet Pack

SpongeBob

Patrick

Black Tie Event

Fancy Dress Party

World Tour

Space Adventure

Callie

Marie

Splatfests in Japan
Callie
Marie

Rice

Bread

Red Fox

Green Tanuki

Lemon Tea

Milk Tea

Grasshopper

Ant

Boke

Tsukkomi

Squid

Octopus

Love

Money

Mountain Food

Sea Food

Red Fox

Green Tanuki

Perfect Body

Perfect Brain

Pokémon Red

Pokémon Green

Go all out!

Focus on healing

Tuna Mayonnaise Onigiri

Red Salmon Onigiri

Fancy Party

Costume Party

Mushroom Mountain

Bamboo Shoot Village

Callie

Marie
Stages
Completed Splatfests in Splatoon 2
Summary
The following table lists all Splatfests in every region. Bold text signifies a Splatfest victory.
Splatfests in Europe
Pearl
Marina

Cake

Ice Cream

Mayo

Ketchup

Flight

Invisibility

Front Roll

Back Roll

Warm Breakfast

Cold Breakfast

Film

Book

Action

Comedy

Gherk-OUT

Gherk-IN

Splatfests in Japan
Pearl
Marina

Rock

Pop

Mayo

Ketchup

Fries

McNuggets

Agility

Endurance

With Lemon

Without Lemon

Warm Inner Wear

Warm Outer Wear

Action

Comedy

Champion

Challenger
Stages
Delays
While the first Splatfest event, in Japan, went by flawlessly, the first North American Splatfest was delayed. The reason given was because of matchmaking issues with Japanese players.[3]. The original schedule for the event was from June 20th, 2015 (Sat) at 6 AM PDT to June 21st (Sun) at 6 AM PDT, and some days later, it was revealed that it would be moved to July 4th (Sat) at midnight PT.
The first European Splatfest event, that was meant to start on the 27th of June at midnight CEST, was equally postponed, so that it would take place on the same day as the North American one.
Later, the first Splatfest event held simultaneously worldwide was supposed to have its results announced at the same time across all regions, despite the different start and ending times. Initially, the results were going to be announced on 21st of February 2016 (Sun) at 16:00 JST (18:00 AEST, 8:00 CEST, 2016-02-20 11:00PM PST). However, despite a notification of Callie and Marie's announcement, servers ended up being under maintenance since 15:30 JST, preventing the results from being received. Eventually, at midnight PST (19:00 AEST, 17:00 JST, 9:00 CEST), the servers were running again and players were able to view the results.
Quotes
Trivia
Some randomly selected players are able to join as early as 5 minutes before the official start time for faster matchmaking.[4]
If the game takes too long to find an enemy team for Splatfest, members of the same team will battle each other with regular colors. Splatfest EXP can be earned in these matches, but they do not affect the total win percentage for either team.[4][5]
In Splatoon, when Judd dances on his box, the pillow he sleeps on disappears. It reappears after the Splatfest when Judd goes back to sleep. In Splatoon 2, he and Li'l Judd are moved to different location while a Splatfest is going.
Many characters in both games will bob their head or start dancing while a Splatfest is going, including Cap'n Cuttlefish and Spyke in Splatoon and Marie and Murch in Splatoon 2.
The Fox and Tanuki statues in Inkopolis Plaza each represent opposite sides during a Splatfest. The Fox's bib and Tanuki's shirt change color to match their team.
The end pose of the dance Callie and Marie do during a Splatfest represents the two teams fighting each other.
According to Marina, the Splatfest rules state that the option that won a Splatfest is legally better than the one that lost.
Gallery
Names in other languages
Language
Name
Meaning
 Japanese
フェス
fesu
Fes, short for Festival
 Dutch
Splatfest
Splatfest
 French
Festival
Festival
 German
Splatfest
Splatfest
 Italian
Festival
Festival
 Russian
Сплатфест
Splatfest
Splatfest
 Spanish (NOA)
Festival del Teñido
Dyeing Festival
 Spanish (NOE)
Festival temático
Thematic Festival
Splatfest Titles
English (NOA)
English (NOE)
Japanese
Title
Title
Title
Meaning
[Theme] Fanboy
[Theme] Fangirl
Normal [Theme] Boy
Normal [Theme] Girl

ふつうの [テーマ] ボーイ




ふつうの [テーマ] ガール

Normal [Theme] Boy
Normal [Theme] Girl
[Theme] Fiend
Full-on [Theme] Boy
Full-on [Theme] Girl

まことの [テーマ] ボーイ




まことの [テーマ] ガール

True [Theme] Boy
True [Theme] Girl
[Theme] Defender
Super [Theme] Boy
Super [Theme] Girl

スーパー [テーマ] ボーイ




スーパー [テーマ] ガール

Super [Theme] Boy
Super [Theme] Girl
[Theme] Champion
Charismatic [Theme] Boy
Charismatic [Theme] Girl
カリスマ [テーマ] ボーイ


カリスマ [テーマ] ガール

Charismatic [Theme] Boy
Charismatic [Theme] Girl
[Theme] King
[Theme] Queen
Eternal [Theme] Boy
Eternal [Theme] Girl

えいえんの [テーマ] ボーイ




えいえんの [テーマ] ガール

Eternal [Theme] Boy
Eternal [Theme] Girl
Dutch
French (NOA)
Title
Meaning
Title
Meaning
Fan van team [thema]
Fan of Team [Theme]
Novice en [thème]
Novice of [Theme]
Bezeten van team [thema]
Obsessed by Team [Theme]
Spécialiste en [thème]
Specialist of [Theme]
Vedette van team [thema]
Star of Team [Theme]
Expert en [thème]
Experte en [thème]
Expert of [Theme]
Held van team [thema]
Heldin van team [thema]
Hero of Team [Theme]
Heroine of Team [Theme]
Virtuose en [thème]
Virtuoso of [Theme]
Koning van team [thema]
Koningin van team [thema]
King of Team [Theme]
Queen of Team [Theme]
Roi en [thème]
Reine en [thème]
King of [Theme]
Queen of [Theme]
French (NOE)
German
Title
Meaning
Title
Meaning
Novice en [thème]
Novice of [Theme]
Normalo-[Thema]-Fan
Average [Theme] Fan
Spécialiste en [thème]
Specialist of [Theme]
Volle-Kanne-[Thema]-Fan
Full-on [Theme] Fan
Expert en [thème]
Experte en [thème]
Expert of [Theme]
Super-[Thema]-Fan
Super [Theme] Fan
Virtuose en [thème]
Virtuoso of [Theme]
Glorreicher [Thema]-Fan
Glorious [Theme] Fan
Maître en [thème]
Maîtresse en [thème]
Master of [Theme]
Mistress of [Theme]
[Thema]-Fanclubleiter
[Theme] Fan Club Leader
Italian
Russian
Title
Meaning
Title
Meaning
Ragazzo comune [tema]
Ragazza comune [tema]
Common [Theme] Boy
Common [Theme] Girl

Новичок

Novice
Ragazzo in gambero [tema]
Ragazza in gambero [tema]

Fresh

[Theme] Boy


Fresh

[Theme] Girl

Энтузиастка

Enthusiast
Ragazzo super [tema]
Ragazza super [tema]
Super [Theme] Boy
Super [Theme] Girl

Опытная

Experienced
Ragazzo carismatico [tema]
Ragazza carismatica [tema]
Charismatic [Theme] Boy
Charismatic [Theme] Girl

Профи

Pro
Ragazzo élite [tema]
Ragazza élite [tema]
Elite [Theme] Boy
Elite [Theme] Girl

Мастер

Master
Spanish (NOA)
Spanish (NOE)
Title
Meaning
Title
Meaning
Fan [tema]
[Theme] Fan
Novato [tema]
Novata [tema]
[Theme] Rookie
Devoto [tema]
Devota [tema]
[Theme] Devotee
Fanático [tema]
Fanática [tema]
[Theme] Fanatic
Defensor [tema]
Defensora [tema]
[Theme] Defender
Guerrero [tema]
Guerrera [tema]
[Theme] Warrior
Protector [tema]
Protectora [tema]
[Theme] Protector
Experto [tema]
Experta [tema]
[Theme] Expert
Rey [tema]
Reina [tema]
[Theme] King
[Theme] Queen
Maestro [tema]
Maestra [tema]
[Theme] Master
[Theme] Mistress
References