Sci-Fi vs. Fantasy
Jump to navigation
Jump to search
Sci-Fi vs. Fantasy​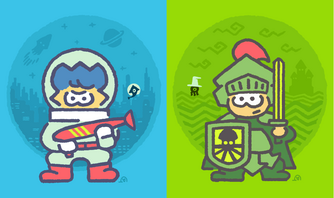 Team

 

Sci-Fi

 

Fantasy
Region
North America and Oceania
Start

18 November 2017

, 05:00 UTC
End

19 November 2017

, 05:00 UTC
Score method
category tally
Result type
combined
Popularity
42.78%
57.22%
Wins
%
Expression error: Unrecognized punctuation character "{".%
Solo wins
49.69%
50.31%
Team wins
50.2%
49.8%
Normal clout
%
Expression error: Unrecognized punctuation character "{".%
Pro clout
%
Expression error: Unrecognized punctuation character "{".%
Score
1
2
Winner
Fantasy
Region
Start

8 January 2021

, 21:53 UTC
End

9 January 2021

, 21:53 UTC
Popularity
%
Expression error: Unrecognized punctuation character "{".%
Wins
%
Expression error: Unrecognized punctuation character "{".%
Solo wins
%
Expression error: Unrecognized punctuation character "{".%
Team wins
%
Expression error: Unrecognized punctuation character "{".%
Normal clout
%
Expression error: Unrecognized punctuation character "{".%
Pro clout
%
Expression error: Unrecognized punctuation character "{".%
Score
Expression error: Unexpected < operator.
Expression error: Unexpected < operator.
Winner
Region
Start

8 January 2021

, 21:53 UTC
End

9 January 2021

, 21:53 UTC
Popularity
%
Expression error: Unrecognized punctuation character "{".%
Wins
%
Expression error: Unrecognized punctuation character "{".%
Solo wins
%
Expression error: Unrecognized punctuation character "{".%
Team wins
%
Expression error: Unrecognized punctuation character "{".%
Normal clout
%
Expression error: Unrecognized punctuation character "{".%
Pro clout
%
Expression error: Unrecognized punctuation character "{".%
Score
Expression error: Unexpected < operator.
Expression error: Unexpected < operator.
Winner
Sci-Fi vs. Fantasy was a Splatfest event in Splatoon 2. It was exclusive to North America and Oceania. It was announced on 13 November 2017. The results were given on 19 November 2017.
Details
Detailed results were released through SplatNet.
Sci-Fi vs. Fantasy featured the third Shifty Station layout, Goosponge.
Detailed results for Sci-Fi vs. Fantasy
Region
Participants
Solo wins
Team wins
Alpha
Bravo
Alpha
Bravo
Alpha
Bravo
NA/OC
87,894
117,562
133,575
135,227
6,541
6,490
Gallery
Dialogue
English
Announcement
Pearl's Dialogue
Marina's Dialogue
Region
Pearl:
"Which genre do you prefer? Science fiction or fantasy?"
Marina:
"Are we talking movies?"
NOA
Pearl:
"Movies, books, games, breakfast cereals... You name it."
Marina:
"Hmm. I gotta go with fanta—Did you just say breakfast cereals?"
NOA
Pearl:
"You know I'm all about those Choco Cyborg Flakes!"
Marina:
"Seriously, Pearl?"
NOA
Pearl:
"-"
Marina:
"Everyone knows Frosted Wyvern Puffs are the best."
NOA
Pearl:
"-"
Marina:
"Sci-fi is boring. I'd rather imagine worlds full of magic and mythical beasts!"
NOA
Pearl:
"-"
Marina:
"I mean, who wouldn't want to hang out with a dragon?"
NOA
Pearl:
"There are dragons in sci-fi too, you know. SPACE DRAGONS!"
Marina:
"-"
NOA
Pearl:
"Fantasy is for babies. It's just a bunch of make-believe fairy tales."
Marina:
"-"
NOA
Pearl:
"Sci-fi, on the other hand, is a thinking-squid's genre."
Marina:
"-"
NOA
Pearl:
"It's about exploring the potential of our universe...based on actual science."
Marina:
"Space dragons are actual science?"
NOA
Pearl:
"Uh... Looks like we're out of time! Go pick a side in the Square!"
Marina:
"-"
NOA



Results
Pearl's Dialogue
Marina's Dialogue
Region
Pearl:
"-"
Marina:
"ONE TEAM TO RULE THEM ALL!"
NOA
Notes: This quote may be a reference to Lord of the Rings, a fantasy book series by J.R.R. Tolkien.
Pearl:
"..."
Marina:
"-"
NOA
Pearl:
"-"
Marina:
"All the science in the world can't tame a dragon, Pearlie!"
NOA
Pearl:
"-"
Marina:
"Way to go, Team Fantasy!"
NOA
Pearl:
"Why do you even like fantasy? I thought you were all about tech and machinery."
Marina:
"I prefer science fact to science fiction."
NOA
Pearl:
"Whatever."
Marina:
"If you participated in the Splatfest, your prizes are waiting in the Square!"
NOA



French (Canada)
Announcement
Perle's Dialogue
Coralie's Dialogue
Region
Perle:
«Quel genre préfères-tu? La science-fiction ou la fantaisie?»
(What genre do you prefer? Science fiction or fantasy?)
Coralie:
«On parle de films?»
(Are we talking about movies?)
NOA
Perle:
«De films, livres, jeux, céréales pour déjeuner... Ce que tu veux!»
(Movies, books, games, breakfast cereals... whatever you want!)
Coralie:
«Hmm. Je choisis la fantai... Euh, tu as dit céréales pour déjeuner?»
(Hmm. I choose fanta... Uh, did you say breakfast cereals?)
NOA
Perle:
«Tu sais très bien que j'adore les cèrèales Choco-Cyborg!»
(You know very well that I love Choco-Cyborg Flakes!)
Coralie:
«Vraiment, Perle?»
(Really, Pearl?)
NOA
Perle:
«-»
Coralie:
«Tout le monde sait que les flocons givrés de l'Hydre sont les meilleurs.»
(Everyone knows that Frosted Hydra Flakes are the best.)
NOA
Perle:
«-»
Coralie:
«La science-fiction, c'est plate. J'aime mieux imaginer des mondes magiques!»
(Science fiction is boring. I like to imagine magic worlds!)
NOA
Perle:
«-»
Coralie:
«Qui ne voudrait pas devenir ami avec un grand dragon?»
(Who wouldn't want to become friends with a big dragon?)
NOA
Perle:
«Y'a des dragons aussi dans la science-fiction! DES DRAGONS DE L'ESPACE!»
(There are dragons in science fiction too! SPACE DRAGONS!)
Coralie:
«-»
NOA
Perle:
«La fantaisie, c'est pour les enfants. Des contes de fées qu'on raconte.»
(Fantasy is for children. It's all just made up fairy tales.)
Coralie:
«-»
NOA
Perle:
«La science-fiction, c'est pour les calmars qui aiment penser!»
(Science fiction is for squids who like to think!)
Coralie:
«-»
NOA
Perle:
«C'est penser au potentiel de notre univers... basé sur la science.»
(It's imagining the potential of our universe... based on science.)
Coralie:
«Des dragons spatiaux, c'est vraiment basé sur la science?»
(Are space dragons really based on science?)
NOA
Perle:
«Oh, regarde! On a plus de temps! Va choisir une équipe sur la carré!»
(Oh, look! It's been a long time! Go choose a team in the square!)
Coralie:
«-»
NOA



Results
Perle's Dialogue
Coralie's Dialogue
Region
Perle:
«-»
Coralie:
«Une équipe pour les gouvernor toutes!»
(One team to rule them all!)
NOA
Perle:
«...»
Coralie:
«-»
NOA
Perle:
«-»
Coralie:
«Toute la science du monde n'arrive pas à apprivoiser un dragon, ma petite Perle!»
(All the science in the world can't tame a dragon, my little Pearl!)
NOA
Perle:
«-»
Coralie:
«Beau travail, l'équipe Fantaisie!»
(Nice work, team Fantasy!)
NOA
Perle:
«Et pourquoi tu aimes la fantaisie? Je croyais que tu adorais les gadgets!»
(Why do you like fantasy? I thought you loved gadgets!)
Coralie:
«Je préfère les faits scientifiques à la science fictive.»
(I prefer scientific facts to science fiction.)
NOA
Perle:
«Ouais, bon...»
(Yeah, well...)
Coralie:
«Si tu as participé au festival, n'oublie pas de récupérer tes prix au carré!»
(If you participated in the Splatfest, don't forget to collect your prizes in the square!)
NOA



Spanish (Latin America)
Announcement
Perla's Dialogue
Marina's Dialogue
Region
Perla:
"¿Cuál género les gusta más? ¿La ciencia ficción o la fantasía?"
(Which genre do you like more? Science Fiction or Fantasy?)
Marina:
"¿Hablamos de películas?"
(Are we talking about movies?)
NOA
Perla:
"Películas, libros, juegos, desayunos... ¡Lo que sea!"
(Movies, books, games, breakfasts... whatever!)
Marina:
"Pueees... yo creo que me gusta más la fanta... ¿dijiste desayunos?"
(Well... I think I like fanta... Did you say breakfasts?)
NOA
Perla:
"¡Los Robo Krispis son lo mejor!"
(Robo Krispies are the best!)
Marina:
"¿En serio?"
(Seriously?)
NOA
Perla:
"-"
Marina:
"¡Todo el mundo sabe que el mejor cereal son los Copos de Dragón!"
(Everyone knows that the best cereal is Dragon Flakes!)
NOA
Perla:
"-"
Marina:
"La ciencia ficción es un aburrimiento. ¡No tiene magia ni bestias mitológicas!"
(Science Fiction is a snore fest. It doesn't have magic or mythical creatures!)
NOA
Perla:
"-"
Marina:
"¿A quién no le gustaría viajar por el mundo a lomos de un dragón?"
(Who wouldn't want to travel the world on the back of a dragon?)
NOA
Perla:
"La ciencia ficción también tiene dragones... ¡DRAGONES ESPACIALES!"
(Science Fiction also has dragons... SPACE DRAGONS!)
Marina:
"-"
NOA
Perla:
"La fantasía es para niñatos. Son puros cuentos de hadas y bobados."
(Fantasy is for little kids. It's all fairy tales and nonsense.)
Marina:
"-"
NOA
Perla:
"La ciencia ficción, en cambio, es un género que te hace pensar."
(Instead, Science Fiction is a genre that makes you think.)
Marina:
"-"
NOA
Perla:
"Se trata de explorar el potencial del universo con una mentalidad empírica."
(It tries to explore the potential of the universe with an empirical mentality.)
Marina:
"Y ¿qué tienen de empírico los dragones espaciales?"
(And what makes space dragons so empirical?)
NOA
Perla:
"Este... ¡Ay, se nos acabó el tiempo! Elijan sus equipos en el centro!"
(Umm... Ah, we've run out of time! Choose your teams at the Square!)
Marina:
"-"
NOA



Results
Perla's Dialogue
Marina's Dialogue
Region
Perla:
"-"
Marina:
"¡Un equipo para gobernarlos a todos!"
(One team to rule them all!)
NOA
Perla:
"..."
Marina:
"-"
NOA
Perla:
"-"
Marina:
"¡No hay ciencia que pueda con un dragón, Perlita!"
(There's no science that can put up with a dragon, Pearlie!)
NOA
Perla:
"-"
Marina:
"¡Felicidades, Equipo Fantasía!"
(Congrats, Team Fantasy!)
NOA
Perla:
"Oye, ¿por qué eres del Equipo Fantasía? Tanto que te gusta la tecnología..."
(Hey, why are you on Team Fantasy? You like technology so much...)
Marina:
"Me gusta la ciencia verdadera. No la ficticia."
(I like real science. Not the fictitious kind.)
NOA
Perla:
"Bah..."
Marina:
"¡Si participaron en el festival, recojan sus premios en el centro!"
(If you participated in the Splatfest, collect your prizes at the Square!)
NOA



Top 100
Team Sci-Fi
Rank
Name
Splatfest Power
Weapon
Headgear
Shoes
1
Thicc Nig

*

2588
Splattershot Pro
Studio Headphones
Blue Slip-Ons
2
kϊd⇔Chris
2532
Aerospray RG
18K Aviators
Pro Trail Boots
3
NKT©Darm
2530
N-ZAP '85
FishFry Visor
Blue Slip-Ons
4
Benji
2518
Custom Splattershot Jr.
King Facemask
Red & Black Squidkid IV
5
,jex
2513
Hero Charger Replica
King Flip Mesh
Red-Mesh Sneakers
6
E® Sigrex
2510
.96 Gal
Bobble Hat
Blue Slip-Ons
7
ST~Flame
2504
.96 Gal
Takoroka Mesh
White Norimaki 750s
8
FK∞Arashi
2503
Dapple Dualies
Pilot Goggles
Moto Boots
9
CDŠ¤Dafter
2501
N-ZAP '85
King Facemask
Punk Whites
10
Joaco0803
2491
Hero Shot Replica
Studio Headphones
White Norimaki 750s
11
Slurpuff:3
2482
Sploosh-o-matic
King Flip Mesh
Purple Sea Slugs
12
SF★Morsa
2474
Splattershot
Hero Headset Replica
Neon Sea Slugs
13
SIB~Stεiπ;
2473
Splat Roller
Squid Hairclip
Neon Sea Slugs
14
Bean man
2467
Forge Splattershot Pro
Tinted Shades
Mawcasins
15
Jayden
2463
Range Blaster
Soccer Headband
Hunter Hi-Tops
16
Burstie
2460
Splattershot
Lightweight Cap
Strapping Whites
17
SF★K.K.
2457
Custom Splattershot Jr.
MTB Helmet
Strapping Whites
18
Brandon…?™
2451
N-ZAP '85
Squidvader Cap
Punk Whites
19
Poké
2450
Custom Splattershot Jr.
FishFry Visor
Birch Climbing Shoes
20
Zeno
2449
Octobrush
Squidfin Hook Cans
Neon Sea Slugs
21
α Mish
2442
Custom Jet Squelcher
Backwards Cap
Black Dakroniks
22
Auxune
2439
Custom Splattershot Jr.
FishFry Visor
Black Norimaki 750s
23
N「DeeJayy」
2439
Tentatek Splattershot
Takoroka Mesh
Blueberry Casuals
24
cash money
2438
Splat Roller
Squid Facemask
Blue Slip-Ons
25
sammy<3
2437
Splattershot Pro
Takoroka Mesh
School Shoes
26
√OMGJulian
2434
Forge Splattershot Pro
Half-Rim Glasses
Blue Slip-Ons
27
juang1363
2432
N-ZAP '85
Jellyvader Cap
Blueberry Casuals
28
α Ronnie
2431
Aerospray RG
King Facemask
Black Norimaki 750s
29
WW_Inkthan
2431
N-ZAP '85
Studio Headphones
Mawcasins
30
EZ・Shy
2430
Dapple Dualies
Skull Bandana
Hunter Hi-Tops
31
にっしー
2428
Splat Roller
Camo Mesh
Blue Slip-Ons
32
Taku
2426
N-ZAP '85
Snorkel Mask
Neon Sea Slugs
33
Zoo.XL
2423
Splattershot Pro
Studio Headphones
Red & Black Squidkid IV
34
Ian
2421
Hero Brella Replica
Bamboo Hat
White Norimaki 750s
35
Martha+
2420
Sploosh-o-matic
18K Aviators
Gold Hi-Horses
36
EZ・Dreαm™
2420
Enperry Splat Dualies
Jellyvader Cap
Orca Hi-Tops
37
Spire
2416
Sloshing Machine
Dust Blocker 2000
Piranha Moccasins
38
squid.exe
2416
Hero Brella Replica
Squid Facemask
Blue & Black Squidkid IV
39
Calamar
2416
Splat Roller
White Headband
Black Flip-Flops
40
Liαm★
2415
Hero Brella Replica
King Flip Mesh
Oyster Clogs
41
Starmarc
2413
Forge Splattershot Pro
Studio Headphones
Gold Hi-Horses
42
Sunde.
2412
Firefin Splat Charger
Special Forces Beret
Punk Whites
43
TιS・Cheezi
2412
Range Blaster
Soccer Headband
Snow Delta Straps
44
Jacob
2410
N-ZAP '85
Squidfin Hook Cans
Sunset Orca Hi-Tops
45
Celes
2407
Splat Roller
Camo Mesh
Strapping Whites
46
Nicholas
2407
Splat Roller
Squidfin Hook Cans
Black Trainers
47
α ©ø††øη
2407
.52 Gal
Camo Mesh
Punk Whites
48
FP★Luffy
2406
Splattershot Jr.
Jellyvader Cap
White Norimaki 750s
49
George
2405
Splattershot
Camo Mesh
Oyster Clogs
50
Miko
2405
Splattershot Pro
Painter's Mask
Black Norimaki 750s
51
SW★Luκαs
2403
Splattershot Jr.
Takoroka Visor
Blue & Black Squidkid IV
52
SIB-DYn
2402
N-ZAP '85
Soccer Headband
Blue Slip-Ons
53
Owl.q
2402
Heavy Splatling Deco
Dust Blocker 2000
Gold Hi-Horses
54
Kern
2400
Splattershot
Fake Contacts
Black Flip-Flops
55
:)
2399
Splattershot
Camo Mesh
Black Norimaki 750s
56
Hydroid
2399
Splattershot Pro
Bobble Hat
Red & Black Squidkid IV
57
Greek Gawd
2397
Splattershot
Knitted Hat
Hunter Hi-Tops
58
QuevochaN
2397
Splattershot Pro
Camo Mesh
White Norimaki 750s
59
Zeliox
2395
Enperry Splat Dualies
Squidfin Hook Cans
Orange Arrows
60
Snek
2394
Heavy Splatling
Jellyvader Cap
Punk Whites
61
Agadez
2394
Octobrush
Camo Mesh
Piranha Moccasins
62
Mauricio
2392
Splatterscope
Paintball Mask
Black Norimaki 750s
63
Snover
2392
Splat Brella
Five-Panel Cap
Cherry Kicks
64
BlueTachaN
2392
N-ZAP '85
Camo Mesh
Cream Basics
65
mapleking
2391
Splash-o-matic
Skull Bandana
Blue Slip-Ons
66
FSIμKeen ♪
2389
Aerospray RG
Dust Blocker 2000
Punk Whites
67
drwatson
2388
Splat Roller
Bucket Hat
Blue Slip-Ons
68
Ev'ny ><>°
2387
Tentatek Splattershot
Tinted Shades
Black Dakroniks
69
J
2386
Sploosh-o-matic
Half-Rim Glasses
Blueberry Casuals
70
Mr.Bonker
2386
Tentatek Splattershot
Firefin Facemask
Pro Trail Boots
71
SM239
2384
Hero Splatling Replica
Painter's Mask
Acerola Rain Boots
72
вв:Zzylard
2383
Hero Shot Replica
King Facemask
White Norimaki 750s
73
Bob_man07™
2383
Splash-o-matic
Skull Bandana
Orange Arrows
74
???
2382
Aerospray RG
White Headband
Cream Basics
75
Zorayeel♪
2381
Rapid Blaster
Half-Rim Glasses
Black Norimaki 750s
76
macNchee$e
2381
N-ZAP '85
King Flip Mesh
Oyster Clogs
77
Mr.Zepplin
2380
Sploosh-o-matic
Squash Headband
Orca Hi-Tops
78
トルネード
2380
Hero Dualie Replicas
Studio Headphones
Punk Blacks
79
BoxerDuke↑
2380
Mini Splatling
Hero Headset Replica
Black Norimaki 750s
80
Kyleanator
2379
Carbon Roller
Knitted Hat
Blue Slip-Ons
81
Mikey
2379
Splattershot
King Flip Mesh
Blue Slip-Ons
82
SW★Kαty
2379
N-ZAP '85
18K Aviators
Black Trainers
83
Shakleferd
2378
Foil Flingza Roller
Tennis Headband
Plum Casuals
84
Jynx 2.0
2378
Splattershot Pro
Knitted Hat
Neon Sea Slugs
85
・Tek・
2377
N-ZAP '85
Half-Rim Glasses
Black Trainers
86
KyσchαN
2377
Splattershot
Squid Hairclip
Black Dakroniks
87
Satan
2377
Splattershot Pro
Pilot Goggles
Blueberry Casuals
88
ıм・Gabe
2377
Splat Brella
Takoroka Visor
Orange Arrows
89
V¤ ○°○
2376
.52 Gal
Sun Visor
Blue Moto Boots
90
LovedFox
2376
Splattershot
Jellyvader Cap
Strapping Whites
91
TurtleKid
2376
Aerospray RG
Knitted Hat
LE Soccer Shoes
92
『ćE』Scrub
2374
Splattershot
King Facemask
White Norimaki 750s
93
TW◎PRØTØ
2374
Splattershot
Half-Rim Glasses
Blue Slip-Ons
94
sib litten
2374
Splattershot
Tennis Headband
Plum Casuals
95
;Jack
2373
Hero Shot Replica
Bucket Hat
Pro Trail Boots
96
JD
2371
Custom Jet Squelcher
King Flip Mesh
Pro Trail Boots
97
ۤ Sehaj
2371
Splattershot Pro
Lightweight Cap
Pro Trail Boots
98
Vivian
2371
N-ZAP '85
Fake Contacts
Sunny Climbing Shoes
99
Madeline
2369
Firefin Splatterscope
Retro Specs
Orange Arrows
100
GregMario
2369
Hero Dualie Replicas
Hickory Work Cap
Oyster Clogs
Team Fantasy
Names in other languages
| Language | Name | Meaning |
| --- | --- | --- |
|  Spanish (NOA) | Ciencia ficción vs Fantasía | |
See also
External links