Money vs. Love
From Inkipedia, the Splatoon wiki
Money vs. Love​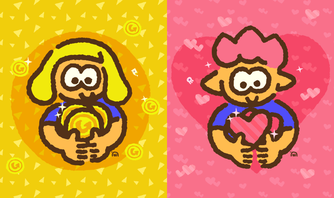 Team

 

Money

 

Love
Region
North America and Oceania
Start

17 February 2018

, 05:00 UTC
End

18 February 2018

, 05:00 UTC
Score method
category tally
Result type
combined
Popularity
32.13%
67.87%
Wins
%
Expression error: Unrecognized punctuation character "{".%
Solo wins
49.36%
50.64%
Team wins
51.28%
48.72%
Normal clout
%
Expression error: Unrecognized punctuation character "{".%
Pro clout
%
Expression error: Unrecognized punctuation character "{".%
Score
1
2
Winner
Love
Region
Start

29 September 2023

, 18:59 UTC
End

30 September 2023

, 18:59 UTC
Popularity
%
Expression error: Unrecognized punctuation character "{".%
Wins
%
Expression error: Unrecognized punctuation character "{".%
Solo wins
%
Expression error: Unrecognized punctuation character "{".%
Team wins
%
Expression error: Unrecognized punctuation character "{".%
Normal clout
%
Expression error: Unrecognized punctuation character "{".%
Pro clout
%
Expression error: Unrecognized punctuation character "{".%
Score
Expression error: Unexpected < operator.
Expression error: Unexpected < operator.
Winner
Region
Start

29 September 2023

, 18:59 UTC
End

30 September 2023

, 18:59 UTC
Popularity
%
Expression error: Unrecognized punctuation character "{".%
Wins
%
Expression error: Unrecognized punctuation character "{".%
Solo wins
%
Expression error: Unrecognized punctuation character "{".%
Team wins
%
Expression error: Unrecognized punctuation character "{".%
Normal clout
%
Expression error: Unrecognized punctuation character "{".%
Pro clout
%
Expression error: Unrecognized punctuation character "{".%
Score
Expression error: Unexpected < operator.
Expression error: Unexpected < operator.
Winner
This article is about the Splatfest in Splatoon 2. For the Splatfest from Splatoon, see Love vs. Money.
For the Splatfest from Splatoon 3, see Money vs. Fame vs. Love.
Money vs. Love was a Splatfest event in Splatoon 2. It was held in North America and Oceania. It was announced on 10 February 2018. The results were given on 18 February 2018.
Details
The full name of each choice was "MONEY" and "LOVE". The team name portion of Splatfest titles was "Money" and "Love".
Money vs. Love featured the 7th Shifty Station layout, Cannon Fire Pearl.
Trivia
This Splatfest's topic was repeated from the Japanese version of Splatoon, though in the original, Team Love was Alpha and Team Money was Bravo. This is the second time a Splatfest was repeated from the original game, the first being Rock vs. Pop.
This Splatfest's topic may be based off of the holiday Valentine's Day, judging by Team Love and the fact that the Splatfest took place only 3 days after the holiday, which occurs on February 14th.
Gallery
Dialogue
English
Announcement
Pearl's Dialogue
Marina's Dialogue
Region

Pearl


"What's more important to you? Money or love?"

Marina


"-"
NOA

Pearl


"-"

Marina


"Put another way—would you rather be rich and loveless or poor and loved?"
NOA

Pearl


"What kind of question is that?!"

Marina


"-"
NOA

Pearl


"MONEY ALL THE WAY, BABY![a]"

Marina


"Seriously. What kind of monster chooses money over lo—"
NOA

Pearl


"-"

Marina


"Oh..."
NOA

Pearl


"Money is the best! You can buy ANYTHING with money!"

Marina


"-"
NOA

Pearl


"-"

Marina


"Not true. Money can't buy you happiness."
NOA

Pearl


"Tell that to my swimming pool full of imported mayonnaise!"

Marina


"-"
NOA

Pearl


"-"

Marina


"..."
NOA

Pearl


"-"

Marina


"Just saying. The richest people I know are some of the loneliest people I know."
NOA

Pearl


"But I'm the richest person you kn—HEY!"

Marina


"-"
NOA

Pearl


"-"

Marina


"Money can't make you happy, it just makes life easier."
NOA

Pearl


"-"

Marina


"To live a truly happy and fulfilled life, love is the only answer."
NOA

Pearl


"It's time to decide. Head over to the Splatfest terminal and pick a team!"

Marina


"-"
NOA



Results
Pearl's Dialogue
Marina's Dialogue
Region

Pearl


"-"

Marina


"Love conquers all!"
NOA

Pearl


"RIGGED!"

Marina


"I hope you learned your lesson, Pearl."
NOA

Pearl


"-"

Marina


"The price of something doesn't determine its value."
NOA

Pearl


"-"

Marina


"The more money you spend, the less money you have."
NOA

Pearl


"-"

Marina


"The more love you spend, the more you get in return."
NOA

Pearl


"So love is like playing the stock market? Got it."

Marina


"What? No, that's not what I mea—"
NOA

Pearl


"If you participated in the Splatfest, your prizes are waiting in the Square!"

Marina


"-"
NOA



French (Canada)
Announcement
Perle's Dialogue
Coralie's Dialogue
Region

Perle


« Qu'est-ce qui est le plus important pour toi? L'argent ou l'amour? »
(What is most important to you? Money or love?)

Coralie


« - »
NOA

Perle


« - »

Coralie


« Être riche, mais sans amour ou être pauvre, mais plein d'amour? »
(To be rich but without love, or to be poor but full of love?)
NOA

Perle


« C'est quoi cette question idiote?! »
(What is this idiotic question?!)

Coralie


« - »
NOA

Perle


« - »

Coralie


« Sérieux, quel genre de monster choisirait l'argent au lieu de l'am... »
(Seriously, what kind of monster would choose money instead of lo...)
NOA

Perle


« JE VEUX TOUT L'ARGENT DU MONDE! »
(I WANT ALL THE MONEY IN THE WORLD!)

Coralie


« Ah... J'ai ma réponse. »
(Ah... I have my answer.)
NOA

Perle


« L'argent, c'est ce qu'il y a de mieux! On peut TOUT acheter avec de l'argent! »
(Money is the best! You can buy EVERYTHING with money!)

Coralie


« - »
NOA

Perle


« - »

Coralie


« C'est pas vrai. Le bonheur, ça s'achète pas! »
(That's not true. Happiness can't be bought!)
NOA

Perle


« Viens me dire ça dans ma piscine pleine de mayonnaise importée! »
(Come tell me that in my pool full of imported mayonnaise!)

Coralie


« - »
NOA

Perle


« - »

Coralie


« ... »
NOA

Perle


« - »

Coralie


« En tout cas, toutes les personnes riches que je connais sont très seules. »
(In any case, all the rich people I know are very lonely.)
NOA

Perle


« Mais c'est moi la personne la plus riche que tu conn... EILLE! »
(But I'm the richest person you know... HEY!)

Coralie


« - »
NOA

Perle


« - »

Coralie


« L'argent ne fait pas le bonheur. Ça rend juste la vie plus facile. »
(Money can't buy happiness. It just makes life easier.)
NOA

Perle


« - »

Coralie


« Pour vivre une vie pleine de joie et de bonheur, il faut de l'amour. »
(To live a life full of joy and happiness, it takes love.)
NOA

Perle


« C'est le temps de choisir. Va à la borne festive et choisis une équipe! »
(It's time to choose. Go to the Splatfest terminal and choose a team!)

Coralie


« - »
NOA



Results
Pearl's Dialogue
Marina's Dialogue
Region

Pearl


"-"

Marina


"L'amour l'emporte toujours!"
(Love always wins!)
NOA

Pearl


"Tu as donner un pot-de-vin à Charbitre pour qu'il donne la victoire à ton équipe."
(You gave Judd a bribe so that he'd give the victory to your team.)

Marina


"J'espère que tu as appris ta leçon, Perle."
(I hope you learned your lesson, Pearl.)
NOA

Pearl


"-"

Marina


"Le prix d'une chose ne détermine pas sa vraie valeur."
(The price something does not determine its true value.)
NOA

Pearl


"-"

Marina


"Plus tu dépenses de l'argent, moins tu en as."
(The more money you spend, the less you have.)
NOA

Pearl


"-"

Marina


"Plus tu donnes de l'amour, plus tu en reçois en retour!"
(The more love you give, the more you get in return!)
NOA

Pearl


"Donc, l'amour c'est comme les marches boursiers? J'ai compris."
(So, love is like the stock markets? I understand.)

Marina


"Quoi? Non, c'est pas ça que j'ai dit!"
(What? No, that's not what I said!)
NOA

Pearl


"Si tu as participé au festival, n'oublie pas de récupérer tes prix au carré!"
(If you participated in the Splatfest, don't forget to collect your prizes in the square!)

Marina


"-"
NOA



Spanish (Latin America)
Announcement
Perla's Dialogue
Marina's Dialogue
Region

Perla


«¿Qué es más importante para ustedes? ¿El dinero o el amor?»
(What is more important to you? Money or love?)

Marina


«-»
NOA

Perla


«-»

Marina


«Dicho de otra manera, ¿preferirían ser ricos sin amor o pobres y amados?»
(In other words, would you prefer to be rich without love, or poor and loved?)
NOA

Perla


«¡¿Qué clase de pregunta es esa?!»
(What kind of question is this?!)

Marina


«-»
NOA

Perla


«-»

Marina


«En serio, qué tipo de persona elegiría el dinero antes que el am...»
(Seriously, what kind of person would choose money before lo...)
NOA

Perla


«¡DAME ESE DINEROOO!»
(GIMME THAT MONEEEYYY!)

Marina


«Ah... Claro.»
(Ah... Of course.)
NOA

Perla


«¡El dinero es lo mejor! Si tienes dinero, ¡puedes comprar TODO LO QUE QUIERAS!»
(Money is the best! If you have money, you can buy EVERYTHING YOU WANT!)

Marina


«-»
NOA

Perla


«-»

Marina


«Incorrecto. El dinero no compra la felicidad.»
(Incorrect. Money doesn't buy happiness.)
NOA

Perla


«Está claro que no has visto mi estanque de mayonesa importada.»
(Obviously you haven't seen my pool of imported mayonnaise.)

Marina


«-»
NOA

Perla


«-»

Marina


«...»
NOA

Perla


«-»

Marina


«Solo te digo que de la gente que conozco los más ricos son los más tristes.»
(I'll only tell you that of the people that I know, the richest are the saddest.)
NOA

Perla


«¡Imposible! Yo soy la persona más rica que conoces y... ¡Oye!»
(Impossible! I'm the richest person you know, and... Hey!)

Marina


«-»
NOA

Perla


«-»

Marina


«El dinero no da felicidad. Solo te facilita la vida.»
(Money does not give happiness. It only makes life easier for you.)
NOA

Perla


«-»

Marina


«Si quieres vivir una vida plena y feliz, la única respuesta es el amor.»
(If you want to live a full and happy life, the only answer is love.)
NOA

Perla


«Es hora de elegir. ¡Vayan a la terminal de voto y elijan un equipo!»
(It's time to choose. Go to the vote terminal and choose a team!)

Marina


«-»
NOA



Results
Perla's Dialogue
Marina's Dialogue
Region

Perla


«-»

Marina


«¡Viva el amor!»
(Long live love!)
NOA

Perla


«¡Qué FRAUDE!»
(What a FRAUD!)

Marina


«Espero que hayas aprendido algo, Perla.»
(I hope you have learned something, Pearl.)
NOA

Perla


«-»

Marina


«Lo importante no es el precio sino el VALOR de las cosas.»
(What's important is not the price, but the VALUE of things.)
NOA

Perla


«-»

Marina


«Mientras más dinero gastas, menos tienes.»
(Whereas the more money you spend, the less you have.)
NOA

Perla


«-»

Marina


«Pero cuando das amor, recibes más a cambio.»
(But when you give love, you get more back.)
NOA

Perla


«Ahora ya entiendo: el amor es como el mercado de valores.»
(Now I understand: love is like the stock market.)

Marina


«¿Cómo? ¡No, no es eso! Lo que digo es que...»
(What? No, that's not it! What I said is...)
NOA

Perla


«¡Si participaron en el festival, recojan sus premios en el centro!»
(If you participated in the Splatfest, collect your prizes at the Square!)

Marina


«-»
NOA



Top 100
Names in other languages
| Language | Name | Meaning |
| --- | --- | --- |
|  French (NOA) | Argent vs Amour | Money vs Love |
|  Spanish (NOA) | Dinero vs Amor | Money vs Love |
Private Battle
Language
Name
Meaning
 Japanese

お金/愛


Okane/Ai
Money/Love
 Dutch

Geld / Liefde

Money / Love
 French

Argent/Amour

Money/Love
 German

Geld/Liebe

Money/Love
 Italian

Soldi/Amore

Money/Love
 Russian

Деньги / любовь


Den'gi / lyubov'
Money / love
 Spanish

Dinero/Amor

Money/Love
Notes
↑

Marina says her line first, and Pearl interrupts her mid-sentence
See also
External links