Splatoon 3
From Inkipedia, the Splatoon wiki
Splatoon 3 is the third entry in the Splatoon series and the sequel to Splatoon 2. Announced during the February 2021 Nintendo Direct, it was released on the Nintendo Switch on 9 September 2022. It sold quickly, and with 10.67 million copies sold, was approximately the eighteenth-best-selling Nintendo Switch title.[1]
Following the Team Chaos victory in the Chaos vs. Order Splatfest, Splatoon 3's style is very chaotic, bringing post-apocalyptic, patchwork, and other chaotic elements together with the styles of both previous games.
Splatoon 3 expands the Splatoon series on many different fronts, with an extensive story mode, new Salmon Run challenges and rewards, a wider range of customisation with more options (including the additions of Splashtags and the locker room), and the new mode Tableturf Battle. Additionally, Splatoon 3 streamlines many aspects of the previous games. The Battle Lobby has been reworked into a greatly-expanded practice area accessible between matches, Splatfests are overhauled with three teams rather than two and a new Tricolor Turf War mode, and the UI has been made more responsive and informative. Additionally, Splatoon 3 is the first game in the series to be localized into Korean[2] and Chinese.[3]
Development
In an interview with the weekly Famitsu magazine from around July 2019, Splatoon series producer Hisashi Nogami said that after completing Splatoon 2, the team focused on the Octo Expansion DLC as well as updates, and would not think about the future until completing version 5.0.0 of the game. This means that Splatoon 3 development had not started as of July 2019 and presumably started after the release of Version 5.0.0 on 31 July 2019.[4] This is quite different compared to the timing of the development of Splatoon 2, which started immediately after Splatoon was released.
On 17 February 2021, Splatoon 3 was announced in a Nintendo Direct.
On 23 September 2021, more information was revealed about Splatoon 3 in a Nintendo Direct, including new special weapons, stages, and music, as well as the reveal of the single-player mode Return of the Mammalians.
On 1 January 2022, the @SplatoonJP Twitter account posted a Tweet for the arrival of 2022. The post included a video with an Inkling performing a victory pose along with a jingle, while 2022 is written in ink. This revealed the return of the brush main weapon class, marking the final returning weapon class revealed.[5]
On 27 January 2022, Volume 16 of the Splatoon manga was released with a teaser of the new Agent 3 arriving in Splatsville.
In a Nintendo Direct on 9 February 2022, Salmon Run Next Wave, a successor to Salmon Run from Splatoon 2, was revealed to be a mode in Splatoon 3, introducing new Boss Salmonids, Egg Throwing, and the King Salmonid. It was also confirmed that the game will be released in the summer of 2022.
On 22 April 2022, a fourth trailer for Splatoon 3 was released, showing gameplay of a Turf War and revealing the release date to be 9 September 2022.[6][7] It was also revealed that the game will support cloud saves (for offline play data) and that there will not be separate regional versions, meaning that all language options will be available to every player.[8]
On 10 August 2022, an approximately thirty-minute long Nintendo Direct focused entirely on Splatoon 3, titled the Splatoon 3 Direct, was aired, revealing many new details about various aspects of the game, such as its modes, characters, stages, weapons, etc. A free demo of the game called the Splatoon 3 Splatfest World Premiere was also revealed.[9]
On 25 August 2022, Nintendo Treehouse showed off some gameplay of the game's story mode, such as the reveal of the first level of Future Utopia Island, Get to Know Alterna, Your Only Choice.
On 27 August 2022, the Splatoon 3 Splatfest World Premiere was started at different time zones with 26 weapons to use and a variety of different gear to wear. A single Splatfest took place in the demo, the theme of which was Rock vs. Paper vs. Scissors. After the Splatfest's results were announced, the demo ended.
On 9 September 2022, Splatoon 3 was released.
Story
The game takes place 5 years after the events of Splatoon 2 in the Splatlands, a sun-scorched desert inhabited by battle-hardened Inklings and Octolings, and Splatsville, a city of chaos that developed rapidly since the last Splatfest of Splatoon 2, Chaos vs. Order.[10] The game's design is themed around chaos due to the outcome of the Splatfest.[11]
The Splatoon 3 single-player story mode is called "Return of the Mammalians". Octarians return as the primary enemies, but the majority of them now appear mutated with brown fur and purple eyes. The story starts in the Crater where the player's character, an Inkling or Octoling accompanied by their companion Smallfry, is recruited by Craig Cuttlefish into the New Squidbeak Splatoon as the new Agent 3. The majority of the mode takes place in a location beneath the Crater called Alterna, a large, snowy area littered with incomplete structures and hazardous Fuzzy Ooze with a rocket at its center. Callie, Marie, and the Captain (the former Agent 3 from the previous games who is now the captain of the group following Cuttlefish's retirement) appear in this area to aid the player in their goal of exploring Alterna and finding Cuttlefish, who went missing shortly after recruiting the player.
Gameplay
Like its predecessors, Splatoon 3 is a third-person shooter game focused on online multiplayer ink battles, in which eight players are divided into two teams of four. Players have two main forms and may switch between the two at will: their humanoid form, in which they can use weapons to spread ink and splat opponents, and their swim form - with a squid or octopus appearance, which, if they enter their team's ink while in the form, allows them to swim through ink at greater speeds, including up walls, recharge their ink tank faster, and hide from opponents.
Players have access to new movement techniques to dodge attacks and expand the possibilities of attacks. A Squid Roll allows them to leap and twirl out of their ink and a Squid Surge allows them to quickly swim up ink-covered walls and jump out at the top, and both have a short phase of invincibility.[12] Additionally, medals are now awarded at the end of multiplayer matches for various accomplishments, such as inking the most and getting the most splats.
In the Splatlands, players in online battles enter the battlefield with a spawner. It floats above the stage behind each base and allows players to aim at their desired deployment location within that team's spawn area. After choosing where to deploy, the spawner launches players to that location in squid or octopus form similar to a Super Jump.[13] If a player is splatted, they will respawn in the spawner and will launch in the same way a battle starts.
In story mode, Smallfry, nicknamed "little buddy", accompanies the player. It can be thrown to attack Octarians, interact with contraptions to solve various puzzles, and remove hazardous Fuzzy Ooze.
Characters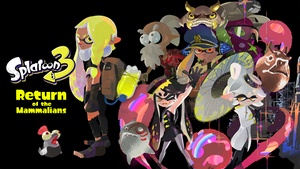 Protagonists
Secondary
Antagonists
Player customization
The genders of the Inklings and Octolings are no longer explicitly stated. Instead, the player "selects a style". Additionally, Octolings can now be selected from the start rather than having to be unlocked from paid DLC first.
New Player Settings have been added:
Two new skin tones in addition to the seven returning, for a total of nine.
Seven new eye colors, including six heterochromatic eyes that form a gradient from one color to another, in addition to 14 returning colors, for a total of 21. Some of these new eye color options feature colored pupils.
New hairstyles and legwear.

Hairstyles and legwear are no longer split between genders, meaning either style can access any hairstyle or legwear option. Hairstyles are still split between species.
Four new Inkling hairstyles and four new Octoling hairstyles are available, many of which are asymmetrical. All 16 hairstyles from Splatoon 2 return, for a total of 24 options.
Four new legwear options have been added in addition to the eight returning, for a total of 12.

The player can now also customize their character's eyebrow shapes. There are new eyebrow options in addition to four eyebrow shapes from previous games (that previously matched the character's species and gender). In addition to their classic eyebrows, they can have the same eyebrows but with a slit, rounded eyebrows (for Inkling girls), triangular eyebrows (for Inkling boys), teardrop-shaped eyebrows (for Octolings), thin eyebrows (for Inklings), and curved eyebrows (for Octolings).
The player now has a "little buddy", a Smallfry that plays a role in the single-player mode. Their hairstyle can be customized, with a total of seven different options.
Each player now has their own customizable Splashtag, displaying the player's username and ID number alongside customizable titles, badges, and a background. These are displayed in certain situations, such as at the start and end of battles and when viewing players in the square. In the player's first battle, they will use a default Splashtag with the default username of "Player"; after their first battle is complete, they unlock username and Splashtag customization. More titles, badges, and backgrounds can be obtained in various ways.

Usernames can now be changed directly in the game independently of the player's Nintendo Switch username. Their username after their first battle will default to their Switch username but is otherwise no longer determined by it.

Players can now customize the emotes that they perform upon winning battles. Unlike in the previous games, there are no longer animations for when players lose; instead, only the winning team of the battle is shown regardless of whether that was the player's team, at which point all players on that team are seen performing their selected emotes.
Players can now choose which of four Splatfest regions to take part in (Americas/Oceania, Europe, Japan, SE Asia/Hong Kong) about once every 2 months. This also defines which region's Plaza art and Top 100 they will see.

Choosing Japan will prompt a warning that not all Japan-region Splatfests have support in other languages.

Players can now choose which of two X Battle divisions to take part in (Tentatek for mostly Western players, Takoroka for mostly Eastern players) once per season.
New gear has been added, along with returning examples:
Three new brands have been introduced:

Barazushi makes high-quality technical wear for both hot and cold regions, like parkas and hoodies.
Emberz produces mostly patchwork clothing with an addition of other pieces, representing the chaotic ethos of Splatsville.

Numerous returning brands have added new choices to their arrays, including brands such as Enperry, Forge, Krak-On and Toni Kensa.

The brands Zekko and Firefin don't offer any new gear, instead offering a combination of choices from past games.
Locations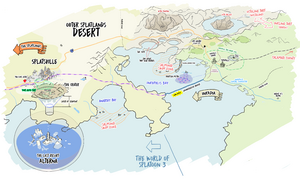 Modes
Turf War
There are no changes to the rules of Turf War in Splatoon 3 besides the addition of spawners. As in previous games, Turf War is the only Regular Battle mode.
Tricolor Turf War
First introduced in the Splatfest World Premiere, Tricolor Turf War is a new mode in Splatoon 3. This mode is only available in the second half of a Splatfest and is an altered version of the Turf War mode in which the three Splatfest teams battle in one Turf War. The Splatfest team that was in the lead at the Halftime Report of the Splatfest has four players in the match and start in the middle of the stage, while the other two teams have two players each and start at opposite ends of the stage. In the middle of the stage, there is a device called the Ultra Signal. If a member of one of the two losing Splatfest teams captures the Ultra Signal by holding it for long enough, a Sprinkler of Doom will appear and constantly rain that team's color for the rest of the match, and it cannot be destroyed. The person trying to capture the Ultra Signal is immobile while capturing it, so they can be splatted in the process, causing them to lose it.
Anarchy Battle
Anarchy Battle is a new mode that replaces Ranked Battles from previous games. It features all four modes from Ranked Battles that previously appeared (namely Splat Zones, Tower Control, Rainmaker, and Clam Blitz) on rotation and the returning rank system. There are two types of Anarchy Battles, Series and Open; Series Anarchy Battles do not allow for friends to join each other and use a new best out of five rulesets by which losing three battles results in a loss, while winning five battles results in a victory. Open Anarchy Battles are standalone battles in which players have the option to either join their friends or play solo.
Challenge
Challenge is a new mode that replaces League Battle from Splatoon 2, only available in limited rotations. Challenge battles usually have special conditions added. Players can compete either solo or in a team to gain Challenge Power. Challenge was first added in Sizzle Season 2023.
X Battle
X Battle replaces Splatoon 2's X Rank from Ranked Battles, featuring the same four ranked modes but on a separate rotation, available only to players who have achieved a rank of S+0 or above in Anarchy Battles during the current season.[14] X Battle was added to the game on 1 December 2022 as part of the Chill Season 2022 update.[15]
The Shoal
The Shoal allows Private Battles and Salmon Run to be played locally with other nearby players. Like in the Battle Lobby, the player can now move around inside the building, and it houses its own Test Range that can be used while waiting for battles or shifts to start.
Tableturf Battle
Tableturf Battle is an adaptation of Turf War styled after a card game and involves various cards depicting characters and weapons that fill areas like in a Turf War. As of Drizzle Season 2023, there are over 200 different cards that players can use to build a deck; they correspond to various shapes that can be used to cover turf and they can be charged up to cover additional turf, with the winner of the game being whoever covers the most squares of turf. The mode takes place in the Tableturf Battle Dojo and can be played against various CPU-controlled enemies, with online play against other players added at the beginning of Fresh Season 2023.
Salmon Run Next Wave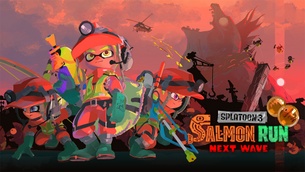 Salmon Run Next Wave is a horde mode that is the successor to Salmon Run from Splatoon 2, introducing new Boss Salmonids, stages, and mechanics, such as Egg Throws, King Salmonids, and Big Runs. The mode can now be played at any time, rather than being available on a set schedule. It is accessible from a Grizzco Industries building in Splatsville, which, like the Battle Lobby, can now be freely moved around in and houses its own Test Range that can be used while waiting for shifts to start.
Stages
Multiplayer
Salmon Run
Weapons
Main weapons
The Stringer class was added, of which there are two; the Tri-Stringer, and the REEF-LUX 450. Once charged, it fires three strings of ink simultaneously. Stringers also have two stages of charge, as seen in the Nintendo Switch OLED trailer.
A new Splatana class was released, consisting of the Splatana Wiper and the Splatana Stamper. Splatanas fire slashes of ink when used and can perform a charged slash to deal high damage to a faraway opponent or instantly splat an Inkling or Octoling within melee range.
All base main weapons from previous games return, except for the Dual Squelcher. However, no second variants were available at launch.
Sub weapons
All sub weapons in Splatoon 2 return in Splatoon 3. They have retained most of their attributes from previous games.
A new sub weapon named the Angle Shooter was added. It is thrown in a straight line, bouncing off any surface and leaving behind a trail. Both the projectile and its trail slightly damage and tag enemies on contact, allowing them to be seen through opaque obstacles, similar to the Point Sensor.
Special weapons
| Special Weapon | New | Returning | Main Weapons | Description |
| --- | --- | --- | --- | --- |
| Trizooka | ✓ | N/A | | Similar to the Inkzooka, a bazooka-like weapon is summoned. Players can shoot up to three large ink globs that travel in an arced pattern. The globs will great a big explosion on impact. Players are able to swim with the weapon equipped. |
| Big Bubbler | ✓ | N/A | | A deployable shield dome. Inside the dome is a generator that can be Super Jumped to like a Squid Beakon. The shield will protect anyone inside from attacks, but attacking the shield will slightly damage it and shrink its radius. Attacks done to the generator inside the dome or the propeller on top of the dome will damage and shrink it faster. |
| Zipcaster | ✓ | N/A | | A grappling hook-like special allowing players to extend their arms to latch on to walls or other surfaces, creating a small explosion of ink upon impact. Players can use their main weapon throughout the special's duration. |
| Tenta Missiles | N/A | ✓ | | Players can lock on to targets and fire off a set of missiles. The missiles will follow their target and strike from the sky. |
| Ink Storm | N/A | ✓ | | A cloud that rains ink over the map for some time. The rain droplets will lightly damage enemies. |
| Booyah Bomb | N/A | ✓ | | A super-charged ball of ink that rapidly expands after being thrown to a surface. While charging, the player is coated in a protective layer of ink and suspended in the air. Teammates can help charge the special faster by using the "Booyah!" signal, and will also receive a small increase to their special gauge if they do so. |
| Wave Breaker | ✓ | N/A | | A device that emits shockwaves across the floor. If the waves hit an enemy player, they take damage and are marked for a short amount of time. |
| Ink Vac | ✓ | N/A | | A vacuum that sucks in any ink or projectiles fired towards it. After a set amount of time or once the vacuum is filled, players can fire a blast of ink that will explode upon impact. |
| Killer Wail 5.1 | ✓ | N/A | | Six floating lasers that players can lock on to enemies. The lasers will follow them through any surface, and if they are not locked on they will rotate to either the left or right. |
| Inkjet | N/A | ✓ | | An ink-propelled jetpack that launches players into the air. It is attached with a cannon for players to shoot explosive ink shots. The jetpack's exhaust leaves an ink trail on the ground following the player's movement. |
| Ultra Stamp | N/A | ✓ | | A giant hammer that players can continually swing while rushing forward, splatting anyone in its way. The hammer can also be thrown, ending the special early. |
| Crab Tank | ✓ | N/A | | A crab-shaped robot that can shoot ink or transform into a ball and roll around. When shooting, players can switch between a rapid fire mode and cannon-like blasts with a large area of effect. |
| Reefslider | ✓ | N/A | | An inflatable shark that players ride down a straight path, splatting enemies on contact. The shark will create an explosion of ink when it reaches the end of the path, or the player can choose to cause the explosion prematurely. |
| Triple Inkstrike | ✓ | N/A | | Players can throw three Inkstrike-like missiles that will stick to surfaces, each missile creating a giant vertical tornado of ink shortly after landing. The player is unable to swim or use their main weapon until all three strikes are thrown. |
| Tacticooler | ✓ | N/A | | A deployable fridge with four drinks players on the same team can pick up. Each player can take one drink. The drinks provide temporary buffs related to movement and respawn penalties. |
| Super Chump[a] | ✓ | N/A | | Allows players to launch multiple Suction Bomb-like decoys that will explode after a short amount of time. Super Jump markers are displayed on the decoy's landing points. They can be destroyed by enemy fire or moving terrain before detonation. |
| Kraken Royale[a] | ✓ | N/A | | A rework of the Kraken from Splatoon, players are transformed into an invincible giant squid or octopus for a few seconds. They can attack by jumping or charging a dash attack. Players are vulnerable during the transformation phase. |
Music
Most of the music heard during multiplayer battles is made by C-Side, a band that performs music in a rock-esque style. They made a remix of Splattack! and Now or Never!, as well as Paintscraper, Headhammer, Triple Dip, Clickbait, Rinse/Repeat, and Learning Curve.
There are several other bands who make music during multiplayer battles. Two of them were released with the game: Front Roe, with the songs Sandy Side Up and Sea Me Now, and Damp Socks feat. Off the Hook, with the songs Tentacle to the Metal and Candy-Coated Rocks. Yoko & the Gold Bazookas was introduced in Version 4.0.0 with the songs Three-Horn Circus, Ska-BLAM, and Rockagilly Blues. H2Whoa was introduced in Version 5.0.0 with the songs Ripstop & Go and Aquasonic.
ω-3 retains all of their songs from Splatoon 2. They also released Frothy Waters and Toxic Anoxic for Salmon Run Next Wave, and during Big Runs, their song Bait & Click can be heard.
The idol band of Splatoon 3 is called Deep Cut, and, unlike the previous idol groups, Deep Cut's music takes inspiration from many traditional cultures. Most of Deep Cut's music is heard during Splatfests, such as Anarchy Rainbow, Till Depth Do Us Part, Fins in the Air, Big Betrayal, their cover of Now or Never!, Ageshio Notte Mōteru, Shinsan Name Manta, and Daybreaker Anthem. However, some of their music is also heard during Return of the Mammalians, specifically Deep Cut's Theme, Surprise and Shine, Hide and Sleek, Smeared Canvas, and Calamari Inkantation 3MIX.
In the Battle Lobby, multiplayer battle songs from all games sometimes play, as well as Sinkopated, Drip Feed, Heliocentri City, Fuzzy Dazzler, Blop Bop, Gilded Cage, Dressed to Krill, Slick Moves, Gillty, Pour It On, Pop 'n' Schlock, Clashing Colors, and Dorsal Slicer. In Version 3.0.0, a Jukebox was added that allows the player to request almost any song in the game (as well as a select few from previous games) for

 100.
Post-launch updates
Much like the previous Splatoon games, several free post-launch updates are being released for Splatoon 3. Such updates are liable to prevent battle replays from working due to balance adjustments. The game's season changes roughly every three months, with additional weapons and catalogs being added at the start of every season.[16] The first post-launch content update, Chill Season 2022, which was released on 1 December 2022, features the addition of the stages Brinewater Springs and Flounder Heights, 13 new weapons, X Battles, and a new catalog. The second post-launch content update, Fresh Season 2023, which was released on 1 March 2023, features the addition of the stages Um'ami Ruins and Manta Maria, 12 new weapons, 2 new special weapons, the Jukebox, online Tableturf Battle, new Salmon Run Next Wave content, and a new catalog. Later updates are set to include content such as additional stages, League Battles, and using keywords to interact with ghosts in a channel. Additionally, major paid DLC will come in the form of the Splatoon 3: Expansion Pass, which is, so far, said to come in two waves, with the first having the player be able to travel to Inkopolis Plaza from the first Splatoon game, and the second, known as Splatoon 3 Expansion Pass: Side Order, likely having a new story in the same vein as Splatoon 2's Octo Expansion, with it taking place in what seems to be a modernized version of Inkopolis Square from Splatoon 2, and the only known characters so far being an Octoling and Off the Hook.
Significance of the number '3'
As a reference to the game being the third in the series, the number three is a recurring theme in the game, similarly to eight being a theme in the Octo Expansion. For example:
The protagonist of Return of the Mammalians is named Agent 3.
The default Inkling hairstyle is a braid, a hairstyle made by twisting three strands of hair.
The most prominent bands in the game, C-Side and Deep Cut, each have three members.

Deep Cut's Japanese name, すりみ連合, includes puns on "すり" (Japanese pronunciation of "three") and "み" (an alternate reading of the number 3). The Japanese names of the individual members of Deep Cut each have three characters. One of their songs is Calamari Inkantation 3MIX.
One of C-Side's songs is named Triple Dip. Additionally, one of Yoko & the Gold Bazookas' songs is named Three-Horn Circus.

Splatfests feature three teams, Tricolor Turf Wars, and 333x battles.
Several weapons introduced in the game are named after and associated with the number three, namely the Tri-Stringer (which fires three shots at once), the Trizooka (which can fire three times, each shot consisting of three blasts), the Triple Inkstrike (which has three uses before expiring), and the Triple Splashdown (which has the player and two fists all splash down, adding up to three explosions). Additionally, the Wave Breaker fires three shockwaves before it vanishes.
Octolings draw a "3" in the air when trying a brush at Ammo Knights.
Multiple new gear items are named to fit this theme, such as the Tri-Shred Tee.
The model of the Octobot King used by DJ Octavio in Return of the Mammalians is called the Octobot King L3.Gs. This is also supposed to be a pun, as the letters and numbers look similar to the word "legs".
Three pieces of treasure are collected in Return of the Mammalians.
Mr. Grizz's original name, as revealed in the Alterna Logs, was "Bear #03", and he is given the title of "The Ursine Anomaly #03" in Return of the Mammalians.
The time limit in the final boss battle of Return of the Mammalians is 3:33, and the final mission of the mode, After Alterna, has an entry fee of 333 Power Eggs and first-time clear reward of 3333 Power Eggs.
In Tableturf Battle, CPU opponents each have three difficulty ranks, and must be defeated in a rank three times to unlock the next rank. Additionally, non-jellyfish CPU opponents reward sleeves after being defeated 30 times on the third difficulty rank.
When the player has reached level 900, 333,333 XP is required to level up until the maximum level of 999.
In Salmon Run, the maximum hazard level is 333%.
Gallery
Trivia
The signature ink color set for this game is similar to the Color Lock set in Splatoon 2 and one of the Ranked Battle color sets in Splatoon, as well as Deep Cut's color scheme.
The Inkopolis Memorial Mixtape ends with the same drum loop used in the Splatoon loading screen followed by the opening of the original version of Splattack!, similar to the music of the Splatoon 3 announcement trailer.
In the Splatoon 3 announcement trailer, it could be seen that, while Inklings and Octolings are being shown individually, the Octoling using the Hydra Splatling had the symmetrical teeth of an Inkling, unlike the asymmetrical teeth Octolings usually have. This was later corrected in some promotional art of Octolings on the Splatoon 3 official Japanese website after the game's release date reveal.
Upon closer inspection, the "3" in the final version of the game's logo has cracks visible on its surface. This is a reference to the game being themed around chaos and it taking place in a desert region.
Splatoon 3 won the "Best Multiplayer Game" award at The Game Awards 2022.
Names in other languages
Language
Name
Meaning
 Japanese

スプラトゥーン3


Supuratūn 3
Splatoon 3
 German

Splatoon 3

Same as English
 Spanish

Splatoon 3

Same as English
 Chinese

斯普拉遁 3


Si1 pou2 laai1 deon6 saam1 (Cantonese)
Sī pǔ lā dùn sān (Mandarin)
Splatoon 3
 Korean

스플래툰 3


Seupeullaetun 3
Splatoon 3
External links
References