Splatoon 3
Jump to navigation
Jump to search
Splatoon 3​
Splatoon 3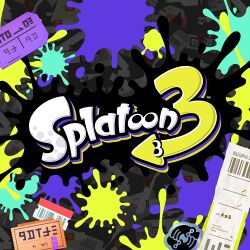 Developer
Nintendo EPD
Publisher
Nintendo
Platform
Nintendo Switch
Release date
2022
Genre
Third-person shooter
Action-adventure
Online multiplayer
Game modes
Media
Game Card
Digital download (eShop)
Game size
Ratings
Predecessor
Splatoon 2
Successor
Fuuuuuture!




This article or section discusses unreleased content. Information is subject to change.
Please review our policy on rumors and leaks before adding leaked information.
Splatoon 3 is the upcoming third entry in the Splatoon series. It is currently scheduled to be released on the Nintendo Switch in 2022.[1]
Development
In an interview with the weekly Famitsu magazine from around July 2019, Splatoon series producer Hisashi Nogami said that after completing Splatoon 2, the team focused on the Octo Expansion and updates and would not think about the future until completing version 5.0.0 of the game. This means that Splatoon 3 development had not started as of July 2019 and presumably started after the release of Version 5.0.0 on 31 July 2019.[2] This is quite different compared to the timing of the development of Splatoon 2, which started immediately after Splatoon was released.
On 17 February 2021, in the Nintendo Direct Splatoon 3 was announced.
Splatoon 3 will be the first game in the series to be localized into Korean[3] and Chinese.[4]
On 24 September 2021, in the Nintendo Direct more information was revealed about Splatoon 3, specials and stages were shown before getting interrupted by the reveal of the story mode: Return of the Mammalians.
Story
The game takes place in the Splatlands, a sun-scorched desert inhabited by battle-hardened Inklings and Octolings, and Splatsville, a city of chaos, one and a half years after the final Splatfest, Chaos vs. Order.[5] The outcome of the Splatfest is likely the reason the game's design is themed around chaos.
The Splatoon 3 single-player story mode is called "Return of the Mammalians", and it is implied that mammals besides Judd and Li'l Judd will appear. This includes some kind of mutated Octarian with brown fur. However, other Octarians do make an appearance such as Octopods and DJ Octavio.
Gameplay
Like its predecessors, Splatoon 3 is a third-person shooter game focused on online multiplayer battles, in which eight players are divided into two teams of four. Players have two main forms and may switch between the two at will: their humanoid form, in which they can use weapons to spread ink and splat opponents, and their squid or octopus form, which, if they enter their team's ink while in the form, allows them to swim through ink at great speed, including up walls, recharge their ink tank faster, and hide.
Players will have access to new movement techniques to dodge attacks and expand the possibilities of attacks. A "squid roll" allows them to leap and twirl out of their ink and a "squid surge" allows them to quickly swim up ink-covered walls and jump out at the top.[6]
In the Splatlands, players in online battles enter the battlefield with a spawner drone. It floats above the stage behind each base and allows players to aim at their desired deployment location within a certain reach. After choosing where to deploy, the spawner drone launches players to that location in squid or octopus form in a similar fashion to a Super Jump.[7] The regular spawn points are still present on at least Scorch Gorge but are not confirmed to be usable.
In story mode, a Smallfry, nicknamed "little buddy", accompanies the player. They can be thrown to attack Octarians, interact with contraptions to solve various puzzles, and clear Fuzzy Ooze out of the path. The method of throwing the little buddy is currently unknown, although Power Eggs presumably may be required to make them clean up the Fuzzy Ooze based on the Orange circles surrounding them when thrown and the energy they provide.[8]
Characters
At this time, the following characters are known:
Player customization
The genders of the Inklings and Octolings are no longer explicitly stated. Instead, the player "selects a style". Octolings can now be selected from the outset and the Inkling girl model has been seen to have a cut in their left eyebrow, though this appears to be optional.[9]
New player customization options have been added:
New eye colors, including heterochromatic eyes that form a gradient from one color to another.
New hairstyles

Hairstyles and legwear are no longer split between genders, though hairstyles are still split between species.
At least four new Inkling hairstyles and four new Octoling hairstyles will be available.

In keeping with the "chaos" theme, many of the new hairstyles are asymmetrical.

The "Hippie", "Topknot", "Haircut", "Pigtail", "Banger", "Double-Bun", "Punk", and "Tentacurl" hairstyles are also shown to return.

Returning headgear includes the Annaki Beret & Glasses, Annaki Mask, Fugu Bell Hat, Full Moon Glasses, Golf Visor, Knitted Hat, Safari Hat, Short Beanie, Sneaky Beanie, Studio Headphones, SV925 Circle Shades, Swim Goggles, Fake Contacts and White Arrowbands.
Returning clothes include the Annaki Yellow Cuff, B-ball Jersey (Home), Camo Layered LS, Camo Zip Hoodie, King Jersey, N-Pacer Sweat, Purple Camo LS, Red Hula Punk with Tie, Rockenberg White, Shirt & Tie, and Zekko Long Carrot Tee.
Returning shoes include the Amber Sea Slug Hi-Tops, Blue Power Stripes, Choco Clogs, Punk Cherries, Red FishFry Sandals, Snowy Down Boots, Tea-Green Hunting Boots, and Turquoise Kicks.
One new legwear option.
New gear.
Players now have a "little buddy"; a Smallfry with seven hair customization choices.
Locations
At this time, these locations are known:
Modes
So far, Turf War is the only multiplayer mode that has been confirmed and with no change to the rules.
Stages
Weapons
Main weapons
A bow and arrow-style weapon was added. Once charged, it fires three strings of ink simultaneously. Its design seems to be based on a fishing rod, using the reel and string. The weapon also appears to have two stages of charge, as seen in the Nintendo Switch OLED trailer.
Several weapons already present in the previous games seem to have gone through a re-design, including an E-liter Scope, Range Blaster, Splattershot, Hydra Splatling, Gold Dynamo Roller, Blaster, Sloshing Machine, and .96 Gal, as shown in the first Direct, and the Splash-o-matic, Glooga Dualies, Undercover Brella, Splat Roller, Clash Blaster, and Splat Charger in the second Direct. It is currently unknown if they will keep their attributes from the previous games or what some of their kits will be.
Some hidden weapons in Splatsville's Ammo Knights store, although they aren't confirmed yet.
Sub weapons
The Splat Bombs, Curling Bombs, and Burst Bombs all make appearances in the second Direct. It is currently unknown if they will retain the same attributes from the previous games.
Special weapons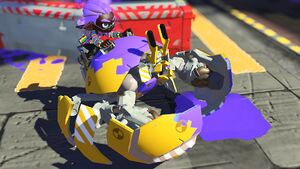 Music
The trailer contains a new remix of Splattack!, different from both the original Splatoon version and the Octo Expansion remix. It is currently unknown if this remix will be included in the game, or if it was created only for the trailer. This remix seems to suggest the game's music will follow a more rock-esque style, especially considering the overall theme of the game seemingly being based on Chaos winning Chaos vs. Order.
A new band called C-Side have a song named Clickbait, which was first previewed in the 23 September 2021 Nintendo Direct.
Gallery
Trivia
Names in other languages
Language
Name
Meaning
 Japanese
スプラトゥーン3
supuratūn 3
Splatoon 3
 Chinese
斯普拉遁 3
si1 pou2 laai1 deon6 3(In Cantonese)/ sī pǔ lā dùn 3(In Manderin)
Splatoon 3
 Korean
스플래툰 3
seupeullaetun 3
Splatoon 3
External links
References