Splatoon 3
From Inkipedia, the Splatoon wiki
Splatoon 3 is the third entry in the Splatoon series and the sequel to Splatoon 2. It was released on the Nintendo Switch on 9 September 2022.[1]
The main ink colors for this entry are yellow and bluish-purple, with grey as another prominent color throughout the game - reflecting the new idols.
Similarly to the Octo Expansion with the number eight, the number three is featured throughout - from the idols and Splatfest teams to weapons like the Trizooka and Tri-Stringer.
Following the Chaos victory in the Chaos vs. Order Splatfest, Splatoon 3's style is very chaotic, bringing post-apocalypse, patchworks and other chaotic elements together with the styles of both previous games.
Splatoon 3 expands the Splatoon series on many different fronts, with an extensive story mode and lore, new Salmon Run challenges and rewards, a wider range of customisation with more options and the addition of Splashtags, and the newly-added locker room.
Additionally, Splatoon 3 streamlines many aspects of the previous games. The lobby has been reworked into a greatly-expanded practice area accessible between matches, Splatfests are overhauled for three teams with a new Tricolor Turf War mode, and the UI has been made much more responsive and informative, and more.
Development
In an interview with the weekly Famitsu magazine from around July 2019, Splatoon series producer Hisashi Nogami said that after completing Splatoon 2, the team focused on the Octo Expansion DLC as well as updates, and would not think about the future until completing version 5.0.0 of the game. This means that Splatoon 3 development had not started as of July 2019 and presumably started after the release of Version 5.0.0 on 31 July 2019.[2] This is quite different compared to the timing of the development of Splatoon 2, which started immediately after Splatoon was released.
On 17 February 2021, Splatoon 3 was announced in a Nintendo Direct.
Splatoon 3 is the first game in the series to be localized into Korean[3] and Chinese.[4]
On 23 September 2021, more information was revealed about Splatoon 3 in a Nintendo Direct, including new special weapons, stages, and music, as well as the reveal of the single-player mode Return of the Mammalians.
On 1 January 2022, the @SplatoonJP Twitter account posted a Tweet for the arrival of 2022. The post included a video with an Inkling performing a victory pose along with a jingle, while 2022 is written in ink. This revealed the return of the brush main weapon class, marking the final returning weapon class revealed.[5]
On 27 January 2022, Volume 16 of the Splatoon manga was released with a teaser of the new Agent 3 arriving in Splatsville.
In a Nintendo Direct on 9 February 2022, Salmon Run Next Wave, a successor to Salmon Run from Splatoon 2, was revealed to be a mode in Splatoon 3, introducing new Boss Salmonids, Egg Throwing, and the King Salmonid. It was also confirmed that the game will be released in the summer of 2022.
On 22 April 2022, a fourth trailer for Splatoon 3 was released, showing gameplay of a Turf War and revealing the release date to be 9 September 2022.[6][7] It was also revealed that the game will support cloud saves (for offline play data) and that there will not be separate regional versions, meaning that all language options will be available to every player.[8]
On 10 August 2022, an approximately thirty-minute long Nintendo Direct focused entirely on Splatoon 3, titled the Splatoon 3 Direct was aired, revealing many new details about various aspects of the game, such as its modes, characters, stages, weapons, etc. A free demo of the game called the Splatoon 3 Splatfest World Premiere was also revealed.[9]
On 25 August 2022, Nintendo Treehouse showed off some gameplay for the campaign, such as the reveal of the first level of Future Utopia Island, Get to Know Alterna, Your Only Choice.
On 27 August 2022, the Splatoon 3 Splatfest World Premiere was started at different time zones with 26 weapons to use and a variety of different gear to wear. The theme was Rock vs. Paper vs. Scissors.
On 9 September 2022, Splatoon 3 was released.
Story
The game takes place 5 years after the events of Splatoon 2 in the Splatlands, a sun-scorched desert inhabited by battle-hardened Inklings and Octolings, and Splatsville, a city of chaos that developed rapidly since the last Splatfest of Splatoon 2, Chaos vs. Order.[10] The game's design is themed around chaos due to the outcome of the Splatfest.[11]
The Splatoon 3 single-player story mode is called "Return of the Mammalians". Octarians return as the primary enemies, but the majority of them now appear mutated with brown fur and purple eyes, though some, such as DJ Octavio, retain their original appearances. The story takes place in a new location called Alterna, a large, snowy area littered with incomplete structures and hazardous Fuzzy Ooze. It also contains a rocket ship and portable research lab (where Callie, Marie, and the Captain appear), a dark, mirrored city, and a neon-lit area with traditional Japanese items floating around in the background. The player's character is an Inkling or Octoling recruited by the New Squidbeak Splatoon (specifically the Squid Sisters and the Captain) as the new Agent 3; the former Agent 3 from the previous games is now the captain of the group following Cuttlefish's retirement.
Gameplay
Like its predecessors, Splatoon 3 is a third-person shooter game focused on online multiplayer ink battles, in which eight players are divided into two teams of four. Players have two main forms and may switch between the two at will: their humanoid form, in which they can use weapons to spread ink and splat opponents, and their swim form - with a squid or octopus appearance, which, if they enter their team's ink while in the form, allows them to swim through ink at greater speeds, including up walls, recharge their ink tank faster, and hide from opponents.
Players have access to new movement techniques to dodge attacks and expand the possibilities of attacks. A Squid Roll allows them to leap and twirl out of their ink and a Squid Surge allows them to quickly swim up ink-covered walls and jump out at the top, and both have a short phase of invincibility.[12] Additionally, medals are now awarded at the end of multiplayer matches for various accomplishments, such as inking the most and getting the most splats.
In the Splatlands, players in online battles enter the battlefield with a spawner drone. It floats above the stage behind each base and allows players to aim at their desired deployment location within that team's spawn area. After choosing where to deploy, the spawner drone launches players to that location in squid or octopus form similar to a Super Jump.[13] If a player is splatted, they will respawn in the spawner drone and will launch in the same way a battle starts.
In story mode, Smallfry, nicknamed "little buddy", accompanies the player. It can be thrown to attack Octarians, interact with contraptions to solve various puzzles, and remove hazardous Fuzzy Ooze.
Characters
At this time, the following characters are known:
Player customization
The genders of the Inklings and Octolings are no longer explicitly stated. Instead, the player "selects a style". Additionally, Octolings can now be selected from the start rather than having to be unlocked from paid DLC first.
New Player Settings have been added:
Two new skin tones in addition to the seven returning, for a total of nine.
Eleven new eye colors, including six heterochromatic eyes that form a gradient from one color to another, in addition to 11 returning colors, for a total of 22. Some of these new eye color options feature colored pupils.
New hairstyles and legwear.

Hairstyles and legwear are no longer split between genders, meaning either style can access any hairstyle or legwear option. Hairstyles are still split between species.
Four new Inkling hairstyles and four new Octoling hairstyles are available, many of which are asymmetrical. All 16 hairstyles from Splatoon 2 return, for a total of 24 options.
Four new legwear options have been added in addition to the eight returning, for a total of 12.

The player can now also customize their character's eyebrow shapes. There are new eyebrow options in addition to four eyebrow shapes from previous games (that previously matched the character's species and gender). In addition to their classic eyebrows, they can have the same eyebrows but with a slit, rounded eyebrows (for Inkling girls), triangular eyebrows (for Inkling boys), teardrop-shaped eyebrows (for Octolings), thin eyebrows (for Inklings), and curved eyebrows (for Octolings).
The player now has a "little buddy", a Smallfry that plays a role in the single-player mode. Their hairstyle can be customized, with a total of seven different options.
Customizable Splashtags have been added, displaying the player's username alongside changeable titles and backgrounds. These are displayed in certain situations, such as at the start and end of battles. More title phrases are unlocked as the player plays in Turf War matches.
Players can now customize their emotes upon winning battles.
There is also new gear, as well as gear returning from previous games:
Returning headgear includes the Annaki Beret & Glasses, Annaki Mask, Fugu Bell Hat, Full Moon Glasses, Golf Visor, Knitted Hat, Safari Hat, Short Beanie, Sneaky Beanie, Studio Headphones, SV925 Circle Shades, Woolly Urchins Classic, Swim Goggles, Fake Contacts, Blowfish Bell Hat, White Arrowbands, Takoroka Mesh, 18K Aviators, Squidvader Cap, Designer Headphones, Squidlife Headphones, FishFry Biscuit Bandana, Takoroka Visor, Tinted Shades, Double Egg Shades, Firefin Facemask, FishFry Visor, Forge Mask, and Streetstyle Cap.

New headgear includes the Retro Framers, Cephalo Pods, Squidband, BlobMob Mask, Classic Bowler, Home-Team Catcher, Howdy Hat, Ink-Black Flap Cap, Invisifloats, Moto Shades, Ocho OctoPhones, Party Hard Hat, Wharfside Cap, Winkle Stripe Helm, Jean Dream Bucket, Air Gills DX, Annaki Charms, and Squidbeak Shield.

Returning clothes include the Annaki Yellow Cuff, B-ball Jersey (Home), Camo Layered LS, Camo Zip Hoodie, King Jersey, N-Pacer Sweat, Purple Camo LS, Red Hula Punk with Tie, Rockenberg White, Shirt & Tie, Zekko Long Carrot Tee, Herbivore Tee, Sunny-Day Tee, Negative Longcuff Sweater, Layered Vector LS, Black Inky Rider, Squid Satin Jacket, Gray Vector Tee, Front Zip Vest, Light Bomber Jacket, Takoroka Nylon Vintage, White V-Neck Tee, Octobowler Shirt, Annaki Flannel Hoodie, Black Polo, Zapfish Satin Jacket, White 8-Bit FishFry, Pirate-Stripe Tee, White Shirt, and Lumberjack Shirt.
Returning shoes include the Amber Sea Slug Hi-Tops, Blue Power Stripes, Choco Clogs, Punk Cherries, Red FishFry Sandals, Snowy Down Boots, Tea-Green Hunting Boots, Turquoise Kicks, Oyster Clogs, Red Hi-Tops, Squid-Stitch Slip-Ons, Truffle Canvas Hi-Tops, Arrow Pull-Ons, Orange Arrows, Red & Black Squidkid IV, Zombie Hi-Horses, Yellow FishFry Sandals, Annaki Habaneros, Tan Work Boots, Moto Boots, Punk Whites, Hunter Hi-Tops, Blue Lo-Tops, Black Flip-Flops, Hunting Boots, Strapping Whites, Trail Boots, Red Hi-Horses, Blue & Black Squidkid IV, and Snow Delta Straps.
Locations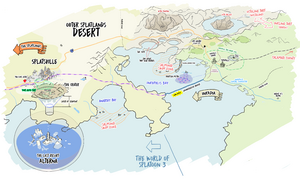 At this time, these locations are known:
Modes
Turf War
There are no known changes to the rules of Turf War in Splatoon 3 besides the addition of spawner drones. As in previous games, Turf War is the only Regular Battle mode.
Tricolor Turf War
First introduced in the Splatfest World Premiere, Tricolor Turf War is a new mode for Splatoon 3. This mode is a Splatfest exclusive mode and is a remixed version of the Turf War mode in which the three Splatfest teams battle in one Turf War. The Splatfest team with the most points at the halftime of the Splatfest has four players in the match, while the other two teams have two players. In the middle of the stage, there is a device called the Ultra Signal. If the two losing Splatfest teams capture the Ultra Signal, the Sprinkler of Doom will constantly rain that team's color for the rest of the match, and it cannot be destroyed. The person trying to capture the Ultra Signal is immobile while capturing it, so they can be splatted in the process.
Anarchy Battle
Anarchy Battle is a new mode that replaces Ranked Battles from previous games. It features all four modes from Ranked Battles that previously appeared (namely Splat Zones, Tower Control, Rainmaker, and Clam Blitz) on rotation and the returning rank system. There are two types of Anarchy Battles, Series and Open; Series Anarchy Battles do not allow for friends to join each other and use a new best out of five ruleset by which losing three battles results in a loss while winning five battles results in a victory, while Open Anarchy Battles are standalone battles in which players have the option to either join their friends or play solo.
League Battle
League Battle, a returning mode from Splatoon 2 in which teams can take part in Anarchy Battles, is planned to be added to the game in a future update.
X Battle
X Battle is only available to players who have achieved an extremely high rank, and is planned to be added to the game in a future update.
The Shoal
The Shoal allows Private Battles and Salmon Run to be played locally with other nearby players, and is available as part of the Battle Lobby.
Tableturf Battle
Tableturf Battle is an adaptation of Turf War styled after a spin-off card game, and involves various cards depicting characters and weapons that fill areas like in a Turf War. There are over 150 different cards that players can use to build a deck; they correspond to various shapes that can be used to cover turf and they can be charged up to cover additional turf, with the winner of the game being whoever covers the most squares of turf. The mode takes place in the Tableturf Battle Dojo.
Salmon Run Next Wave
In a Nintendo Direct on 9 February 2022, Salmon Run Next Wave was revealed as a successor to Salmon Run from Splatoon 2, introducing new Boss Salmonids, stages, and mechanics, such as Egg Cannons, King Salmonids, and Big Runs. The Direct also revealed that the mode can be played at any time, rather than being available on a set schedule.
Stages
Multiplayer
New stages
Returning stages
Salmon Run
Weapons
Main weapons
The Stringer class was added, of which one known weapon is the Tri-Stringer. Once charged, it fires three strings of ink simultaneously. Its design seems to be based on a fishing rod, using the reel and string. The weapon also has two stages of charge, as seen in the Nintendo Switch OLED trailer.
A new Splatana class was released, starting with the Splatana Wiper, a window wiper-like weapon that fires slashes of ink when used and can perform a charged slash to deal high damage to a faraway opponent or instantly splat an Inkling or Octoling within melee range.
All base main weapons from previous games return, except for the Dual Squelcher. However, no second variants were available at launch.
Sub weapons
All sub weapons in Splatoon 2 return in Splatoon 3. It is currently unknown if they will retain the same attributes from the previous games.
A new sub weapon named the Angle Shooter was revealed. It is thrown in a straight line, bouncing off any surface and leaving behind a trail. Both the projectile and its trail slightly damage and tag enemies on contact, allowing them to be seen through opaque obstacles, similar to the Point Sensor.
Special weapons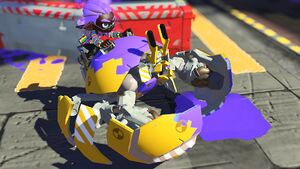 Five special weapons from Splatoon 2 have been confirmed to be returning, those being Tenta Missiles, Inkjet, Ink Storm, Booyah Bomb, and Ultra Stamp. It is unknown if their functionalities have been changed.
Ink Storm is part of the Bloblobber, Explosher, and Nautilus 47's sets.
Booyah Bomb is part of the Glooga Dualies, Hydra Splatling, and Sloshing Machine's sets.

In Splatoon 2, the Glooga Dualies had the Inkjet, the Hydra Splatling had Splashdown, and the Sloshing Machine had the Sting Ray.

Ultra Stamp is part of the Mini Splatling, Splatana Wiper, and Sploosh-o-matic's sets.

In Splatoon 2, the Mini Splatling had Tenta Missles and the Sploosh-o-matic had Splashdown.
Music
The game contains a new cover of Splattack! by C-Side, different from both the original Splatoon version and the Octo Expansion cover. This cover seems to suggest the game's music will follow a more rock-esque style, especially considering the overall theme of the game seemingly being based on Chaos winning the Chaos vs. Order Splatfest.
A new band called C-Side has a song named Clickbait, which was first heard in the 23 September 2021 Nintendo Direct.
A new band called Front Roe made up of previous Squid Squad members Ichiya, Namida and Murasaki, and an unnamed fourth member has a song named Sea Me Now.
A sample of an early version Now or Never! can be heard in an official tweet released on 1 January 2022. A full version of Now or Never! can be heard in the background of the gameplay trailer on 22 April 2022.
Deluge Dirge and a yet unnamed song that sounds similar to ω-3's songs were featured in the Salmon Run Next Wave trailer in the 9 February 2022 Nintendo Direct.
Off the Hook are in a new band called Damp Socks feat. Off the Hook. They have made a new song called Candy-Coated Rocks.
Another song by C-Side, Paintscraper, was revealed on 5 August 2022.
A new set of idols, known as Deep Cut, were revealed on 10 August 2022 during the Splatoon 3 Direct. The group consists of Shiver, Frye and Big Man. They debuted alongside a song called Anarchy Rainbow.
Deep Cut has a new cover of Now or Never!, heard in Splatfests.
Another Damp Socks feat. Off the Hook song, Tentacle to the Metal, was revealed on 7 September 2022.
There are multiple other songs by C-Side and Front Roe but are yet to be named.
Post-launch updates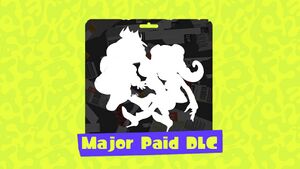 Much like the previous Splatoon games, Splatoon 3 is planned to have several free post-launch updates. Such updates are liable to prevent Battle Replays from working due to balance adjustments. Update content will include using keywords to interact with Ghosts in a channel, tweaked methods for adjusting ranks, X Battles, League Battles, and additional stages. Additional weapons and additional catalogues for player customization will also be added every three months.[14] Additionally, major paid DLC featuring Pearl and Marina is also planned for Splatoon 3.
Gallery
Trivia
The signature ink color set for this game is similar to the Color Lock set in Splatoon 2 and one of the Ranked Battle color sets in Splatoon, as well as Deep Cut's color scheme.
The Inkopolis Memorial Mixtape ends with the same drum loop used in the Splatoon loading screen followed by the opening of the original version of Splattack!, similar to the music of the Splatoon 3 announcement trailer.
In the Splatoon 3 announcement trailer, it could be seen that, while Inklings and Octolings are being shown individually, the Octoling using the Hydra Splatling had the symmetrical teeth of an Inkling, unlike the asymmetrical teeth Octolings usually have. This was later corrected in some promotional art of Octolings on the Splatoon 3 official Japanese website after the game's release date reveal.
Upon closer inspection, the "3" in the final version of the game's logo has cracks visible on its surface. This is a reference to the game being themed around chaos and it taking place in a desert region.
As a reference to the game being the third in the series, the number three is a recurring theme in the game, similarly to eight being a theme in the Octo Expansion. For example:

The protagonist of Return of the Mammalians is named Agent 3.
Splatfests feature three teams, Tricolor Turf Wars, and 333x battles.
Several weapons introduced in the game are named after and associated with the number three, namely the Tri-Stringer (which fires three shots at once), the Trizooka (which can fire three times, each shot consisting of three blasts), and the Triple Inkstrike (which has three uses before expiring).
Multiple new gear items are named to fit this theme, such as the Tri-Shred Tee.
The time limit in the final boss battle of Return of the Mammalians is 3:33, and the final mission of the mode, After Alterna, has an entry fee of 333 power eggs and first-time reward of 3333 power eggs.
The Octoling draws a "3" in the air when trying a paintbrush at Ammo Knight.
Names in other languages
Language
Name
Meaning
 Japanese

スプラトゥーン3


Supuratūn 3
Splatoon 3
 Chinese
斯普拉遁3[15]
Si pou laai deon 3 (Cantonese)
Sī pǔ lā dùn 3 (Mandarin)
Splatoon 3
 Chinese (Traditional)
漆彈大作戰3[16]
Qī dàn dà zuòzhàn 3 (Taiwanese Mandarin)
Paintball Battle 3
 Korean

스플래툰 3


Seupeullaetun 3
Splatoon 3
External links
References