Yoko & the Gold Bazookas
From Inkipedia, the Splatoon wiki
Yoko & the Gold Bazookas​
Yoko & the Gold Bazookas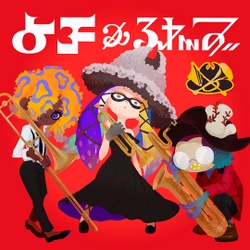 Species
Inkling (Yoko)
Octoling (Unknown name)
Height
Hair color
Eye color
Age
Gender
Pronouns
Relations
Yoko: Unnamed younger sister
Location
Shop
Members
Yoko & the Gold Bazookas is a band in Splatoon 3. One of their songs, Ska-Blam!, plays in the announcement trailer for Sizzle Season 2023. Their lineup consists of a trumpet (Yoko), trombone, and baritone saxophone, accompanied by a full rhythm section, as well as vocals.
The band is a side project of Yoko from Ink Theory.[1] The band was formed when Yoko joined a jam session in Splatsville to test her skills. After getting along with the other musicians in attendance, they quickly formed a seven-member group.[2]
Songs
Trivia
Although the band officially has seven members, only three are visible on the album artwork.[2]
The member on the left side of the album cover appears to be based on a blue-ringed octopus.
Etymology
Yoko is a trumpet player who was a member of Ink Theory in Splatoon 2. The Gold Bazookas are probably a reference to the brass instruments played in the songs, and the "x and the y" naming format is common among popular ska bands.
Names in other languages
| Language | Name | Meaning |
| --- | --- | --- |
|  Japanese | YOKO HORNS & FRIENDS | |
|  German | Yoko & the Gold Bazookas | Same as English |
References