Metalopod
From Inkipedia, the Splatoon wiki
Metalopod​
Metalopod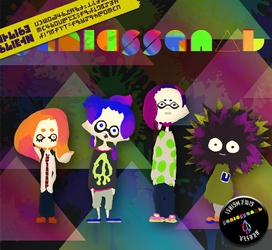 Metalopod is a song performed by Squid Squad.
Description
Unlike the other songs by Squid Squad, Metalopod is a heavy metal song, featuring deep guitar and bass riffs at the forefront and deep, husky vocals by Quinn, the band's bassist, a trait shared with Ink or Sink and the songs by Diss-Pair. In addition, there is backing from drums and brief synthesizer solos throughout the song. During the chorus, the song briefly picks up pace featuring different vocals, but it is unknown who sings these vocals. Metalopod is one of the five battle songs released with Splatoon at launch. Like all battle songs, it has a random chance of being played during online matches. In Splatoon 3, this song can sometimes play in the Battle Lobby.
It was first heard in a trailer showing off stages in Splatoon, playing when Blackbelly Skatepark was being shown.
In the Super Smash Bros. series
See also: Metalopod
It is also featured in the soundtrack for Super Smash Bros. Ultimate. It has a chance of playing on Moray Towers, and can also be heard in the Sounds section in the Vault menu.
Trivia
Etymology
Metalopod is a portmanteau of "metal" and "cephalopod".