Jukebox
From Inkipedia, the Splatoon wiki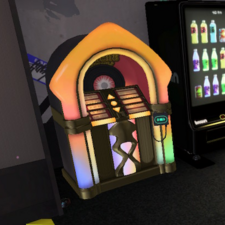 The jukebox is a machine in Splatoon 3 that allows the player to listen to in-game songs in the Battle Lobby. It is located next to the Crab-N-Go stall. Players are able to request a song to play on it, which causes the selected song to play in the Battle Lobby (even if the player leaves and re-enters) until the player chooses to cancel the request. Requesting a song costs

 100 per song. When using the jukebox in a Private Battle room, the requested music will play in the lobbies of all other players in that room as well. The music playing on the jukebox will only play while in the lobby and will have no impact on the battle music.
The jukebox was added to Splatoon 3 as part of the Version 3.0.0 update, replacing one of the two vending machines present in the lobby. Prior to this update, an unused jukebox was placed below the lobby floor, inaccessible by the player; this jukebox model had a different design than the final jukebox.[1]
Usage
The jukebox can be activated by standing in front of it and pressing . The left side of the jukebox screen displays the currently playing song, and if someone requested the song, their username is also shown. The right side shows the list of music tracks that can be requested, which are sorted into five sections (toggled between with and ): Battles, Story Mode, Salmon Run, City, and Other. Pressing allows the player to preview the first 10 seconds of the song for free. Pressing on a track prompts the player to confirm the song request, which costs

 100. When a song has been requested, pressing allows the player to cancel their song request.
If a newly unlocked song is available in the jukebox, the song item and its corresponding section heading will show an exclamation mark icon. Hovering over the song removes the exclamation mark.
List of tracks
Unlock conditions
Version history
Quotes
"
OK, that's more than enough from Ballistics. Musicology here with news that SINGS—there's a jukebox coming to the lobby! Just plug in 100 cash to choose a tune. If you're in a Private Battle, you can be the DJ—everyone will hear your selection. No judgment...but choose wisely!
"

— @SplatoonNA on Twitter

[2]
"
Welcome to the jukebox! You can use this to request a song for the lobby—just

 100

per song.
"

— Message upon first using the jukebox
Gallery
Trivia
When the player has chosen a song to play, the music at Crab-N-Go stops playing and the jellyfish barista does not make noises. However, the Lobby Terminal's music still plays.
Sometimes a version of Opening can play in the Battle Lobby. When the jukebox is used during this occasion, the jukebox screen will show the next song to be played as the current song.
Names in other languages
Language
Name
Meaning
 Japanese
ジュークボックス[a]
jukubokkusu
Jukebox
 Dutch
Jukebox
Same as English
 Russian

Джук-бокс


Dzhuk-boks
Jukebox
 Spanish (NOE)
Gramola
Jukebox
Translation notes
References