Wet Floor
From Inkipedia, the Splatoon wiki
Wet Floor​
Wet Floor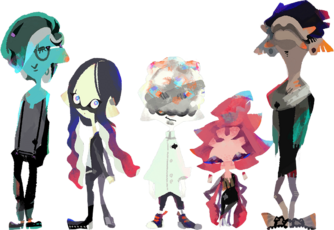 Artwork from
Splatoon 2
. From left to right: Keaton, Ryley, Mizo, Candi, and Neil.
Species
Keaton, Mizo & Ryley: Inkling
Neil: Cutthroat eel
Candi: Candy crab
Height
Hair color
Eye color
Age
Gender
Pronouns
Relations
Location
Shop
HP
Maximum HP
Members
(non-virtual)
Other forms
"
The rock band Wet Floor are the latest sensation in the Inkling world. Their songs are an enticing blend of different genres, and they're especially popular with the kids right now.
"
Wet Floor is a five-piece band appearing in Splatoon 2.
Songs
Members
Keaton
"
This guy plays synthesizer and is the group's founder. He's out to restore some indie dignity to Inkopolis's music scene that's lately been taken over by giant pop stars. When it comes to songwriting, he lets others take the initiative. He prefers tinkering with sounds to performing, and the studio is a much more comfortable place for him than the stage.
"
Keaton is an Inkling that plays synthesizer for the band. According to the HaikaraWalker art book, he founded the band using social networking services. He does not like performing live, rather spending time in the studio.
Mizo
"
Wet Floor also has two members that play guitar and provide vocals. The guy on the left is a fan of vintage rock sounds. You can hear it in the sharp, jangly rhythms of his riffs. The girl on the right is a faithful follower of the church of punk rock, and she carves out riffs with a more hunky, bass-heavy sound. These two don't always see eye-to-eye, but when they're in the groove, their two distinct sounds meld into a medley of magical music.
"
Mizo is the male Inkling on guitar and vocals, and he is a fan of vintage rock sounds, as well as jazz and soul music. He considers himself a rival to the Squid Squad, particularly Ichiya, though he fails to escape their influence. He is responsible for the band's composition alongside Ryley. He is shrewd, cynical, and often makes cutting remarks, and his personal creed is to either exceed or betray the expectations of others.
Ryley
Ryley is the female Inkling on guitar and vocals, and she plays with a hunky, bass-heavy sound. She is inspired by punk rock, particularly the Squid Squad, and shares a role composing the band's music with Mizo, oftentimes disagreeing with him, though they often complement each others' styles once they come together.
Neil
"
These two bring a fast-paced technical beat to the group's sound that's every bit as crucial as the members who play up front. The guy on bass has a trademark string-slapping style, while the drummer uses her multiple limbs to keep a driving, super-stable backbeat. The friendly rivalry these two share makes the band sizzle with thrilling rhythm.
"
Neil is the band's bassist, and he is a cutthroat eel. He is a self-paced, "big brother" personality for the rest of the band, and builds a thrilling rhythm team with Candi. He has a trademark string-slapping style and usually is able to play his part after listening to it only once, or from a quick look at the score. He is the only member of the band who works well in the mornings.
Candi
Candi is the band's drummer and a candy crab. She is youthful and technical, and while she appears spontaneous and right-brained, she often worries about her performance when listening to recordings, though she never shows it. She enjoys watching Mizo and Ryley bicker while having fun as she sits behind them.
Inkoming! EP
On 12 July 2017, an EP containing three songs and a version of Inkoming! performed by Wet Floor Shibuya released in Japan. It is part of a collaboration with Tower Records. On 30 July 2017, Wet Floor Shibuya performed at the Shibuya location of Tower Records. Tickets were given to those who purchased the album there at release.[5]
Track list
Music composed by Toru Minegishi
Inkoming!
Rip Entry
Endolphin Surge
Inkoming! (performed by Wet Floor Shibuya)
Artists
Gallery
Trivia
Etymology
"Wet Floor" refers to wet floor signs. Additionally, the large white symbol at the center of their album art is slightly reminiscent of falling stick figures typically featured on said signs.
Neil and Candi's names are references to their respective species.
Names in other languages
Keaton

| Language | Name | Meaning |
| --- | --- | --- |
|  Japanese | KAGI | - |
Ryley

| Language | Name | Meaning |
| --- | --- | --- |
|  Japanese | RYAN | - |
Mizo

| Language | Name | Meaning |
| --- | --- | --- |
|  Japanese | MIZOLE | From 霙 (mizore), meaning shaved ice or sleet, referring to Mizo's appearance. |
Candi

| Language | Name | Meaning |
| --- | --- | --- |
|  Japanese | KAZAMI | - |
Neil

| Language | Name | Meaning |
| --- | --- | --- |
|  Japanese | TSUMABUSHI | From 櫃まぶし (hitsumabushi), a Japanese dish consisting of grilled eel served on rice. |
References