Thang Obtained
From Inkipedia, the Splatoon wiki
Thang Obtained​
Thang Obtained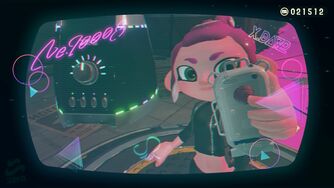 This article or section involves non-English content




Things may have an official name in another language, but currently have no official English name.
English translations should be seen as unofficial or pseudo-canonical.
Thang Obtained is a jingle from the Octo Expansion.
Description
Thang Obtained is a jingle heard after a thang has been obtained in B09 Grab & Go Station, E02 Bust & Run Station, C13 Smash & Dash Station, and H06 Break & Bounce Station. It starts in the same way as TEST PASSED!. The jingle contains twenty notes altogether.
Samples and interpolations
Fly Octo Fly
Main article: Fly Octo Fly
This jingle, along with TEST PASSED!, is reworked into Fly Octo Fly. There is a section where Marina sings a melody based on this jingle.
Names in other languages
| Language | Name | Meaning |
| --- | --- | --- |
|  Japanese | Are Get | - |