Seaskape
Jump to navigation
Jump to search
Seaskape​
Seaskape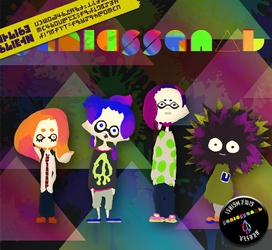 Seaskape is a song performed by Squid Squad.
Description
Seaskape opens with a drum solo, followed by a synthesizer instrumental with guitars in the background. This loops a couple of times before vocals are added for the chorus, sung in a high-pitched rock style, similar to the Squid Squad's other songs. After the chorus, the same drum solo from the start plays again before the song is looped. Seaskape is one of the five battle songs released with Splatoon at launch. Like all battle songs, it has a random chance of being played during online matches. It can also be heard in Squid Beatz, and is included in Splatune.
In Splatoon 2, Seaskape can be unlocked to listen in Squid Beatz 2 as a final reward from the

Inkling Boy (Splatoon 2) amiibo. It cannot, however, be heard anywhere else in the base game. It has a maximum score of 140 and 278 in Normal and Hard modes, respectively.
Remixes and covers
Seaskape (Super Smash Bros. Ultimate)
See also: Seaskape
A new remix of the song also appears in Super Smash Bros. Ultimate, arranged by Hirokazu Tanaka. This version uses more traditional instruments for most of its verses, while the vocals in the chorus are deeper and more muffled. It has a chance of playing on the Moray Towers stage, while the original version of the song does not appear. It has a chance of playing on Moray Towers, and can also be heard in the Sounds section in the Vault menu.
Other versions
Seaskape (ESL Go4Splatoon Europe Grand Final)
The version played on ESL Go4Splatoon Europe Grand Final during the waiting screen has a definite ending.
Trivia
Etymology
Seaskape is a corruption of 'seascape', meaning a view of the sea.
Names in other languages
Grouped by occurrences. Chronological order.