Happy Little Workers
From Inkipedia, the Splatoon wiki
Happy Little Workers​
Happy Little Workers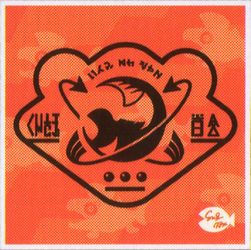 Happy Little Workers is a song performed by Grizzco Industries.
Description
Happy Little Workers has a very unorthodox production and is very similar to the other Splatoon 2 Grizzco song, Ever Further. It features a lot of abstract sound effects and heavily edited vocals, all combined with various pipes and drum beats. The intro contains percussion accompanied by Mr Grizz's laughter, then the pipe instrumentation begins. What seem to be heavily edited Inkling vocals sing an unusual syncopated melody, then transition into the verse where they repeat the same melody, this time accompanied by percussion and a higher-pitch pipe instrument. After the verse Mr Grizz's laughter is repeated as a lower-pitch instrument plays throughout a second verse, after which the song loops. Happy Little Workers plays in the Grizzco building in Inkopolis Square, where the player chooses which mode to enter. It can also be heard in Squid Beatz 2, with a maximum score of 91 and 166 in Normal and Hard modes, respectively.
Remixes and covers
In Splatoon 3, a remix of Happy Little Workers is used in place of the original. While the instrumentation and melody are the same, the initial vocals are replaced with different heavily distorted and slightly off-pitch vocals. The song eventually transitions into the original vocals accompanied with new elements. The intro starts with percussion accompanied by Mr Grizz's laughter, which differs from that heard in the Splatoon 2 version of the song. The pipe instrumentation begins, but is now accompanied by dissonant harmonies, and its measure is much longer, creating the effect of "stalling" before resuming the regular flow of the song. New distorted, off-pitch vocals with a new mumble-like melody accompany the intro. The vocals that follow the syncopated melody from the original song return following the intro, now accompanied by many different vocal and instrumental harmonies, making it sound even more chaotic. Distinct prolonged vocals similar to Shiver's style of singing are heard throughout the song. This version lacks the verse where the "main" vocals self-harmonized, skipping straight to the verse without vocals, during which the lower-pitch instrument returns from the original, albeit somewhat distorted. After the instrument's melody, other prolonged vocals are heard. Each instance of Mr Grizz's laughter is in tact.
Other Versions
In Inkopolis Square, whilst near the Grizzco building, a version with higher bass and echo is heard.
A version of Happy Little Workers plays in the opening for Salmon Run. The song uses the main melody for the original track, played on a piano-like instrument with a heavy echo.
A version of Happy Little Workers plays in the opening for Salmon Run Next Wave. It is the Splatoon 3 version with a radio-like filter, implying that it is playing on the helicopter where the opening takes place from.
Etymology
Names in other languages
Language
Name
Meaning
 Japanese

カガヤクンデス・マーチ


Kagayakun-desu Māchi [note 1]
"You'll Be Shining" March
Translation notes