Fins in the Air
From Inkipedia, the Splatoon wiki
Fins in the Air​
Fins in the Air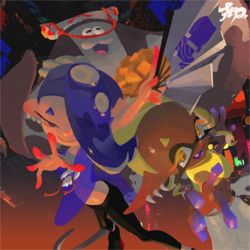 Fins in the Air is a song performed by Deep Cut.
Description
Fins in the Air is an energetic song, that follows the electronic genre with its instruments. It has a fun and uplifting vibe, perfect for Splatfests. The song starts with a short dazzling instrumental intro, followed by Shiver singing a verse, followed by Frye singing her own verse. The third verse features both of them singing, with a subtle leitmotif from Calamari Inkantation, followed by a bridge, then the chorus that has Shiver singing long notes and Frye singing short notes, bringing a little aspect of chaos to the song while remaining harmonical. In the middle of the chorus, Big Man can be heard singing the same lyrics as Frye until the end of it. An instrumental part comes after the chorus, then the song loops.
This is one of the two songs that can randomly play during a Splatfest Battle in Splatoon 3.
Other versions
Fins in the Air (Live)
During the Deep Cut Concert at Nintendo Live 2022, an extended version of Fins in the Air is used. The song is relatively the same during the start until it gets to the middle of the chorus, in which Big Man's vocals are mixed in clearer than the in-game version. A guitar riff can be heard during the instrumental part, and Shiver starts singing again, with the main difference being that most of the instruments are quiet minus the drums. An entire verse is skipped, as Shiver and Frye sing the verse before the chorus with a more quiet and calm instrumental, building up until it gets to the chorus again. The song has a keyboard riff part, and it transitions to the chorus again, with new lyrics from Shiver, changing her notes a bit. Deep Cut harmonizes during the end of the chorus, as the song ends with a proper ending.
Quotes
"
While you're pondering which Splatfest team to join, know that that we'll ALL be on "Team Great Tunes" thanks to Deep Cut's latest, Fins in the Air. Between Shiver's sprawling vocals, Frye's bouncy harmonies, and that dazzling intro, Musicology says it's "straight fire."
"

— @SplatoonNA on Twitter

[1]
Trivia
The preview version shown on Twitter[1] sounds different from the in-game version. The main differences are Frye's vocals at the start of the chorus and the mixing in general.
Etymology
The title is a pun of the expression and phrase "put your hands in the air", used by some musicians in live concerts to hype up their audiences, and the fins that sea creatures have.
Names in other languages
Language
Name
Meaning
 Japanese

衝天プチョフィンザ


Shōten Puchofinza
High spirits put-your-fins-up
References