Candy-Coated Rocks
Jump to navigation
Jump to search
Candy-Coated Rocks​
Candy-Coated Rocks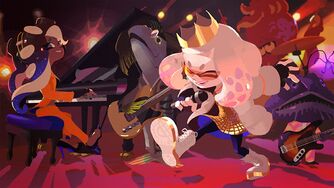 Candy-Coated Rocks is a song performed by Damp Socks feat. Off the Hook that is featured in Splatoon 3.[1]
Description
This article or section is a stub.


You can help the wiki by adding to it.
Candy-Coated Rocks is a pop rock song. It starts with an instrumentation consisting of guitar, drums, piano, and bass guitar. Then, Pearl starts singing, Marina starts singing later, and both of them sing the chorus together before the music fades out.
Currently, only a 1:10 minutes long preview of the song is available to the public, which fades out in the middle of the chorus; it is currently unknown what is the full length of the song and how it continues.
It is currently unknown if the song will be used as background music in multiplayer battles.
Quotes
"
You're listening to "Candy-Coated Rocks," the latest from Damp Socks feat. Off the Hook. Our audio anthropologist says Marina's subtle piano work wraps around the guitar like an eel wrapping itself around whatever eels wrap themselves around (she's not an eel scientist).
"

— @SplatoonNA on Twitter

[2]
"
While on tour, Off the Hook seems to have scouted a few new members and reformed as an act calling itself "Damp Socks feat. Off the Hook". Listen to their hot new single, "Candy-Coated Rocks".
"

— @NintendoEurope on Twitter

[1]
Names in other languages
Language
Name
Meaning
 Japanese

ゼンゲン・テッカイ


Zengen Tekkai
Eating One's Words[note 1]
Translation notes
↑ Zengen means "the previous statement", while Tekkai means "retract"; overall it means retracting the previous statement.
References