Anarchy Rainbow
From Inkipedia, the Splatoon wiki

This article or section involves non-English content
Things may have an official name in another language, but currently have no official English name.
English translations should be seen as unofficial or pseudo-canonical.
Note: Anarchy Splatcast (Splatfest) is translated from the Japanese track name in Splatune 3.





Anarchy Splatcast (Splatfest)​
Anarchy Splatcast (Splatfest)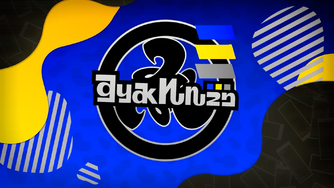 Anarchy Rainbow​
Anarchy Rainbow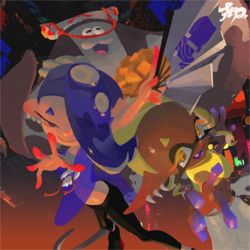 Anarchy Rainbow is a song performed by Deep Cut.
Description
Anarchy Rainbow is an energetic song drawing inspiration from Japanese odori and Brazilian samba music. The song starts with Shiver singing a verse, followed by Big Man speaking to bridge over to Frye's verse, which is sung in a style resembling traditional Indian music. After Frye's verse, the whole band sings the chorus together, after which the track loops.
The brass in the chorus has the leitmotif of Calamari Inkantation; while the notes played are not the same, the intervals between the notes and the overall contour of the melody are very similar.
During Splatfests in Splatoon 3, Deep Cut performs this song in Splatsville. In the first half of a Splatfest, each member of the band stands atop their own float that moves around Splatsville as they sing and dance to their own version of Anarchy Poisons; in the second half, the three floats combine to form one big stage, where Deep Cut performs Anarchy Rainbow together. Shiver and Frye's versions of Anarchy Poisons each use their own verse of Anarchy Rainbow as well as a unique verse where the other's would be, while Big Man's version has a similar samba beat and trumpets.
Lyrics
The booklet included with Splatune 3 gives the official lyrics for Anarchy Rainbow. The lyrics are nonsensical; the Japanese hiragana and katakana simply give the pronunciation.
Anarchy Rainbow Lyrics (Kana version)
"

みゅはな みゅはな
みゅはにょらうに みゅらはにゃ
ちゅらな ちゅらな
ちゅらあちみに ゆらにゃ


ニュラ ニャンディ アンダ マピンディ
テュチャン ディタン アンニ ガランティナハ
ハンケ パルディ ホテン タンディンキヌファ
ヤルダ クディ トロディ イェンナ チャンダルキ


★
アレ ブラト メソ クェオ
ソンヤ コモンダ オランナ
アレ ブラト メソ クェオ
ヤラ ブラティヤ バラナ


★くりかえし

"
Anarchy Rainbow Lyrics (Romanized version)
"

Myuhana myuhana
Myuhanyorauni myurahanya
Churana churana
Churaachimini yuranya


Nyura nyandi anda mapindi
Tyuchan ditan anni garantinaha
Hanke parudi hoten tandinkinufa
Yaruda kudi torodi yenna chandaruki


★
Are burato meso kweo
Son'ya komonda oranna
Are burato meso kweo
Yara buratiya barana


★Repeat

"
Remixes and covers
Live version
A live mix of Anarchy Rainbow debuted during the Deep Cut Concert at Nintendo Live 2022, consisting of a medley of Anarchy Rainbow and all three variants of Anarchy Poisons. This mix starts with the full version of Anarchy Rainbow before transitioning into Shiver's Anarchy Poisons (Bird Mix), Frye's Anarchy Poisons (Snake Mix) and Big Man's Anarchy Poisons (Boar Mix) in that order. Unlike the in-game version, Shiver and Frye harmonize with Big Man during Boar Mix. After that, Deep Cut closes the song together with one more chorus.
Anarchy Splatcast (Splatfest)
During Splatfests the Anarchy Splatcast theme's intro is intact, but the main song is replaced with a stripped back version of Anarchy Rainbow that lacks all vocals and most instruments. This usage of a simpler version of a Splatfest song echoes the Inkopolis News song featured in broadcasts hosted by Off the Hook during Splatoon 2's Splatfests, which was a similarly stripped-back instrumental version of Color Pulse, the song performed live in the plaza area.
Quotes
"
No need to twist our tentacles for us to do a deep dive on Deep Cut! It seems the trio will ride around on a float during Splatfests... and they've also written the Splatfest theme song "Anarchy Rainbow"! Check it out!
"

— @SplatoonNA on Twitter

[1]
Music video
The music video for Anarchy Rainbow was released on 10 August 2022, initially as a part of Splatoon 3 Direct.
Trivia
Frye came up with the idea for Anarchy Rainbow while eating Okonomiyaki, a type of savory pancake. It gave her the idea of "stacking" different types of music together.[2]
The demo for Anarchy Rainbow took 6 weeks to make. While they were working on the song, Shiver sent Big Man "back to the drawing board" seven times.[2] Big Man also refused to let Shiver or Frye provide vocals for the demo, doing them himself instead.
This song is also played in the subway train the player boards after completing the tutorial of the game.
Etymology
Anarchy refers to the chaotic nature of Splatsville and Splatoon 3 as a whole. Rainbow refers to how the song draws inspiration and has instruments from several different cultures, and also refers to that Splatsville is brightly lit up with signs, lanterns and display screens, much like City of Color and Color Pulse.
Names in other languages
Language
Name
Meaning
 Japanese

蛮殻ミックスモダン


Ban kara mikkusumodan
Bankara Mixed Modern
 Korean

Anarchy Rainbow

Same as English
Anarchy Splatcast (Splatfest)
Language
Name
Meaning
 Japanese

バンカラジオ(フェス)


Bankarajio (Fesu)
Anarchy Splatcast (Splatfest)
References