Chopscrewey
From Inkipedia, the Splatoon wiki





Chopscrewey​
Chopscrewey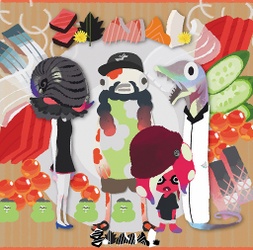 Chopscrewey is a song performed by SashiMori.
Description
Chopscrewey is a rock song. It features a muffled main vocalist, as well crowd-like secondary vocals during the bridge and chorus. Like all battle songs, it has a random chance of being played during online matches in Splatoon 2, and was added in Version 4.1.0 along with the other SashiMori song, Entropical. Chopscrewey starts with heavy percussion, leading into a brief guitar and violin intro, interrupted by the first verse. The verse features a very sparse instrumentation, with the previous guitar picking up gradually. The guitar fully picks up, leading into the bridge: a guitar buildup that interrupts the vocals, as the vocals call on a crowd-like other set of vocals. The chorus consists of that same call and response between vocalists but stronger, ending with more violins, before the song loops. It can also be heard in Squid Beatz 2, with a maximum score of 150 and 326 in Normal and Hard modes, respectively. In Splatoon 3, this song can sometimes play in the Battle Lobby.
Artists
Etymology
"Chopscrewey" alludes to both 'Chopped and Screwed,' a name for a Hip-Hop remixing technique, and Chop Suey, a Chinese-American dish. The title of this song may also reference System of a Down's song 'Chop Suey'.
Names in other languages
Language
Name
Meaning
 Japanese

チャンポン・チャント


chanpon chanto
Champon Chant. Can also refer to a similar Korean dish called jjamppong.