Shellfie
From Inkipedia, the Splatoon wiki
Shellfie​
Shellfie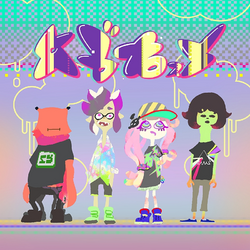 Shellfie is a song by the Chirpy Chips.
Description
Shellfie starts with a rapid, up-tempo beat and is mainly is composed of synthesizers and chiptune sounds. The opening verse is sung and quickly changes to a call-and-receive style, where one line is sung and then echoed back before some of the opening vocals are repeated. This is followed by a fast-paced chiptune instrumental, one final line of singing, and a short synthesizer break with chanting over the top before the song loops. Shellfie was one of four songs added in the Version 2.0.0 of Splatoon. Like all battle songs, it has a random chance of being played during online matches. It can also be heard in Squid Beatz and is included in Splatune.
It was first teased with a snippet from the Live from Squid Research Lab post introducing the Chirpy Chips.[1]
In Splatoon 2, Shellfie can be unlocked to listen in Squid Beatz 2 as a final reward from the Inkling Girl amiibo, with a maximum score of 147 and 226 in Normal and Hard modes, respectively. It cannot, however, be heard anywhere else in the base game.
In Splatoon 3, Shellfie can sometimes play in the Battle Lobby.
Other versions
Shellfie (Inkredible New Stages and Gear)
An alternate version to Shellfie was heard during the Inkredible New Stages and Gear trailer, and plays after a remix of Splattack while revealing Mahi-Mahi Resort. It remains mostly the same as the original but has a new, definite ending to the song. The backing soundtrack to the entire trailer without any sound effects was released in Splatoon Live in Makuhari -Shiokalive-, which also includes the first half of the Splattack! remix as one file.
Trivia
Etymology
Shellfie is a marine-based pun on 'selfie' and 'shell'.
Names in other languages
| Language | Name | Meaning |
| --- | --- | --- |
|  Japanese | Friend List | |
References