Eight-Legged Advance
From Inkipedia, the Splatoon wiki
Eight-Legged Advance​
Eight-Legged Advance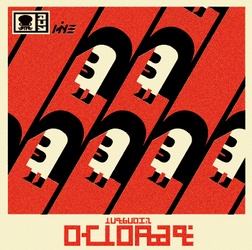 Eight-Legged Advance is a song performed by Turquoise October.
Description

This article or section is
incomplete
or is missing information.
Eight-Legged Advance, like many Turquoise October songs, is an electronic song, featuring many chiptune influences, unorthodox production and Octarian-sounding vocals. It features a prominent guitar line. Just before the minute mark the beat slightly switches. The intro is an interpolation of the Hero Mode - Onward! jingle heard after beating a mission, which is also sampled in I am Octavio. It is heard throughout various Octo Valley missions, and can also be heard in Squid Beatz.
Remixes and covers
Octo Eight-Step
Octo Eight-Step is an extensive rework of Eight-Legged Advance, sampling the beat, but with a brand new structure.
Crater Eighters Routine
Crater Eighters Routine is a remake of Eight-Legged Advance, following the same general structure of Eight-Legged Advance, but with a somewhat more irreverant tone.
Other Versions
Eight-Legged Advance (Kettle)
This version is simply just the beat, but muffled and echoey, making it sound like it's being played from a distance. It plays when the camera is near a kettle containing a level with the main track.
Samples and interpolations
Ebb & Flow (Demo)
Marina's original version of Ebb & Flow samples the beat of Eight-Legged Advance, hinting at her Octarian origins.
Inkopolis Memorial Mixtape
In the Inkopolis Memorial Mixtape, the eerie, ghostlike set of notes that plays during Eight-Legged Advance is heard right after Octo Eight-Step plays. After the Hero Mode - Onward! jingle from the track, it transitions into The Girl from Inkopolis.
Etymology
Eight-Legged Advance implies a march of the Octarians, which, as octopuses, have eight legs.
Names in other languages