Shiokalive at Cho Party 2016
From Inkipedia, the Splatoon wiki
Shiokalive at Cho Party 2016 was a virtual live performance that took place on 3 November 2016 during Niconico Cho Party held in Saitama, Japan.
Video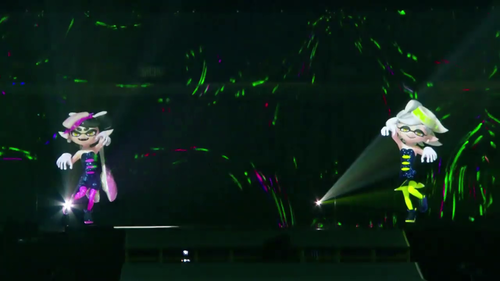 Background
In October 2016, it was announced that the Squid Sisters would be making a short appearance at Niconico Cho Party 2016 (ニコニコ超パーティー(JP)[a]). Cho Party is an event held at the Saitama Super Arena, which is one of the largest indoor arenas in the world. The event celebrates the internet subculture that can be found on the Niconico website. It was noted that because many other artists would be performing as well, their show would be shorter than their previous concerts.[1] This performance took advantage of the large holographic screen set up for other virtual artists performing at the event.
After the initial live stream of Cho Party 2016, the concert was rebroadcast during the Second Splatoon Koshien Regional Tournament for the Kinki region on 5 November 2016, making it viewable for people outside of Japan. A higher-quality version with different camera angles and on-screen transcriptions for dialogue was eventually uploaded onto Niconico on 21 July 2017 to coincide with the release of Splatoon 2. A remastered recording of the concert's audio was made available in the live album Splatoon 2 Live in Makuhari.
Live Musicians
Transcription

Translation needed
The translations may need revision.
edit
アオリ's Dialogue
ホタル's Dialogue
Region

アオリ


「こんにちはーーー!」
(Hello!)

ホタル


「こんちゃ〜〜〜!」
(Hi!)

アオリ


「シオカラーズでーーーす!」
(We're the Squid Sisters!)

ホタル


「-」

アオリ


「イカ、よろしくーーー!」
(Stay fresh!)

ホタル


「イカ、よろしく〜〜〜」
(Stay fresh!)



Song: 「ハイカラシンカ」(City of Color)
Song: 「キミ色に染めて」(Ink Me Up)
アオリ's Dialogue
ホタル's Dialogue
Region

アオリ


「ありがとーーー! シオカラーズのアオリでーーーす!」
(Thank yoooou! I'm Callie from the Squid Sisters!)

ホタル


「ホタルで〜〜〜す」
(I'm Marie!)

アオリ


「それにしてもすっごい人だね!」
(What a turn out!)

ホタル


「-」

アオリ


「ハイカラシティの人口よりおおいかも!」
(This crowd might be bigger than the entire population of Inkopolis!)

ホタル


「あはは さすがに それは ないっしょ」
(Pfft! It isn't really, though.)

アオリ


「みなさん、超パーティーたのしんでますかーーー!」
(Is everyone having a good Cho Party?!)

ホタル


「もりあがってる〜〜〜?」
(Are you excited?)

アオリ


「今やってる スプラトゥーン甲子園もぜひ見にきてくださいねーーー!」
(Be sure to check out the Splatoon Koshien tourament going on right now!)

ホタル


「しれっと告知入れたな」
(You made that announcement so shamelessly.)

アオリ


「じゃ、のこり2曲つづけていくよ!」
(Well then, let's go on stage with our last two songs!)

ホタル


「間いてください」
(Don't go anywhere.)



Song: 「マリタイム・メモリー」(Maritime Memory)
Song: 「シオカラ節」(Calamari Inkantation)
アオリ's Dialogue
ホタル's Dialogue
Region

アオリ


「それじゃ、最後はこの曲!」
(Okay, this is our last song!)

ホタル


「もりあがってこ〜〜〜!」
(Let's gooooo!)



Gallery
Trivia
This was the last appearance of Callie before the release of Splatoon 2.
In the program booklet that was sold at the venue, Callie and Marie's signatures were included among those of other artists.[2] The signatures made for this booklet would later be seen in Splatoon 2 when attempting to use the Callie or Marie amiibo prior to beating Octo Canyon, as well as The Art of Splatoon 2.
In the initial live stream of their performance, subtitles displaying the lyrics to their songs were present, as was the case with other artists.[3]
External Links
Notes
References