Marie
From Inkipedia, the Splatoon wiki
| | |
| --- | --- |
| | WARNING! SPOILERS! |
"
Staaaay fresh!
"

— the Squid Sisters' catchphrase.
Marie is a part of the Squid Sisters pop idol duo and a host of Inkopolis News, alongside her cousin Callie. Her signature color is lime green.
Appearance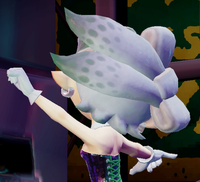 Marie is a very fashionable Inkling, and has a more laid-back design in comparison to her cousin. Her tentacles, which are light gray, are tied in a large bow on the right side of her head, with the ends wrapped around to the other side and curling up slightly at the ends. Marie also has a faint green tinge at the ends of her tentacles. She has large, downturned eyes with gold irises and light brown pupils in the shape of a plus or a 'ninja star'. Her eye markings end in small, slightly curved points, and her eyebrows are large and oval shaped. Her ears are slightly narrower and longer than those of the average Inkling, and on them she wears a pair of chunky, milk-white earrings. Her outfit, which appears to be a corset dress, is black with a reflective texture, as if covered in sequins. On the front are three bright green marks, which, somewhat morbidly, are made to look like the cuts made in squid when it is cooked, and the underside of the skirt portion is also bright green. With this outfit, she wears green tights, black shorts, white gloves, and a small, white, pointed neck accessory giving the impression of a shirt collar. On her feet, Marie wears a pair of black wedge shoes with a texture similar to leather, which have a shiny green material on the bottom and two green buttons on either side of the ankle. She wears a green and white hat resembling a calamari ring, and has a birthmark or a lone freckle on her right cheek.
During a Splatfest, any part of Marie's appearance that is normally bright green will change to match the color of her Splatfest Team, including the ends of her tentacles.
As a child, Marie wore traditional Japanese-style clothing, and her tentacles were much shorter. Her first outfit, shown in Sunken Scroll 17, consisted of a black yukata with a white polka dot pattern at the bottom, and a pair of thick black zōri with pink thongs. On the left side of her head, she wore a green and white accessory that simply looked like a smaller version of her current calamari hat. For her second outfit, which was shown in promo art for the Japanese Grasshopper vs. Ant Splatfest, Marie wore a white yukata with a seashell pattern in lime green, navy blue, and dull purple. The calamari accessory had taken on a dark purple tint in addition to its existing colors.
Personality
Marie is seemingly quieter and not as excitable as her cousin, and usually only gives a half-smile, if at all. She can be a little sarcastic from time to time, and slightly prone to complaining, but is usually in a mild mood. Overall, her disposition is laid-back and friendly/grumpy. She is also an expert at doing impressions, as mentioned by Agent 1.
She dislikes overly-thrilling activities, and can even be somewhat lazy. She also doesn't seem to be a big fan of tomatoes.
When anticipating an announcement (for example, the theme of a Splatfest, or the contents of an update), she often repeats herself in excitement. (Ex. "What is it? What is it?!")
She mentions several times on Inkopolis News that her preferred weapon class is the Charger. Given the existence of the Hero Charger Replica and her role as Agent 2, it is possible that Marie used a Charger in Octo Valley.
Early Life
Marie was raised in Calamari County. At a young age, she became interested in singing and entered Inkopolis' first annual Youth Folk-Singing Contest with her cousin, Callie. Their stunning performance earned them a standing ovation from the audience, as well as a first place trophy and certificate.
After moving to Inkopolis, Marie worked at Walleye Warehouse with Callie. In English localizations she clearly resented this job, saying that the best thing about it "was quitting" and, in the North American version, apparently burning her uniform. In the Japanese version, however, the worst thing she has to say about working at Walleye Warehouse is that its cafeteria food was greasy.
Career
Riding on the fame following her win at the Youth Folk-Singing Contest, Marie joined Callie in creating the Squid Sisters. Their repertoire includes a modern take on an ancient melody, a song unique to Splatfests, and a song used to defeat DJ Octavio. They have risen in notoriety, eventually becoming Inkopolis' premier pop icons, performing at Splatfests, and hosting Inkopolis News.
Inkopolis News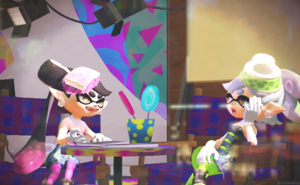 Main article: Inkopolis News
Marie hosts Inkopolis News with her cousin, Callie. Callie usually interjects humorous statements regarding stage news, often poking fun at Marie in the process. Marie often groans at Callie's puns, but is known to make silly comments herself. An example of this is when Callie asks her about strategic advice. Her responses can range from amusingly obvious to almost nonsensical, and may occasionally even stray off the topic of battle altogether. Marie also helps announce update and Splatfest news, and can be seen chatting with Callie in Inkopolis News Studio on the second floor of Booyah Base.
She, along with Callie, first appeared in issue 1 of the CoroCoro manga Splatoon, where she announced the CoroCoro Cup. She and Callie are hosts and commentators for that tournament. She now often appears in issues starting with issue 2.
Splatfest
Main article: Splatfest
When a Splatfest occurs, Callie and Marie announce the theme prior to the event, each siding with a specific team. When the day of the Splatfest arrives, they can be seen singing and dancing atop trucks equipped with platforms and stage equipment. Upon the event's conclusion, they announce the winner in a special segment of Inkopolis News. While Callie has won twenty-six Splatfests, Marie has only won nineteen, but she won the "final" Splatfest.
Splatfest Choices
North America
Europe and Oceania
Japan
Callie
Marie
Callie
Marie
Callie
Marie

Cats

Dogs

Rock

Pop

Rice

Bread

Roller Coasters

Water Slides

Eating

Sleeping

Red Fox

Green Tanuki

Marshmallows

Hot Dogs

North Pole

South Pole

Lemon Tea

Milk Tea

Autobots

Decepticons

Singing

Dancing

Grasshopper

Ant

Art

Science

Messy

Tidy

Boke

Tsukkomi

Cars

Planes

Cats

Dogs

Squid

Octopus

Pirates

Ninjas

Zombies

Ghosts

Love

Money

Burgers

Pizza

Delicious

Disgusting

Mountain Food

Sea Food

Naughty

Nice

Fit

Rich

Red Fox

Green Tanuki

Past

Future

Barbarian

Ninja

Perfect Body

Perfect Brain

Pokémon Red

Pokémon Blue

Pokémon Red

Pokémon Blue

Pokémon Red

Pokémon Green

Snowman

Sandcastle

Hoverboard

Jet Pack

Go all out!

Focus on healing

SpongeBob

Patrick

SpongeBob

Patrick

Tuna Mayonnaise Onigiri

Red Salmon Onigiri
Global

Fancy Party

Costume Party

Black Tie Event

Fancy Dress Party

Fancy Party

Costume Party

Callie

Marie

Callie

Marie

Callie

Marie

Note: Bold text signifies a Splatfest victory.
Octo Valley
As hinted throughout Octo Valley, Marie is Agent 2 and Cap'n Cuttlefish is her grandfather. While posing as Agent 2, she wears a green hat, a white face mask, and what appears to be a green t-shirt. Her attire suggests she is hiding her real identity from any fans that might happen to see her. Throughout Octo Valley, Marie is heard communicating to Cap'n Cuttlefish, Agent 1, and Agent 3 regarding the looming Octarian menace. By performing a song with Agent 1, or Callie, Marie is able to distract DJ Octavio and free the Cap'n in the Octo Valley mission Enter the Octobot King!
Trivia
Together with Callie's name, Marie's name forms the word "calamari", which is an Italian squid dish.
Marie's Japanese name is derived from a real-world species: "Hotaru-ika" is the Japanese name for the Firefly Squid.
Like Callie, Marie's hat is not attached and can be seen flying off of her head for a moment when she jumps.
Several fans have noted that Marie resembles Jeanne from the Bayonetta series. It is unknown if this was intentional.
During the Inkopolis News when discussing weapon preferences for Moray Towers Marie will say "Chargers are the very best, like no gun ever was."[2] This is a reference to the opening lyrics used for the intro for the first season of Pokémon's English dub.
Marie seems to be cross-dominant; she has been shown writing with her right hand but holding chopsticks with her left.
Although her hair is mostly light gray, Marie's normal ink color is bright green, as proven by her amiibo figure. This is also shown when Marie is in her squid form, as seen in Super Mario Maker and Miitomo.
Gallery
For images of Marie and Callie together, see Squid Sisters.
Marie and an Octotrooper for Squid vs. Octopus

Marie and a Zapfish doll for Pokémon Red vs. Pokémon Green
Names in other languages
Language
Name
Meaning
 Japanese
ホタル
Hotaru
From Hotaru-ika (Japanese for Firefly squid)
 Spanish
Tina
Feminine name, Spanish for tub. With Callie's Spanish name (Mar), it forms Martina.
 French
Oly
Together with Callie's French name (Ayo), it forms a pun on aioli.
 German
Limone
From limone (lime), referring to her main color and also as a pun for a sauce.
 Italian
Marina
From marina (marine). With Callie's Italian name (Stella), it forms stella marina (starfish).
 Russian
Мари
Mari
Transcription of English name
References