Aloha (character)
From Inkipedia, the Splatoon wiki
Aloha​
Aloha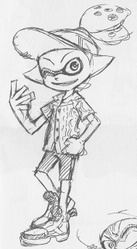 | | |
| --- | --- |
| Species | Inkling |
| Height | |
| Hair color | Pink |
| Eye color | Pink |
| Age | |
| Gender | Male |
| Pronouns | |
| Relations | |
| Location | |
| Shop | |
| HP | |
| Maximum HP | |
| Members | |
| Other forms | |
"
I'm always the freshest squid on the block!
"
Aloha is a character in the Splatoon manga, and is a member of the S4.
Description
Aloha is a character from the Splatoon manga, and has the "Topknot" hairstyle in volumes 1, 2, and 3. Starting with volume 4, he has the "Hipster" hairstyle. He is the second member of the S4, and wears the Golf Visor, Aloha Shirt, and Crazy Arrows. His main weapon is the .52 Gal but uses the Kensa .52 Gal in Chapter 38 and Chapter 39 in order to use a Booyah Bomb. He is often described as good looking.
Personality
Aloha affects a carefree, party-happy personality, but seems to care more about winning than he lets on, becoming frustrated with the rest of his team when they don't take the battle against Blue Team seriously. He seems to be proud that he gets popular with the girls. He is also sneaky at times, and disguises himself as a member of Green Team in order to get more information about Blue Team prior to their battle. He is aware that X-Blood team is watching Blue, Rider and the Costume Team's battle at Wahoo World in Chapter 30, but pretends not to be.
He has a reputation for being a flirt, and seems to enjoy teasing other characters, especially Rider. He is often seen taking photos of himself and others with his phone.
Gallery
Trivia
Inklings cannot swim, but according to the Inkling Almanac, Aloha can surf.
His S4 tactic is known as Disco Ball Dance. While using it, his team dances and inks the stage at the same time.
He often argues with Army.
He was on Team Chaos for the final Splatfest.
Names in other languages
| Language | Name | Meaning |
| --- | --- | --- |
|  French | Aloha | - |