Braid
From Inkipedia, the Splatoon wiki
Braid​
Braid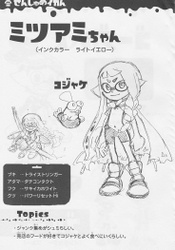 | | |
| --- | --- |
| Species | Inkling |
| Height | |
| Hair color | Yellow |
| Eye color | Yellow |
| Age | |
| Gender | Female |
| Pronouns | |
| Relations | |
| Location | Splatsville |
| Shop | |
| HP | |
| Maximum HP | |
| Members | |
| Other forms | |
Braid is one of the protagonists of the Splatoon 3: Splatlands manga, filling the role of Agent 3 of Splatoon 3. She first appeared in Volume 1.
Description
Braid is a female neon yellow Inkling with the "Megalobraid" hairstyle, "Classic" feminine legwear and "Slit" feminine eyebrows who wears the Fake Contacts, Tri-Shred Tee, and Force ReBoots. Braid temporarily wore the Lo-Vis Visor. Her main weapon is the Tri-Stringer.
She debuts in the bonus chapter of Splatoon, Vol. 16, although her appearance is mostly covered by a hooded cape, shades and face mask, similar to how the player character looks at the beginning of Splatoon 3. Aside from the Force ReBoots, her unhooded appearance was not revealed until the Special Preview of Chapter 66, while her name was not revealed until the full release of Chapter 66.
Personality
On the outside, Braid is very outgoing and kind. Despite looking forward to playing Turf Wars and the rumors circulating about her skill claiming that she was one of Splatsville's top eight battlers, Braid never actually participated in real battles until the events of Chapter 66 and practiced entirely on her own, this is because she is very shy and prone to freezing up under pressure. When she expresses those traits, she smiles awkwardly, trembles, and repeats the phrase "Bo", "Po", or "Pyo". She acts as an unofficial member of Team Blue.
Trivia
Gallery
Names in other languages
Language
Name
Meaning
 Japanese

ミツアミ


Mitsuami
Braids