Headphones (character)
From Inkipedia, the Splatoon wiki
Headphones​
Headphones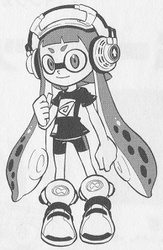 Species
Inkling
Height
Hair color
Blue
Eye color
Blue
Age
At least 14 (CoroCoro Cup)
Likely 16 (Square King Cup)
Likely 21 (Splatoon Bankara!)
Gender
Female
Pronouns
Relations
Location
Inkopolis Plaza (Formerly)
Inkopolis Square
Splatsville
Shop
HP
Maximum HP
Members
Other forms
Headphones is a character from the Splatoon manga. She is on Team Blue.
Appearance
Headphones is an Inkling with blue tentacles who currently wears the Studio Headphones, Barazushi Black Tee, Tenya OctoReds and currently wields a Classic Squiffer. In her debut appearance in Volume 0, she wore the Studio Headphones, White Tee, and Pink Trainers and used the Splat Charger. In the first two volumes, she wore the Studio Headphones, B-ball Jersey (Away), and Red Work Boots and wielded the Classic Squiffer. In the Square King Cup Arc, she wore the Slash King Tank, Red Hi-Horses and a skirt with shorts, wielding the Splat Charger. In the Octo Expansion Arc, she wore the Sennyu Headphones, Sennyu Suit and Punk Blacks.
Personality
Headphones is usually a cool, calm, and collected Inkling. However, she gets irritated by Goggles whenever he does something idiotic. She acts like a big sister to her team despite being around the same age as the rest of them.
Gallery
Trivia
Along with the rest of Team Blue, she is said to always bring boxed lunches to her team's daily practices.
She was on Team Order for the final Splatfest.
Names in other languages
Language
Name
Meaning
 Japanese

ヘッドホンちゃん


Heddohon-chan
Headphone-chan
 French

Miss Casque

Miss Headphones