Headphones (character)
Jump to navigation
Jump to search
Headphones​
Headphones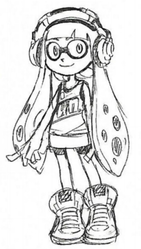 | | |
| --- | --- |
| Species | Inkling |
| Height | |
| Hair color | Blue |
| Eye color | Blue |
| Age | |
| Gender | Female |
| Relations | |
| Location | |
| Shop | |
| Members | |
Headphones is a character from the Splatoon manga.
Appearance
Headphones is an Inkling with blue tentacles who currently wears the Studio Headphones, Slash King Tank, Red Hi-Horses, and a skirt with shorts and currently wields a Splat Charger. In her debut appearance in Volume 0, she wore the Studio Headphones, White Tee, and Pink Trainers and used the Splat Charger. In the first two volumes, she wore the Studio Headphones, B-ball Jersey (Away), and Red Work Boots and wielded the Classic Squiffer.
In the Octo Expansion Arc, she wore the Sennyu Headphones, Sennyu Suit and Punk Blacks.
Personality
Headphones is usually a cool, calm, and collected Inkling. However, she gets irritated by Goggles whenever he does something idiotic. She acts like a big sister to her team despite being around the same age as the rest of them.
Names in other languages
| Language | Name | Meaning |
| --- | --- | --- |
|  French | Miss casque | Miss helmet |
Teams
Splatoon
Splatoon 2
Grouped by era introduced and teams, sub-grouped by character roles and game introduced. Alphabetical sorting.