Sennyu Suit
Jump to navigation
Jump to search
The Sennyu Suit is clothing in Splatoon 2.
It is a 3-star item produced by

Cuttlegear and comes with the primary ability

Ninja Squid. It is only available as a

CoroCoro Comic promotion in Japan. It cannot be ordered through

Murch.
Appearance
This article or section is a stub.
You can help the wiki by

adding

to it.
The Sennyu Suit is a black office suit with a tie that changes color to match that of the wearer's ink and a 2 number pin.
Splatoon 2
Splatoon 2
Sennyu Suit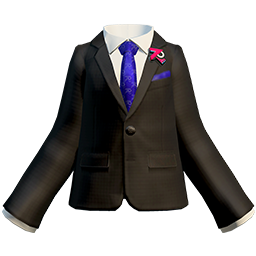 | | |
| --- | --- |
| Category |  Clothing |
| Brand | Cuttlegear |
| Ability | Ninja Squid |
| Cost | |
| SplatNet 2 | |
| Availability | |
| amiibo | |
| Rarity | |
Abilities
The Sennyu Suit comes with

Ninja Squid as a main ability, which, being exclusive to the main slot of Clothing, prevents the wearer from also having

Ability Doubler,

Haunt,

Respawn Punisher, or

Thermal Ink. As a 3-star item, the Sennyu Suit has three additional slots for secondary abilities. Since it is made by the

Cuttlegear brand, it has equal chances to roll any secondary ability.
Gallery
Trivia
The Blue Team of the Splatoon manga all wear the Sennyu Suit during the events of Octo Expansion.
In the manga, it's explained that pin on the Sennyu Suit turns the wearer's headgear black which is demonstrated on the Sennyu headgear set being black versions of the Blue Team's normal headgear.
It's also explained in the manga that the pin on the Sennyu Suit also acts as a transceiver.
Names in other languages
Language
Name
Meaning
 Japanese
センニュースーツ
Sennyū Sūtsu
Infiltration Suit
 Dutch
Spionnenpak
Spy suit
 French (NOE)
Costume d'infiltration
Infiltration suit
 German
Infiltrator-Anzug
Infiltrator suit
 Italian
Completo da spia
Spy suit
 Russian
Пиджак шпика
Pidzhak shpika
Shadow suit
 Spanish
Traje incógnito
Incognito suit
Clothing in Splatoon 2
| | |
| --- | --- |
| | Aloha Shirt • B-ball Jersey (Away) • Baby-Jelly Shirt • Basic Tee • Black 8-Bit FishFry • Black Baseball LS • Black Layered LS • Black Polo • Black Squideye • Black Tee • Black Urchin Rock Tee • Blue Peaks Tee • Camo Layered LS • Carnivore Tee • Chirpy Chips Band Tee • Choco Layered LS • Dakro Golden Tee • Dakro Nana Tee • FC Albacore • Firewave Tee • Fresh Octo Tee • Friend Tee • Fugu Tee • Grape Hoodie • Grape Tee • Gray 8-Bit FishFry • Gray College Sweat • Gray Vector Tee • Green Striped LS • Green Tee • Green Velour Octoking Tee • Herbivore Tee • Hightide Era Band Tee • Icewave Tee • Inkopolis Squaps Jersey • Ivory Peaks Tee • Krak-On 528 • Layered Vector LS • Linen Shirt • Lumberjack Shirt • Mint Tee • Navy College Sweat • Navy Deca Logo Tee • Navy King Tank • Navy Striped LS • Orange Cardigan • Part-Time Pirate • Pearl Tee • Pirate-Stripe Tee • Purple Camo LS • Rainy-Day Tee • Red Vector Tee • Reel Sweat • Rockenberg Black • Rodeo Shirt • Sage Polo • Sailor-Stripe Tee • Shrimp-Pink Polo • Sky-Blue Squideye • Slash King Tank • Squid Squad Band Tee • Squid-Pattern Waistcoat • Squid-Stitch Tee • Squidmark LS • Squidmark Sweat • Squidstar Waistcoat • Striped Peaks LS • Sunny-Day Tee • Takoroka Galactic Tie Dye • Takoroka Rainbow Tie Dye • Tricolor Rugby • Urchins Jersey • Varsity Baseball LS • Wet Floor Band Tee • White 8-Bit FishFry • White Baseball LS • White Deca Logo Tee • White King Tank • White Layered LS • White LS • White Tee • White Urchin Rock Tee • Yellow Layered LS • Zekko Baseball LS • Zekko Long Radish Tee • Zink Layered LS • Zink LS • ω-3 Tee |
| | |
| --- | --- |
| | Anchor Sweat • Annaki Blue Cuff • Annaki Drive Tee • Annaki Red Cuff • Annaki Yellow Cuff • Armor Jacket Replica • B-ball Jersey (Home) • Baby-Jelly Shirt & Tie • Berry Ski Jacket • Black Anchor Tee • Black Cuttlegear LS • Black Hoodie • Black LS • Black V-Neck Tee • Black Velour Octoking Tee • Blue 16-Bit FishFry • Blue Tentatek Tee • Brown FA-11 Bomber • Chili Octo Aloha • Cycling Shirt • Enchanted Robe • Firefin Navy Sweat • Fishing Vest • Forge Inkling Parka • Forge Octarian Jacket • Fresh Fish Gloves • Front Zip Vest • Gray FA-11 Bomber • Gray Hoodie • Gray Mixed Shirt • Green Cardigan • Green V-Neck Limited Tee • Green Zip Hoodie • Green-Check Shirt • Half-Sleeve Sweater • Hero Hoodie Replica • Hero Jacket Replica • Hothouse Hoodie • Hula Punk Shirt • Ink-Wash Shirt • Inkfall Shirt • Khaki 16-Bit FishFry • King Jersey • Layered Anchor LS • League Tee • Lime Easy-Stripe Shirt • Lob-Stars Jersey • Logo Aloha Shirt • Marinated Top • Neo Octoling Armor • Null Armor Replica • Octarian Retro • Octobowler Shirt • Octoking HK Jersey • Old-Timey Clothes • Olive Zekko Parka • Pearlescent Hoodie • Pink Easy-Stripe Shirt • Pink Hoodie • Power Armor Mk I • Power Armor • Red Cuttlegear LS • Red Tentatek Tee • Red V-Neck Limited Tee • Red-Check Shirt • Rockenberg White • Round-Collar Shirt • Samurai Jacket • School Cardigan • School Jersey • School Uniform • Shirt with Blue Hoodie • Silver Tentatek Vest • Slipstream United • Squid Yellow Layered LS • Squinja Suit • Steel Platemail • Striped Rugby • Striped Shirt • Takoroka Crazy Baseball LS • Tentatek Slogan Tee • Tumeric Zekko Coat • White Anchor Tee • White Sailor Suit • White Striped LS • White V-Neck Tee • Yellow Urban Vest • Zapfish Satin Jacket • Zekko Hoodie • Zekko Jade Coat • Zekko Long Carrot Tee • Zekko Redleaf Coat |
| | |
| --- | --- |
| | Anchor Life Vest • Annaki Evolution Tee • Annaki Flannel Hoodie • Annaki Polpo-Pic Tee • Baseball Jersey • Birded Corduroy Jacket • Black Inky Rider • Blue Sailor Suit • Camo Zip Hoodie • Chili-Pepper Ski Jacket • Chilly Mountain Coat • Crimson Parashooter • Crustwear XXL • Custom Painted F-3 • Cycle King Jersey • Dark Bomber Jacket • Dark Urban Vest • Deep-Octo Satin Jacket • Dev Uniform • Dots-On-Dots Shirt • Eggplant Mountain Coat • FA-01 Jacket • FA-01 Reversed • Forest Vest • Garden Gear • Juice Parka • Kensa Coat • Kung-Fu Zip-Up • Light Bomber Jacket • Matcha Down Jacket • Mecha Body - AKM • Missus Shrug Tee • Mister Shrug Tee • Moist Ghillie Suit • Mountain Vest • N-Pacer Sweat • Navy Eminence Jacket • Negative Longcuff Sweater • North-Country Parka • Octo Layered LS • Octo Support Hoodie • Octo Tee • Office Attire • Olive Ski Jacket • Online Jersey • Panda Kung-Fu Zip-Up • Positive Longcuff Sweater • Prune Parashooter • Pullover Coat • Record Shop Look EP • Red Hula Punk with Tie • Reggae Tee • Retro Gamer Jersey • Retro Sweat • Rockin' Leather Jacket • Sennyu Suit • Shirt & Tie • Short Knit Layers • Splatfest Tee • Squid Satin Jacket • Squiddor Polo • SRL Coat • SWC Logo Tee • Takoroka Jersey • Takoroka Nylon Vintage • Takoroka Windcrusher • Toni K. Baseball Jersey • Varsity Jacket • Vintage Check Shirt • Whale-Knit Sweater • White Inky Rider • White Leather F-3 • White Shirt |