Sennyu Inksoles
From Inkipedia, the Splatoon wiki





The Sennyu Inksoles is a pair of shoes in the Splatoon series.
They are a 3-star item produced by Rockenberg and come with the primary ability Stealth Jump. They are only available as a CoroCoro Comic promotion in Japan. They cannot be ordered through Murch.
Appearance
This article or section is a stub.


You can help the wiki by adding to it.
The Sennyu Inksoles are black office shoes with yellow-green socks. The sole is slightly lighter than the rest of the shoe.
Splatoon 2
Sennyu Inksoles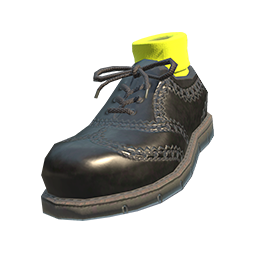 Category
Brand

Rockenberg
Ability

Stealth Jump
Rarity



Abilities
The Sennyu Inksoles come with Stealth Jump as the primary ability, which, being exclusive to the main slot of Shoes, prevents the wearer from also having Drop Roller or Object Shredder. When purchased from SplatNet 2, they can have any other primary ability normally available to Shoes. As a 3-star item, the Sennyu Inksoles come with three additional slots for secondary abilities. Since they are made by the Rockenberg brand, they have a higher chance of rolling Run Speed Up and a lower chance of rolling Swim Speed Up to fill their secondary ability slots.
Gallery
Trivia
Names in other languages
Language
Name
Meaning
 Japanese

センニューチップ スミソール


Sennyū Chippu Sumi-Sōru
Infiltration Tips Ink Soles
 Dutch
Spionnenschoenen
Spy shoes
 French
Richelieu d'infiltration
Infiltration brogue
 German
Infiltrator-Brogues
Infiltrator brogues
 Italian
Scarpe da spia
Spy Shoes
 Russian

Броги шпика


Brogi shpika
Secret police agent brogues
 Spanish (NOA)
Zapatos incógnitos
Incognito shoes
 Spanish (NOE)
Zapato incógnito
Incognito shoe
| | |
| --- | --- |
| | Acerola Rain Boots • Athletic Arrows • Banana Basics • Birch Climbing Shoes • Black Flip-Flops • Black Trainers • Blue Iromaki 750s • Blue Laceless Dakroniks • Blue Lo-Tops • Blue Sea Slugs • Blue Slip-Ons • Blueberry Casuals • Bubble Rain Boots • Canary Trainers • Clownfish Basics • Cream Basics • Cream Hi-Tops • Cyan Trainers • Green Iromaki 750s • Green Laceups • Hunter Hi-Tops • Mint Dakroniks • Musselforge Flip-Flops • Neon Sea Slugs • Orange Arrows • Orange Iromaki 750s • Orange Lo-Tops • Oyster Clogs • Pink Trainers • Purple Hi-Horses • Purple Iromaki 750s • Red Hi-Horses • Red Iromaki 750s • Red Slip-Ons • Roasted Brogues • Shark Moccasins • Squink Wingtips • Strapping Reds • Suede Gray Lace-Ups • Suede Marine Lace-Ups • Truffle Canvas Hi-Tops • Violet Trainers • White Kicks • White Seahorses • Yellow Iromaki 750s • Yellow-Mesh Sneakers • Zombie Hi-Horses |
| | |
| --- | --- |
| | Armor Boot Replicas • Black Dakroniks • Black Seahorses • Blue Power Stripes • Cherry Kicks • Choco Clogs • Chocolate Dakroniks • Crazy Arrows • Custom Trail Boots • Enchanted Boots • Fresh Fish Feet • Fringed Loafers • Gray Yellow-Soled Wingtips • Green Rain Boots • Hero Runner Replicas • Hero Snowboots Replicas • Honey & Orange Squidkid V • Luminous Delta Straps • Marinated Slip-Ons • Mawcasins • Moto Boots • N-Pacer Ag • N-Pacer CaO • Navy Red-Soled Wingtips • Neo Octoling Boots • Neon Delta Straps • New-Leaf Leather Boots • Null Boots Replica • Old-Timey Shoes • Orca Hi-Tops • Orca Passion Hi-Tops • Orca Woven Hi-Tops • Pearlescent Kicks • Plum Casuals • Polka-dot Slip-Ons • Power Boots Mk I • Power Boots • Punk Whites • Punk Yellows • Purple Sea Slugs • Red FishFry Sandals • Red Hi-Tops • Red Power Stripes • Red-Mesh Sneakers • Samurai Shoes • School Shoes • Sea Slug Volt 95s • Sesame Salt 270s • Squid-Stitch Slip-Ons • Squinja Boots • Steel Greaves • Suede Nation Lace-Ups • Sunny Climbing Shoes • Sunset Orca Hi-Tops • Tan Work Boots • Turquoise Kicks • White Arrows • White Laceless Dakroniks • White Norimaki 750s • Yellow FishFry Sandals • Yellow Seahorses |
| | |
| --- | --- |
| | Amber Sea Slug Hi-Tops • Angry Rain Boots • Annaki Habaneros • Arrow Pull-Ons • Black & Blue Squidkid V • Black Norimaki 750s • Blue & Black Squidkid IV • Blue Moto Boots • Deepsea Leather Boots • Flipper Floppers • Friendship Bracelet • Gold Hi-Horses • Gray Sea-Slug Hi-Tops • Hunting Boots • Icy Down Boots • Inky Kid Clams • Kid Clams • LE Lo-Tops • LE Soccer Shoes • Marination Lace-Ups • Mecha Legs - LBS • Midnight Slip-Ons • Milky Enperrials • Moist Ghillie Boots • N-Pacer Au • Navy Enperrials • New-Day Arrows • Non-slip Senseis • Online Squidkid V • Piranha Moccasins • Pearl Punk Crowns • Pearl-Scout Lace-Ups • Pearlescent Squidkid IV • Pro Trail Boots • Punk Blacks • Punk Cherries • Red & Black Squidkid IV • Red & White Squidkid V • Red Sea Slugs • Red Work Boots • Rina Squidkid IV • Sennyu Inksoles • Smoky Wingtips • Snow Delta Straps • Snowy Down Boots • Soccer Shoes • Strapping Whites • Sun & Shade Squidkid IV • Tea-Green Hunting Boots • Toni Kensa Black Hi-Tops • Toni Kensa Soccer Shoes • Trail Boots • Trooper Power Stripes • Wooden Sandals |