Stealth Jump
From Inkipedia, the Splatoon wiki
The Stealth Jump ability hides the landing point marker normally visible to all players when performing a Super Jump. Super Jump speed is slightly reduced as a result. This ability is restricted to shoes as a main ability, and cannot be rolled as a sub ability.
In-Depth Ability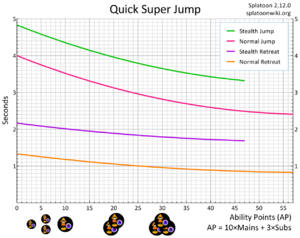 When Super Jumping, Stealth Jump removes the marker indicating the player's Super Jump target, making it significantly harder for enemies to lie in wait.
However, this ability extends the Super Jump's time from 4 seconds to 4.83 seconds, which can be alleviated to varying degrees when used with Quick Super Jump. 90% of this additional time is added to the "charge up" phase of the Super Jump, and 10% to the "in air" phase.
| | |
| --- | --- |
| Abilities Equipped | Super Jump Time |
| | 4.83s |
| | 4.68s |
| | 4.54s |
| | 4.40s |
| | 4.35s |
| | 3.96s |
| | 3.68s |
| | 3.32s |
Use
Stealth Jump's only use is for its stealthy, hard-to-track Super Jump. Without it, Super Jumping to a teammate is rather risky, as the player can be splatted instantly by an enemy lying in wait at the marker. With Stealth Jump, however, Super Jumping into the fray is significantly safer, all but preventing enemies from anticipating it - the only way to see a Stealth Jumper is by tracking them with the Echolocator.
However, Stealth Jump adds significantly to the amount of time the player is vulnerable when initiating a Super Jump. This largely invalidates the strategy of Super Jumping out of trouble when threatened by an enemy inkling, even with maximum Quick Super Jump.
This ability is always active throughout the entire match.
Gear
Stealth Jump is the main ability of:
List of Gear with Stealth Jump
Image
Name
Brand
Unlock
Main Ability
Rarity
Cherry Kicks

2,800

Crazy Arrows

9,000

Cream Hi-Tops

500

Green Rain Boots (

NA

)
Moss-Green Wellies (

EU/OC

)

1,600

Icy Down Boots

8,200
Version history
▼

The amount of time it takes to Super Jump will be longer when using this ability.
▼

When doing a Super Jump with this ability equipped, you can't perform any attacks until you have completely landed.
Mutual Exclusivity
Since this ability is found as the main ability only on shoes, other abilities found only on shoes are mutually exclusive with it; in other words you cannot have them together. These abilities are Bomb Sniffer and Ink Resistance Up.
Names in Other Languages
Language
Name
Meaning
 Japanese
ステルスジャンプ
Suterusu Janpu
Stealth Jump
 French (NOA)
Super saut invisible
Invisible SuperJump
 French (NOE)
Réception réussie
Successful Reception
 Italian
Salto al buio
Jump in the dark
 Spanish
Supersalto invisible
Invisible superjump
Abilities in Splatoon
| | |
| --- | --- |
| Ink Usage Abilities | · · · |
| | |
| --- | --- |
| Inkling Abilities | · · · · · · · · · · |