Inkblot Art Academy
From Inkipedia, the Splatoon wiki
This article or section is a stub.


You can help the wiki by adding to it.
Inkblot Art Academy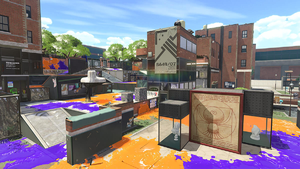 | | |
| --- | --- |
| Introduced | Launch |
| Total BP | 2,468p |
| Features | |
"
Pearl: We're about to turn this campus into a canvas!

Marina: Does art imitate life? Or does life imitate art? AM I EVEN REAL?!

"
Inkblot Art Academy is an online multiplayer stage in Splatoon 2. It features two elevated areas by the Spawn Points that lead into the central area of the map. There are Water hazards on the side of the stage, and two hand-shaped statues that players can jump atop of.[1]
Layout
English quotes
Pearl's Dialogue
Marina's Dialogue
Region

Pearl:


"Marina! Marina! The statues' eyes glow at night! I SWEAR I SAW THEM GLOW!"

Marina:


"Preeeeeetty sure those are just Judd's and Li'l Judd's eyes..."
NOE, NOA

Pearl:


"We're about to turn this campus into a canvas!"

Marina:


"Does art imitate life? Or does life imitate art? AM I EVEN REAL?!"
NOE, NOA

Pearl:


"I wish Crusty Sean ran the cafeteria here..."

Marina:


"YES! Crusty Sean makes the best deep-fried waffle monstrosity!"
NOE, NOA

Pearl:


"This place brings back bad memories of my school days..."

Marina:


"If your grades were the same as your multiplayer rank, I can see why..."
NOE, NOA

Pearl:


"Remember when we performed at this school's music festival?"

Marina:


"How could I forget? You started a mosh pit and broke a bunch of sculptures..."
NOE, NOA

Pearl:


"I saw Judd around here the other day. What was he doing?"

Marina:


"He was posing for an online drawing class. Not sure I want to see the result."
NOE, NOA

Pearl:


"The key to winning here is using the center of the stage effectively."

Marina:


"Why is it always the center with you? The side routes are way more important."
NOE, NOA

Pearl:


"Have you ever accidentally splatted yourself while rolling with the dualies?"

Marina:


"Can't say that I have..."
NOE, NOA

Pearl:


"I heard the designer that made our outfits graduated from here."

Marina:


"I wonder if she wrote her thesis on ridiculously large zippers."
NOE, NOA

Pearl:


"This university sponsors some of our shows, so we can't really bad-mouth it."

Marina:


"Our shows sell out almost as quickly as we do..."
NOE, NOA
Japanese quotes
ヒメ's Dialogue
イイダ's Dialogue
Region

ヒメ:


「ステージ中央をどう使うかが勝利へのカギだな、うん」
(Using the center stage effectively is the key to victory, yeah!)

イイダ:


「両サイドのルートも要注意ですよ〜、はい」
(Buuut, you also have to watch out for the routes on both sides, right?)
NOJ

ヒメ:


「ここの学祭に呼ばれたときのライブも〜りあがったなー!」
(The concert at the school festival I was invited to just came out~!)

イイダ:


「あのとき大変だったんですよ!センパイの歌声で石像が割れちゃって…」
(Those were hard times! Your singing voice cracked a stone statue...)
NOJ

ヒメ:


「この前ジャッジくん ここで見かけたけどアイツ何やってんだ?!」
(I saw Judd here before, but what was he doing?!)

イイダ:


「フカフカの生き物がめずらしいから よくモデルで呼ばれてるんですって!」
(Fluffy creatures are often called by models because they're so rare!)
NOJ

ヒメ:


「ここの食堂ロブんとこのメニューも置いて欲しー!」
(I want Crusty Sean's dishes to be on the cafeteria menu!)

イイダ:


「ロブさんの作るワッフル アゲアゲジュワ〜って感じで大好きです!」
(I just looove the deep-fried shwaffles he makes!)
NOJ

ヒメ:


「ア マ ビ ジュ ツ ダ イ……なんかしっくりこない!イイダ、略して!」

イイダ:


「……アマダイ?」
(...Amadai? (tilefish))
NOJ

ヒメ:


「マニューバーでバシュバシュしてるとガラスにおでこ ぶつけるんだよな…」
(I was rolling with the dualies when I crashed headfirst into the glass...)

イイダ:


「みなさんもスライドする時は前方に注意しましょ〜」
(Better watch out when you're sliding~)
NOJ

ヒメ:


「オマエらー!勉強ばっかしてないで たまにはバトルで塗りまくれー!」
(You guys! Even though I'm not studying I occasionally paint during battle!)

イイダ:


「キャンパスをキャンバスにしろ!ということですね?!ヒメセンパイ、深い…!」
(So you'll turn this campus into a canvas! Is that it?! Pearl-senpai, that's deep...!)
NOJ
Spanish quotes
Perla's Dialogue
Marina's Dialogue
Region

Perla:


"¡Los ojos de los bustos brillan en la obscuridad! ¡LOS VI, TE LO JURO!"
(The eyes of the busts glow in the darkness. I SAW THEM, I SWEAR!)

Marina:


"¿Seguro que no eran los ojos de Justino y Justito?"
(Are you sure those weren't Judd's and Li'l Judd's eyes?)
NOA

Perla:


"Ojalá Adolfrito llevase la cafetería del instituto..."
(I wish Crusty Sean ruled the Academy's cafeteria...)

Marina:


"¡Nadie reboza los gofres como él!"
(No one dips waffles in batter like him!)
NOE

Perla:


"¿Nunca te has autoliquidado tras rodar con el Difusor Dual?"
(Have you ever splatted yourself after sliding with the Splat Dualies?)

Marina:


"¿Tú sí?"
(Have you?)
NOE

Perla:


"Este instituto es... ¡maravilloso, porque nos patrocinan!"
(This academy is... wonderful, because they sponsor us!)

Marina:


"Sí... Estupendo. Fantástico. De los mejores que hay."
(Yeah... Astonishing. Fantastic. One of the best ones there are.)
NOA
Gallery
Names in other languages
Language
Name
Meaning
 Japanese
海女美術大学
Ama Bijutsu Daigaku
Ama Art University. It is a parody of Tama Art University.
 Dutch
Koraalcampus
Coral Campus
 French (NOA)
Institut Calm'arts
From calmar (squid) and art, institute
 French (NOE)
Institut Calam'arts
From calamar (squid) and art, institute
 German
Perlmutt-Akademie
Nacre Academy
 Italian
Campus Hippocampus
Hippocampus is the Italian name for Seahorses
 Russian
Академия «Лепота»
Akademiya «Lepota»

Beauty

Academy
 Spanish
Instituto Coralino
Coral Institute
References