Musselforge Fitness
"
Pearl: I love climbing the walls here and looking down on the battlefield from on high!

Marina: You enjoy looking down on people? You don't say.

"
Musselforge Fitness is an online multiplayer stage in Splatoon 2.
Layout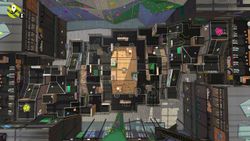 Musselforge Fitness is a sports club that features many high vantage points that look over low areas. It also has many steep ramps leading down to lower parts of the map.
Rock Climbing Wall - The giant rock climbing wall in the center of the stage provides many great vantage points over the lower areas of the map. There are also bridges connected to the wall that provide the only way to enter enemy territory.
Low Alleys - These alleys that surround the climbing wall are useful for flanking people on top of the wall, and also lead into other low areas.
Ranked Battle Terrain
The Splat Zone can be found on top of the climbing wall, in the center. Part of the zone is located on the ramps leading down to lower areas.
The tower moves down the ramps on the sides of the central area of the map, then starts to move towards spawn. It turns right and goes down the thin alley way, then turns left to the goal. There are two checkpoints: one before the thin alley, and one in the middle of the alley.
Splatoon 2
Modified Musselforge Fitness takes place on Octoling Workout, an Octo Canyon mission.
Version history
Version
Adjustments
2.1.0

Changed terrain in all modes.

Adjusted placement of objects near the center of the map, and reduced obstacles.
Adjusted placement of other miscellaneous objects.
Maps
Gallery
The stage after changes were made in version 2.1.0 of Splatoon 2.
English quotes
Pearl's Dialogue
Marina's Dialogue
Region

Pearl:


"Have you seen Judd try to climb the rock wall here? HILARIOUS."

Marina:


"No, but I've seen Li'l Judd try. He's so adorable!"
NOE, NOA

*

Pearl:


"After an intense battle, enjoy a nice, refreshing Tentacola!"

Marina:


"How much are they paying you? And why did I not get a cut?"
NOE, NOA

Pearl:


"A membership to this place costs an arm and a leg."

Marina:


"Yeah, but at least the arm and leg will be jacked."
NOE, NOA

Pearl:


"The jellies here can climb the rock walls faster than I can. What's with that?"

Marina:


"Well, those jellyfish DO probably have a couple of inches on you..."
NOE, NOA

Pearl:


"I love climbing the walls here and looking down on the battlefield from on high!"

Marina:


"You enjoy looking down on people? You don't say."
NOE, NOA

Pearl:


"Marina! Guess how many handholds there are on the walls of this stage!"

Marina:


"Is that why we always lose here? 'Cause you're busy counting handholds?"
NOE, NOA

Pearl:


"Rock-climbing jellyfish are TOO cute! I just wanna splat their little faces off!"

Marina:


"Whoooa, Pearl. I'm confiscating your Splattershot until you chill out."
NOE, NOA

Pearl:


"If the Inkjet flew just a bit higher, do you think I could grab on to the ceiling?"

Marina:


"Pearl, for the last time, it doesn't count unless you climb by yourself."
NOE, NOA

Pearl:


"It takes me an hour to walk here from my house!"

Marina:


"Why walk when you can Super Jump? It burns a lot of calories too!"
NOE, NOA

Pearl:


"I think I forgot my Inkbrush at home today!"

Marina:


"No worries. You can borrow my Octobrush!"
NOE, NOA

Pearl:


"What's your favorite month, Marina?"

Marina:


"This is another one of your octopus jokes, isn't it?"
NOE, NOA
Japanese quotes
ヒメ's Dialogue
イイダ's Dialogue
Region

ヒメ:


「アタシのが背高いのにクラゲくんのがカベ登るの速いんだけどー!」
(I'm pretty tall, but the jellyfish are quick climbing the walls here!)

イイダ:


「……手のリーチの差じゃないんですか?」
(...Don't you have a different hand reach?)
NOJ

ヒメ:


「うししっ…カベ登ってるクラゲくんたちかわいいなぁ〜」
(Heh heh... the jellyfish climbing the walls here are so cute.)

イイダ:


「で、でもたぶん足 届かないと思います…」
(Y-yeah, but I'm not sure their feet can reach...)
NOJ

ヒメ:


「ここでもっと筋トレしてシメたほうがいいのかな…」
(I wonder if I should do more muscle training here to get in shape…)

イイダ:


「えっ?!ワタシ シメられちゃうんですか?!」
(Eh?! Are you going to get me?!)
NOJ

ヒメ:


「ジェットパックもうちょい高く飛べたら天井、つかまれんじゃね?」
(If the Inkjet flew just a bit higher, couldn't you grab the ceiling?)

イイダ:


「ヒメセンパイ、ホント高いところ好きですよね〜」
(You really like high places, don't you!)
NOJ

ヒメ:


「バトルの後はシュワッとソーカイ アロメコーラ!」
(After the battle, unwind with an exhilarating Aromacola!)

イイダ:


「センパイ、CMの練習は後でお願いします」
(Senpai, can you please practice commercials later?)
NOJ

ヒメ:


「ここのカベ登ってったら上からイイダ見下ろせるから楽しー!」
(It's fun to climb to the top of the walls because I can look down on you!)

イイダ:


「満面の笑みでしたね…」
(You were smiling from ear to ear...)
NOJ

ヒメ:


「イイダ!ここのカベに付いてるホールドの数、何コあるか教えてあげよっか?」
(Marina! Want me to tell you how many holds there are on the walls here?)

イイダ:


「この前ず〜っとカベながめてたの それ数えてたんですか?!」
(The other day when you were staring at the walls, you were counting the holds?!)
NOJ
Trivia
The stage name is a reference to mussels, and (as the subtitle for Octoling Workout points out) a pun on the word being a homophone of "muscles".
Names in other languages
Language
Name
Meaning
 Japanese
フジツボスポーツクラブ
fujitsubo supōtsu kurabu
Barnacle Sports Club
 Dutch
Vinvis Fitness
Rorqual Fitness
 French
Gymnase Ancrage
Anchorage Gymnasium
 German
Molluskelbude
From Muskelbude (colloquial for gym) and Molluske (mollusk)
 Italian
Centro polpisportivo
Octosport Center
 Russian
Спортзал «Кревед!»
Sportzal «Kreved!»
From креветка krevetka (shrimp, prawn) and спортзал sportzal (gym)
 Spanish
Gimnasio Mejillón
Mussel Gym