Humpback Pump Track
Humpback Pump Track is an online multiplayer stage in Splatoon 2.
Layout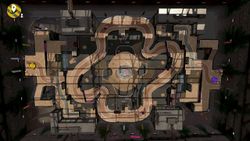 Splatoon 2
Modified The Reef takes place on Octoling Assault, an Octo Canyon mission.
Version history
Version
Adjustments
2.1.0

Adjusted placement of objects in Tower Control.

Greatly adjusted the path of the tower.
Added Inkrail from each team's base toward the center.
Additionally, adjusted placement of things such as obstacles.
Maps
Gallery
English quotes
Pearl's Dialogue
Marina's Dialogue
Region

Pearl:


"The acoustics here are the bomb! My voice sounds amazing here!"

Marina:


"Yeah, the reverb makes it easier to ignore how off-key we are!"
NOE, NOA

*

Pearl:


"The acoustics here are the bomb! My voice sounds amazing here!"

Marina:


"Yeah, the reverb makes it easier to ignore how off-key you are!"
NOE, NOA

*

Pearl:


"Here's some advice—don't rent the bikes here. They're falling apart."

Marina:


"That just makes for a more exciting ride!"
NOE, NOA

Pearl:


"Man, I wanna ride around here on a motorcycle!"

Marina:


"First you'll need to learn how to ride a bike without training wheels."
NOE, NOA

Pearl:


"I just LOVE Humptrack Pump Back... Er... Thumbtack Bump Pack... ARRRGH!"

Marina:


"You'll get it one day, Pearl."
NOE, NOA

Pearl:


"I like to dualie dodge-roll off ledges and splat fools in midair, then win the game!"

Marina:


"I also like to make believe!"
NOE, NOA

Pearl:


"Swimming around this place makes me kind of dizzy."

Marina:


"Well, if you're gonna ralph, just try to aim it at the enemy team."
NOE, NOA

Pearl:


"Marina! You bought a new motorcycle recently, yeah? You gotta let me ride it!"

Marina:


"I don't think your feet would reach the pegs..."
NOE, NOA

Pearl:


"Remember when I pulled off the sick trick with the dualies the other day?"

Marina:


"Yeah. And it only took you 4,000 attempts!"
NOE, NOA

Pearl:


""Yo, I'm Marina, and I'm here to say, I lose at Turf War every time I play!""

Marina:


"Cool song..."
NOE, NOA

Pearl:


"Me and this stage go together like peanut butter and jellyfish."

Marina:


"Pretty sure those things don't go together."
NOE, NOA

Pearl:


"What's up with the jellyfish that run this place? They never take a day off!"

Marina:


"It's a jellyfish thing. Jelfonzo and the staff at The Shoal are the same way."
NOE, NOA

Pearl:


"I like to assault the central hill with the dualies, dodge-rolling this way and that!"

Marina:


"That's cool and all, but I'd rather roll up with the brella like-BLAMMO!"
NOE, NOA

Pearl:


"I was hoping they'd let me drive my go-cart on the track, but they said no!"

Marina:


"You have a go-cart?!"
NOE, NOA

Pearl:


"Marina, don't tell anyone, but I got a new pair of training wheels for my bike!"

Marina:


"You know we're still live, right?"
NOE, NOA
Japanese quotes
ヒメ's Dialogue
イイダ's Dialogue
Region

ヒメ:


「ここって 予想以上に 声がひびいて サイッコーに 歌いやすいんだよなー! マ~♪」
(My voice travels way more than I expected here, so it's way easy to sing! La~♪)

イイダ:


「うぅ… ヒメセンパイ、いつも以上に ノッちゃうから 機材のセッティング 苦労してるんですからね!」
(Oh... Pearl-senpai, you always get so into it that I have to struggle with the audio settings!)
NOJ

ヒメ:


「イイダ!この前 新しいバイク注文してたよな?!今度乗らせてよ!」
(Marina! You ordered a motorcycle recently, right?! Let me ride it!)

イイダ:


「で、でもたぶん足 届かないと思います…」
(B-but you probably won't be able to reach the pegs...)
NOJ

ヒメ:


「ここでバイク乗り回すとチョー気持ちいんだろーなー!」
(It'd feel good to ride around on a motorcycle here!)

イイダ:


「まずは自転車をホジョ輪なしで乗れないと…ですネ」
(First you have to be able to ride your bike without training wheels... right?)
NOJ

ヒメ:


「この前マニューバーでメチャカッコイイトリック決めたの見た?」
(Did you see that super-cool trick I did with the dualies?)

イイダ:


「センパイ、さんぽでそればっかり練習してましたよね〜」
(Senpai, you've been practicing that like crazy, haven't you?)
NOJ

ヒメ:


「ポンプトラップの…げっ!まちがえた!ゴンブトダンクの必勝法!イイダ、よろしく!」
(Humpback Pomp Trap's... whoops! I messed up! Humpback Gonbuto Dunk's secret to victory! Marina, if you please!)

イイダ:


「センパイ、カミかたが異常すぎます…」
(Senpai, the way you tripped over that is just too weird...)
NOJ
Notes: Gonbuto is a type of Japanese udon.

ヒメ:


「ここ見てたら目が回ってきた…」
(I get dizzy looking around here...)

イイダ:


「コースがグルグルしてますからネ〜…」
(The course keeps going round and round~...)
NOJ

ヒメ:


「ここでレンタルできるチャリ サドルが高すぎんだよね…」
(The saddles on the rental bikes here are too high...)

イイダ:


「ずっと片足でケンケンしてるのに、自転車を追いこしてくセンパイ カッコ良すぎます〜!」
(It's too awesome how you pass other bikes even though you're riding yours while pushing on one leg.)
NOJ

ヒメ:


「マニューバーのスライドでカベの横からスチャ!ドドドド!」
(I suddenly slide out of the wall with my Dualies! Pew pew pew pew!)

イイダ:


「カベにかくれてるときのセンパイ、キュートすぎます〜!」
(You're too cute when you're hiding in the wall!)
NOJ

ヒメ:


「マニューバーのスライドでカベの横からスチャ!ドドドド!」
(I suddenly slide out of the wall with my Dualies! Pew pew pew pew!)

イイダ:


「そうはいきません!シェルターでドーン!です!」
(That's not how you do it! You gotta use a Brella and go 'SPLAT!' on them!)
NOJ
Spanish quotes
Perla's Dialogue
Marina's Dialogue
Region

Perla:


"Lo mejor de actuar aquí es que mi voz reverbera de maravilla."
(The best part about performing here is that my voice reverberates really well.)

Marina:


"¡Así no se nota tanto cuando desafinas!"
(When you're out of tune, it doesn't show it as much!)
NOA

Perla:


"Tengo la técnica perfecta: usar el Difusor dual, rodar, ¡y disparar volando!"
(I've got the perfect technique: use the Splat Dualies, slide, and shoot quickly!)

Marina:


"¡A mí también me gusta imaginarme cosas que nunca haré!"
(I also like to imagine things that I'll never do!)
NOE

Perla:


"Siempre que combato aquí acabo medio mareada"
(Whenever I battle here, I end up feeling dizzy)

Marina:


"Será porque te dedicas a deslizarte por la pista en vez de atacar a los rivales..."
(That's because you just slide through the track instead of attacking rivals...)
NOE

Perla:


"No me gustan las bicis que se pueden alquilar aquí. Son demasiado altas..."
(I don't like those bikes that you can rent here. They're too big...)

Marina:


"¡Pero así es todo más emocionante!"
(But it's more exciting that way!)
NOE

Perla:


"La primera vez que combatí aquí pensé que se llamaba <<Tiburródromo>>"
(When I battled here for the first time, I thought this place was called 'Humpbuck Pump Truck')

Marina:


"¿No te habías puesto las lentillas?"
(Didn't you wear contact lenses?)
NOE
Dutch quotes
Lorelei's Dialogue
Mariana's Dialogue
Region

Lorelei:


"De akoestiek is hier echt waanzinnig. Mijn stem klinkt fantastisch hier!"
(The acoustics in here are really amazing. My voice sounds fantastic here!)

Mariana:


"Ja, door de echo hoor je het BIJNA niet als je vals zingt..."
(Yes, because of the echo, you ALMOST don't hear it when you're singing off-key...)
NOE

Lorelei:


"Wauw, weet je nog dat ik laatst die coole move deed met de Dubbelknallers?"
(Wow, remember when I did that cool move with the Splat Dualies recently?)

Mariana:


"Ja. Mocht ook wel, na 4000 pogingen..."
(Yes. Might as well, after 4000 attempts...)
NOE

Lorelei:


"Met Dubbelknallers van de rand rollen en iemand dan in de lucht raken is de bom!"
(Rolling of the edge with Splat Dualies and then hitting someone in the air is the bomb!)

Mariana:


"Of met een bom. Bommen zijn de bom."
(Or with a bomb. Bombs are the bomb.)
NOE

Lorelei:


"Ik word een beetje duizelig van dit level."
(I'm getting a bit dizzy from this level.)

Mariana:


"Als je misselijk wordt, richt je dan op de tegenstander en niet op mij, graag."
(If you become nauseous, then direct yourself at the opponent and not me, please.)
NOE

Lorelei:


"Nog even een tip: ga geen fiets huren, want die blijven niet lang heel."
(One more tip: Do not rent a bike, because they will not last very long.)

Mariana:


"Dat maakt de fietstocht alleen maar spannender!"
(That makes the bike ride only more exciting!)
NOE

Lorelei:


"Ik zou hier weleens met een motor willen rondrijden!"
(I would like to ride with a motorcycle here sometime!)

Mariana:


"Leer eerst maar eens overeind te blijven op een fiets zonder zijwieltjes, goed?"
(First, learn to stay upright on a bike without training wheels, okay?)
NOE

Lorelei:


"Mariana! Jij hebt toch laatst een motor gekocht? Mag ik er 'n keertje mee rijden?"
(Marina! You bought a motorcycle recently, right? Can I ride it sometime?)

Mariana:


"Kun je bij de voetsteunen dan?"
(Can you reach the foot-rests than?)
NOE

Lorelei:


"Ik ben gek op de Lekkerbrektack! Eh... Bekkentreklek... Grrr!"
(I love the Humpbrack Pump Back! Er... Thumbtack Bump Pack... Grrr!)

Mariana:


"Ooit lukt het je, Lorelei."
(Someday you'll succeed, Pearl.)
NOE
Trivia
Names in other languages
Language
Name
Meaning
 Japanese
コンブトラック
kombu torakku
Kombu (kelp) Track
 Dutch
Lekkerbektrack
Lekkerbek (a Dutch baked fish dish) and track
 French
Piste Méroule
Méroule Track (Méroule: From the word "Mérou" (Grouper) and "Roule" (roll, drive))
 German
Buckelwal-Piste
Humpback Whale Course (pun on Buckelpiste (mogul slope/field))
 Italian
Tintodromo Montecarpa
Inktrack Montecarp (pun on the real-life Circuit of Montecarlo)
 Russian
Велозал «9-й вал»
Velozal «9-y val»
From велосипед velosiped, bicycle, зал zal, room, and The 9th wave, which is considered the strongest wave in a storm
 Spanish
Tiburódromo
From tiburón (shark) and velódromo (velodrome)
References