Spire of Order
From Inkipedia, the Splatoon wiki

Fuuuuuture!
This article or section discusses unreleased content. Information is subject to change.
Please review
our policy on rumors and leaks
before adding leaked information.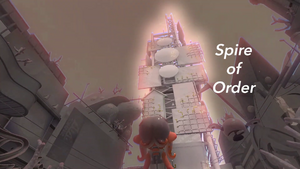 The Spire of Order[1] is the location the Side Order expansion for Splatoon 3 takes place in. The Spire of Order mysteriously replaces Deca Tower in "what has become of" Inkopolis Square in "what would've happened if" Team Order had beaten Team Chaos.[2]
Agent 8 must ascend the spire's many floors to pursue an unknown goal.
Description
The Spire of Order appears as a blanched-out, dilapidated version of Deca Tower with significant metal piping on its exterior. Blank forward-facing panels replace the angled billboards, screens, and signage from Deca Tower. Its layout changes each time Agent 8 enters.[3]
Quotes
"
The SRL Zoning Committee doesn't recall approving a permit for the Spire of Order, the strange tower looming over Side Order. The elevator only takes you up one floor at a time? And the floors change every time you get there?! Who reviewed these blueprints?
"

— @SplatoonNA on Twitter

[4]
"
Wave 2 of the #Splatoon3: Expansion Pass, Side Order, is set in the Spire of Order. Located in what looks like Inkopolis Square (minus the colour) this tower seemingly defies the laws of nature – each time you enter, the layout changes!
"

— @NintendoEurope on Twitter

[5]
Gallery
Etymology
A spire is a decorative pointed structure typically built atop buildings or towers. Order refers to Team Order, the Splatfest team led by Marina that lost the Final Fest in Splatoon 2.
Names in other languages
Language
Name
Meaning
 Japanese

秩序の塔


Chitsujo no Tō
Tower of Order
 Dutch

Toren der Orde

Tower of Order
 French (NOE)

Tour de l'Ordre

Tower of Order
 German

Turm der Ordnung

Tower of Order
 Italian

Torre dell'Ordine

Tower of Order
 Spanish (NOE)

Torre del Orden

Tower of Order
 Chinese

秩序之塔


zhìxù zhī tǎ (Mandarin)
dit6 zeoi6 zi1 taap3 (Cantonese)
Tower of Order
 Korean

질서의 탑

Tower of Order
References
↑ Splatoon 3 for Nintendo Switch - Expansion Pass - Inkopolis & Side Order DLC - Nintendo Official Site