Manta Maria
Manta Maria is an online multiplayer stage in Splatoon 2. It takes place on a large boat. The stage was revealed, though briefly shown in the Splatoon 2 Nintendo Direct on July 6th, 2017, before an official name and release date was revealed on August 22, 2017. The stage was released on August 26, 2017 at 02:00 UTC.[1]
Layout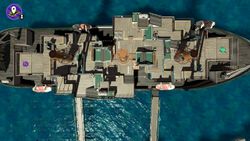 The key point of this stage is the offensive and defensive battle around the three huge masts and the area covered in netting.
Splatoon 2
Splatoon 2
Manta Maria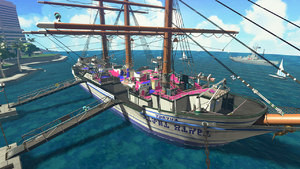 Introduced
August 26, 2017
Total BP
2,356p
Features
Enemy Spawn
Platform
Hazards
This article or section is a stub.
You can help the wiki by

adding

to it.
Version history
Version
Adjustments
1.4.0

Fixed an issue in Manta Maria allowing players to enter into certain pillars in the stage.

2.0.0

Fixed an issue causing ink fired at the center mast on Manta Maria to drip in an unnatural manner.
Fixed an issue causing players to get caught when walking over grates near spawn points on Manta Maria.
Fixed an issue on Manta Maria and Snapper Canal where the "DON'T RETREAT!" warning in Rain Maker was not displaying when players returned to their spawn point.

2.1.0

Fixed an issue on Manta Maria in which, if a player did a Splashdown on a specific place, they would be treated as out of bounds after landing and be killed.
Fixed an issue in Turf War on Manta Maria in which the area beneath the thick pillars was inkable, and was counted as part of the turf.
Fixed an issue in Tower Control on Manta Maria in which players were able to jump from a high spot near the center of the stage to a part of the opponents' base.

3.0.0

Fixed an issue in Manta Maria during Rainmaker matches allowing players to make their way deep into enemy turf from above the goal.
Maps
Gallery
A promotional image for the ship, CHIKYU, appearing in the background of the Manta Maria stage as part of the JAMSTEC collaboration.

The CHIKYU in the distance, behind an Inkling boy.
Quotes
Trivia
The map's name is a reference to manta rays and to Christopher Columbus's ship, Santa María.
The ship in this stage is the same model as one Pearl received for her sixth birthday.
Names in other languages
Language
Name
Meaning
 Japanese
マンタマリア号
Manta Maria gō
the Manta María
 Dutch
Klipvisklipper
Salted Cod Clipper
 French
Manta Maria
Manta Maria
 German
Manta Maria
Manta Maria
 Italian
Manta Maria
Manta Maria
 Russian
Манта Мария
Manta Mariya
Manta Maria
 Spanish
Corbeta Corvina
Brown meagre corvette
References