Cephalon HQ
Jump to navigation
Jump to search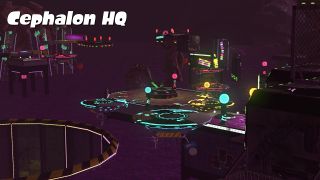 Cephalon HQ is the fifth and final sector of Octo Canyon of Splatoon 2. The area holds 6 Kettles and one boss kettle. It is an area of floating islands above a lake of Octarian ink. The only way to reach around the section is through moving platforms lit in blue, pink, yellow, and green. There is a large hole in the area that leads to Tide Goes Out, the final boss mission. The boss kettle is the only way to enter the mission, though. Jumping in the hole will cause the same effect as jumping into water.
Missions
Collectibles
Go to the checkpoint that has both the yellow and green light pole. There is an invisible platform at the bottom of the broad side that has the green lightpole. Jump down there and destroy the orange crate that holds the Sardinium.
There is a green balloon circling around the tentacle rock structure at holds Mission 25. Ride the yellow-lit moving platform and pop the balloon, where the next set of green balloons appear along the path of the moving platform. The second ballon at the checkpoint with a yellow and green-lit light pole. The third is a set of two balloons near the next checkpoint, and the fourth is also a pair around the starting point of the section. The fifth balloon appears across the other side of the starting point and contains the Sardinium, which ends up landing on an invisible platform. To get to it take the pink-lit moving platform and get off near the end of its path, where there is another invisible platform. Get on it and jump to the platform that has the Sunken Scroll.
Names in other languages
| Language | Name | Meaning |
| --- | --- | --- |
|  Dutch | Tentakelthuisbasis | Tentacle home base |
Translation notes
This article or section needs more images!
You can help the wiki by

adding some

to keep it looking fresh!