Skipper Pavilion
Skipper Pavilion is a stage in Splatoon 2 added in version 4.1.0.[1][2]
Layout
Design
When a team first spawns, they will see that the stage design was probably influenced by Japanese architecture. In the distance, they may see jellyfish rowing along the water, rocks with trees, and a skyline of a distant city. The stage seems to be surrounded by water and is elevated by giant metal rods that are planted in the water. There are many areas throughout the stage where objects will be found such as pillows, mats, and steel plates. Also throughout the stage, they will see things such as display cases, jellyfish, bulletin boards, and what seems to be two fish-like creatures that are black with teal circles on their fins (similar to the design of the inkrails before being inked in hero mode).
Ranked Battle Terrain
In Ranked Battle, specifications for the terrain or placement of objects are different between the modes; these changes create new paths or new objects to take cover behind.
Splatoon 2
Splatoon 2​
Skipper Pavilion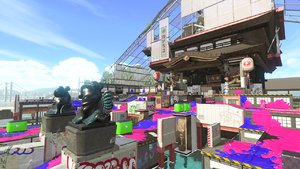 Introduced
October 2, 2018
Total BP
2,439p
Features
Inkrails(

SZ

), Sponges(

SZ

)
Enemy Spawn
Platform
Inaccessible (Except

RM

and

CB

)
Hazards
Maps
Quotes
Gallery
Trivia
Skipper Pavilion has mirror symmetry rather than rotational symmetry, similar to Saltspray Rig and the tenth Shifty Station layout.
In Skipper Pavilion statues of old Rainmakers, suction bombs, and several weapons are displayed in several parts of the stage.
Skipper Pavilion's name may be a reference to the real-life mudskipper.

This is supported by the fact that some of the statues resemble mudskippers in both shape and color.

When the stage is brought up by Off the Hook during the 'Current Maps' segment, Marina will sometimes mention that there is a rumour saying that splatting someone between the two large iron statues in the middle of the map will bring "good luck". However, this is not known to do anything yet, and is most likely just in-game lore.
Names in other languages
Language
Name
Meaning
 Japanese
ムツゴ楼
Mutsugo Rō
Mutsugo Tower. A pun on Mutsugorō, mudskipper.
 Dutch
Palingpaviljoen
Eel pavilion
 French
Lagune aux gobies
Goby lagoon
 German
Grundel-Pavillon
Goby pavilion
 Italian
Padiglione Capitone
Eel Pavilion
 Russian
Парк «Во Сток»
Park «Vo Stok»
"Into the Drain" Park, a pun on восток vostok, East.
 Spanish
Puerta del Gobio
Goby Gate
References