Flooders in the Attic
Jump to navigation
Jump to search
Splatoon 2​
Flooders in the Attic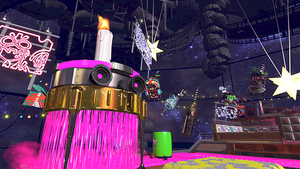 Flooders in the Attic is a multiplayer stage in Splatoon 2. It was the eighteenth variation of Shifty Station, and first appeared in the Fam vs. Friend Splatfest. It returned in the Chaos vs. Order Splatfest. As of Version 5.0.0, it is exclusively available in Private Battles. Flooders are the main feature of this stage, surveying small areas on both sides of the stage. Bounce Pads can be used to ride on top of the Flooders.
Gallery
Maps
Turf War - The inked turf shows the path of the Flooders.
Trivia
The file name for this stage is "Deli18" and the codename is "Dozer". "Octo Dozer" is the Japanese name for Flooders.
Etymology
Flooders in the Attic is named after Flowers in the Attic, the first book in the Dollganger Series by V. C. Andrews.
Names in other languages
Language
Name
Meaning
 Japanese
ドーザームーン
Dōzā Mūn
Flooder Moon. A pun on Bishōjo Senshi Sērā Mūn (Pretty Soldier Sailor Moon), by Naoko Takeuchi.
 Dutch
Dolle Douchers
Out of control Flooders
 French
Passion sous pression
Passion under pressure
 German
Flut der Gefühle
Flood of feelings
 Italian
Verniciatori lunatici
Lunatic Flooders
 Russian
Роболей-зона
Roboley-zona
Flooder-zone
 Spanish (NOA)
Vía Entintador
Flooder Way
 Spanish (NOE)
Vía Tintapisonadora
Flooder Way