Shellendorf Institute
From Inkipedia, the Splatoon wiki
Splatoon 2
Shellendorf Institute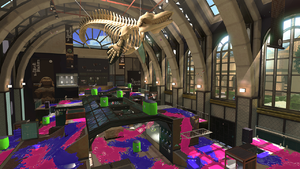 | | |
| --- | --- |
| Introduced | January 12, 2018 |
| Total BP | |
| Features | |
Shellendorf Institute is a multiplayer stage in Splatoon 2. The stage was released on January 12, 2018 at 02:00 UTC. It takes place inside a history museum.
Gallery
A male Inkling firing an E-liter 4K.

Two Inklings on Shellendorf Institute. One firing a Luna Blaster and the other swinging an Inkbrush.
Quotes
Trivia
Shellendorf Institute was initially shown in the 2.0. announcement video that was released on November 21, 2017.
One of the exhibits includes what appears to be three DNA strand models, each with a sign on the bottom left depicting a pair of headphones and a smartphone displaying a symbol. This is a reference to the concept of a song being contained in the DNA of every Inkling, which has been mentioned in Sunken Scroll 23 from Splatoon and in the liner notes of Splatune.
The stage shares similarities to Hammerhead Bridge from Splatoon. There are multiple levels and the top level on Shellendorf Institute has hardly any inkable surfaces.
The Institute appears to be a Museum, with exhibits, skeletons and signs everywhere showing the prohibitions, including what seems to be photography, drinks and kissing.
Names in other languages
Language
Name
Meaning
 Japanese
デボン海洋博物館
debon kaiyō hakubutsukan
Devon (Devonian) Oceanographic Museum
 French
La Galerie des Abysses
The Abyss Gallery
 Spanish
Galería Raspa
Fishbone Gallery
This article or section is a stub.


You can help the wiki by adding to it.