Shellendorf Institute
Shellendorf Institute is a multiplayer stage in Splatoon 2. It takes place inside a history museum.
Layout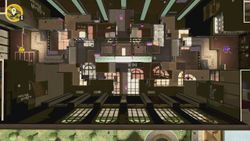 Ranked Battle Terrain
Splatoon 2
Shellendorf Institute was released on January 12, 2018 at 02:00 UTC.
Version history
Version
Adjustments
2.2.0

Adjusted the lighting in Shellendorf Institute so the brightness doesn't blow out depending on how light is reflected into the camera.
Fixed an issue on Shellendorf Institute in which, when certain unsinkable walls are hit with ink, the game would show the same animation as inking an inkable wall.
Fixed an issue on Shellendorf Institute in which bombs thrown at certain walls would disappear without exploding.
Fixed an issue on Shellendorf Institute in Splat Zones and Tower Control in which players could briefly through the surface of certain areas of terrain.
Fixed an issue on Shellendorf Institute in Turf War, Splat Zones, and Clam Blitz in which the box in the center would not be displayed on the Turf Map.

2.2.1

Fixed an issue when playing Splat Zones in Shellendorf Institute where certain obstacles were only appearing on one team's side of the map.

2.3.0

Fixed an issue on Shellendorf Institute in which a player climbing a pillar near the center of the map would pass through the terrain and fall.
Fixed an issue on Shellendorf Institute in which, when the player throws something like the Suction Bomb at the edge of a glass roof, the bomb would go into the roof and get stuck.
Made it so that the top of exhibit displays within Splat Zones are not counted towards zone control in Splat Zones on Shellendorf Institute.
Maps
Gallery
A male Inkling firing an E-liter 4K.

Two Inklings on Shellendorf Institute. One firing a Luna Blaster and the other swinging an Inkbrush.
Quotes
Trivia
Shellendorf Institute was initially shown in the 2.0. announcement video that was released on November 21, 2017.
As the name suggests, it is perhaps owned or founded by Ammoses Shellendorf. However, this connection is only made in the English name of the stage, and not in any other language.
One of the exhibits includes what appears to be three DNA strand models, each with a sign on the bottom left depicting a pair of headphones and a smartphone displaying a symbol. This is a reference to the concept of a song being contained in the DNA of every Inkling, which has been mentioned in Sunken Scroll 23 from Splatoon and in the liner notes of Splatune.
The stage shares similarities to Hammerhead Bridge from Splatoon. There are multiple levels and the top level on Shellendorf Institute has hardly any inkable surfaces.
The Institute appears to be a Museum, with exhibits, skeletons and signs everywhere showing the prohibitions, including what seems to be photography, drinks and kissing.
Names in other languages
Language
Name
Meaning
 Japanese
デボン海洋博物館
debon kaiyō hakubutsukan
Devon (Devonian) Oceanographic Museum
 Dutch
Vistorisch museum
Fish-storical

*

museum
 French
La Galerie des Abysses
The Abyss Gallery
 German
Abyssal-Museum
Abyss Museum
 Italian
Il Museo paleontonnologico
The Paleontological Museum
 Russian
музей «Мезозой»
Muzey "Mezozoy"
Mesozoic Museum
 Spanish
Galería Raspa
Fishbone Gallery