Ye Olde Cloth Shoppe
Jump to navigation
Jump to search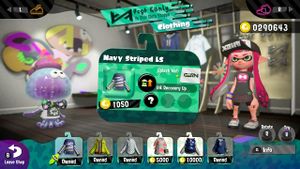 Ye Olde Cloth Shoppe is a shop run by Jelfonzo in Splatoon 2. It is found to the left of Inkopolis Square, and the first (front) of Galleria.
Description
Ye Olde Cloth Shoppe sells shirts and jackets that can be purchased with cash earned from multiplayer matches and Salmon Run. Players can tilt
to rotate their Inkling and click
to try on the highlighted item, and pressing
purchases this item. Pressing
displays further information about the selected item. Pressing
zooms in on the player's torso, allowing for a closer look at the clothing. Pressing
allows players to enter Shella Fresh and pressing
similarly allows them to enter Headspace, while pressing
takes players back to Inkopolis Square.
Merchandise
List of Ye Olde Cloth Shoppe merchandise in Splatoon 2
| | Name | Brand | Availability | Ability | Rarity |
| --- | --- | --- | --- | --- | --- |
| | Aloha Shirt | Forge |  700 | Ink Recovery Up | |
| | Anchor Sweat | SquidForce |  2,800 | Cold-Blooded | |
| | Annaki Blue Cuff | Annaki |  4,800 | Special Saver | |
| | Annaki Drive Tee | Annaki |  5,500 | Thermal Ink | |
| | Annaki Evolution Tee | Annaki |  8,800 | Respawn Punisher | |
| | Annaki Red Cuff | Annaki |  4,800 | Haunt | |
| | Baby-Jelly Shirt | Splash Mob |  1,350 | Bomb Defense Up | |
| | Baby-Jelly Shirt & Tie | Splash Mob |  3,800 | Cold-Blooded | |
| | Baseball Jersey | Firefin |  10,000 | Special Charge Up | |
| | B-ball Jersey (Away) | Zink |  800 | Ink Saver (Sub) | |
| | B-ball Jersey (Home) | Zink |  2,300 | Special Saver | |
| | Berry Ski Jacket | Inkline |  3,900 | Special Power Up | |
| | Birded Corduroy Jacket | Zekko |  10,400 | Run Speed Up | |
| | Black 8-Bit FishFry | Firefin |  600 | Bomb Defense Up | |
| | Black Anchor Tee | SquidForce |  2,800 | Respawn Punisher | |
| | Black Baseball LS | Rockenberg |  800 | Swim Speed Up | |
| | Black Inky Rider | Rockenberg |  12,100 | Sub Power Up | |
| | Black LS | Zekko |  3,000 | Quick Super Jump | |
| | Black Polo | Zekko |  500 | Ninja Squid | |
| | Black Squideye | Tentatek |  500 | Run Speed Up | |
| | Black Tee | SquidForce |  400 | Special Power Up | |
| | Black Urchin Rock Tee | Rockenberg |  850 | Ink Recovery Up | |
| | Black V-Neck Tee | SquidForce |  3,800 | Thermal Ink | |
| | Blue Peaks Tee | Inkline |  400 | Ink Saver (Sub) | |
| | Blue Sailor Suit | Forge |  11,000 | Sub Power Up | |
| | Blue Tentatek Tee | Tentatek |  3,100 | Quick Respawn | |
| | Camo Zip Hoodie | Firefin |  9,000 | Quick Respawn | |
| | Carnivore Tee | Firefin |  500 | Bomb Defense Up | |
| | Chilly Mountain Coat | Inkline |  7,900 | Swim Speed Up | |
| | Chirpy Chips Band Tee | Rockenberg |  900 | Cold-Blooded | |
| | Choco Layered LS | Takoroka |  1,400 | Ink Saver (Sub) | |
| | Crimson Parashooter | Annaki |  9,200 | Special Charge Up | |
| | Custom Painted F-3 | Forge |  9,700 | Ink Resistance Up | |
| | Cycle King Jersey | Tentatek |  8,900 | Bomb Defense Up | |
| | Cycling Shirt | Zink |  2,900 | Cold-Blooded | |
| | Dark Bomber Jacket | Toni Kensa |  12,800 | Special Power Up | |
| | Dark Urban Vest | Firefin |  10,000 | Cold-Blooded | |
| | Eggplant Mountain Coat | Inkline |  7,600 | Special Saver | |
| | FA-01 Jacket | Forge |  10,100 | Ink Recovery Up | |
| | FA-01 Reversed | Forge |  10,100 | Quick Super Jump | |
| | FC Albacore | Takoroka |  1,200 | Respawn Punisher | |
| | Firefin Navy Sweat | Firefin |  2,500 | Sub Power Up | |
| | Firewave Tee | Skalop |  1,250 | Special Charge Up | |
| | Fishing Vest | Inkline |  4,200 | Quick Respawn | |
| | Forge Inkling Parka | Forge |  2,900 | Run Speed Up | |
| | Front Zip Vest | Toni Kensa |  5,500 | Ink Resistance Up | |
| | Fugu Tee | Firefin |  750 | Swim Speed Up | |
| | Grape Hoodie | Enperry |  1,100 | Quick Respawn | |
| | Grape Tee | Skalop |  400 | Ink Recovery Up | |
| | Gray 8-Bit FishFry | Firefin |  800 | Special Charge Up | |
| | Gray College Sweat | Splash Mob |  800 | Swim Speed Up | |
| | Gray Hoodie | Skalop |  1,900 | Sub Power Up | |
| | Gray Mixed Shirt | Zekko |  2,800 | Quick Super Jump | |
| | Green Striped LS | Inkline |  700 | Ninja Squid | |
| | Green Tee | Forge |  1,200 | Special Saver | |
| | Green Zip Hoodie | Firefin |  2,800 | Special Power Up | |
| | Green-Check Shirt | Zekko |  2,000 | Sub Power Up | |
| | Half-Sleeve Sweater | Toni Kensa |  4,100 | Ink Saver (Sub) | |
| | Hightide Era Band Tee | Rockenberg |  900 | Thermal Ink | |
| | Hula Punk Shirt | Annaki |  5,000 | Ink Saver (Main) | |
| | Icewave Tee | Skalop |  1,250 | Ninja Squid | |
| | Inkfall Shirt | Toni Kensa |  4,900 | Special Charge Up | |
| | Inkopolis Squaps Jersey | Zink |  1,250 | Cold-Blooded | |
| | Kensa Coat | Toni Kensa |  9,200 | Respawn Punisher | |
| | King Jersey | Enperry |  3,100 | Respawn Punisher | |
| | Krak-On 528 | Krak-On |  800 | Run Speed Up | |
| | Layered Anchor LS | SquidForce |  4,000 | Run Speed Up | |
| | Layered Vector LS | Takoroka |  1,200 | Special Saver | |
| | Light Bomber Jacket | Toni Kensa |  12,800 | Quick Super Jump | |
| | Lime Easy-Stripe Shirt | Splash Mob |  3,800 | Ink Resistance Up | |
| | Linen Shirt | Splash Mob |  700 | Sub Power Up | |
| | Logo Aloha Shirt | Zekko |  2,900 | Ink Recovery Up | |
| | Lumberjack Shirt | Rockenberg |  800 | Ink Saver (Main) | |
| | Matcha Down Jacket | Inkline |  9,100 | Ninja Squid | |
| | Mint Tee | Skalop |  400 | Bomb Defense Up | |
| | Mister Shrug Tee | Krak-On |  9,200 | Ink Resistance Up | |
| | Moist Ghillie Suit | Forge |  8,500 | Ink Saver (Sub) | |
| | Mountain Vest | Inkline |  11,000 | Swim Speed Up | |
| | Navy Deca Logo Tee | Zink |  1,200 | Ink Saver (Main) | |
| | Navy Eminence Jacket | Enperry |  10,500 | Ink Saver (Main) | |
| | Navy King Tank | Enperry |  600 | Ink Resistance Up | |
| | Navy Striped LS | Splash Mob |  1,050 | Ink Recovery Up | |
| | Negative Longcuff Sweater | Toni Kensa |  11,800 | Haunt | |
| | N-Pacer Sweat | Enperry |  7,800 | Thermal Ink | |
| | Octobowler Shirt | Krak-On |  2,100 | Ink Saver (Main) | |
| | Olive Ski Jacket | Inkline |  11,000 | Run Speed Up | |
| | Olive Zekko Parka | Zekko |  3,800 | Swim Speed Up | |
| | Orange Cardigan | Splash Mob |  700 | Special Charge Up | |
| | Part-Time Pirate | Tentatek |  800 | Respawn Punisher | |
| | Pearl Tee | Skalop |  400 | Ink Saver (Sub) | |
| | Pink Easy-Stripe Shirt | Splash Mob |  3,800 | Quick Super Jump | |
| | Pink Hoodie | Splash Mob |  3,400 | Bomb Defense Up | |
| | Pirate-Stripe Tee | Splash Mob |  700 | Special Power Up | |
| | Positive Longcuff Sweater | Toni Kensa |  10,800 | Swim Speed Up | |
| | Prune Parashooter | Annaki |  7,800 | Ninja Squid | |
| | Pullover Coat | Toni Kensa |  13,200 | Thermal Ink | |
| | Purple Camo LS | Takoroka |  600 | Sub Power Up | |
| | Rainy-Day Tee | Krak-On |  300 | Ink Saver (Main) | |
| | Red Hula Punk with Tie | Annaki |  9,000 | Ink Resistance Up | |
| | Red Tentatek Tee | Tentatek |  3,100 | Swim Speed Up | |
| | Red Vector Tee | Takoroka |  500 | Ink Saver (Main) | |
| | Reel Sweat | Zekko |  900 | Special Power Up | |
| | Reggae Tee | Skalop |  8,200 | Special Saver | |
| | Retro Sweat | SquidForce |  9,000 | Bomb Defense Up | |
| | Rockenberg White | Rockenberg |  2,500 | Ink Recovery Up | |
| | Rodeo Shirt | Krak-On |  750 | Quick Super Jump | |
| | Round-Collar Shirt | Rockenberg |  1,600 | Ink Saver (Sub) | |
| | Sage Polo | Splash Mob |  400 | Cold-Blooded | |
| | Sailor-Stripe Tee | Splash Mob |  700 | Run Speed Up | |
| | School Jersey | Zink |  3,000 | Ninja Squid | |
| | Shirt & Tie | Splash Mob |  8,400 | Special Saver | |
| | Shirt with Blue Hoodie | Splash Mob |  2,900 | Special Power Up | |
| | Short Knit Layers | Toni Kensa |  9,850 | Ink Saver (Main) | |
| | Shrimp-Pink Polo | Splash Mob |  550 | Ninja Squid | |
| | Sky-Blue Squideye | Tentatek |  500 | Cold-Blooded | |
| | Slash King Tank | Enperry |  450 | Thermal Ink | |
| | Slipstream United | Takoroka |  1,800 | Bomb Defense Up | |
| | Squid Satin Jacket | Zekko |  9,200 | Quick Respawn | |
| | Squid Squad Band Tee | Rockenberg |  900 | Ink Resistance Up | |
| | Squidmark LS | SquidForce |  600 | Haunt | |
| | Squidmark Sweat | SquidForce |  800 | Sub Power Up | |
| | Squidstar Waistcoat | Krak-On |  650 | Cold-Blooded | |
| | Striped Shirt | Splash Mob |  2,200 | Quick Super Jump | |
| | Sunny-Day Tee | Krak-On |  300 | Special Charge Up | |
| | Takoroka Galactic Tie Dye | Takoroka |  850 | Thermal Ink | |
| | Takoroka Nylon Vintage | Takoroka |  9,500 | Thermal Ink | |
| | Takoroka Rainbow Tie Dye | Takoroka |  850 | Quick Super Jump | |
| | Takoroka Windcrusher | Takoroka |  8,500 | Cold-Blooded | |
| | Tentatek Slogan Tee | Tentatek |  1,600 | Special Charge Up | |
| | Tricolor Rugby | Takoroka |  700 | Quick Respawn | |
| | Tumeric Zekko Coat | Zekko |  4,600 | Thermal Ink | |
| | Urchins Jersey | Zink |  700 | Run Speed Up | |
| | Varsity Baseball LS | Splash Mob |  700 | Haunt | |
| | Varsity Jacket | Zekko |  11,500 | Ink Saver (Sub) | |
| | Vintage Check Shirt | Rockenberg |  9,000 | Haunt | |
| | Wet Floor Band Tee | Rockenberg |  900 | Swim Speed Up | |
| | White 8-Bit FishFry | Firefin |  800 | Sub Power Up | |
| | White Anchor Tee | SquidForce |  2,800 | Ninja Squid | |
| | White Baseball LS | Rockenberg |  800 | Quick Super Jump | |
| | White Deca Logo Tee | Zink |  1,200 | Ink Resistance Up | |
| | White Inky Rider | Rockenberg |  12,800 | Special Power Up | |
| | White King Tank | Enperry |  600 | Haunt | |
| | White Layered LS | SquidForce |  500 | Special Saver | |
| | White Sailor Suit | Forge |  3,000 | Ink Saver (Main) | |
| | White Shirt | Splash Mob |  7,500 | Ink Recovery Up | |
| | White Striped LS | Splash Mob |  2,300 | Quick Respawn | |
| | White Tee | SquidForce |  400 | Ink Saver (Sub) | |
| | White Urchin Rock Tee | Rockenberg |  850 | Ink Saver (Main) | |
| | White V-Neck Tee | SquidForce |  3,800 | Special Saver | |
| | Yellow Layered LS | SquidForce |  500 | Quick Super Jump | |
| | Yellow Urban Vest | Firefin |  4,100 | Haunt | |
| | Zapfish Satin Jacket | Zekko |  2,900 | Special Charge Up | |
| | Zekko Baseball LS | Zekko |  800 | Bomb Defense Up | |
| | Zekko Hoodie | Zekko |  2,800 | Ninja Squid | |
| | Zekko Jade Coat | Zekko |  3,600 | Respawn Punisher | |
| | Zekko Long Carrot Tee | Zekko |  1,800 | Ink Resistance Up | |
| | Zekko Long Radish Tee | Zekko |  1,450 | Haunt | |
| | Zekko Redleaf Coat | Zekko |  2,600 | Haunt | |
| | Zink Layered LS | Zink |  600 | Respawn Punisher | |
| | ω-3 Tee | Firefin |  1,200 | Respawn Punisher | |
Quotes
Gallery
Names in other languages
Language
Name
Meaning
 Japanese
フエール・ボン・クレー
Fuēru Bon Kurē
It can be read as "(Jellyfishes) increase at bon season and year-end"
 Dutch
Kwallietijd
From "kwal" (jellyfish) "kwaliteit" (quality) and "tijd" (time)
 French
Culture Couture
Culture dressmaking
 German
Zierfesch
Ornament handsome, Fesch is also dialectal for Fisch (fish)
 Italian
Atelier Celenteron
Coelenterate workshop
 Russian
СтилЪ
Stil
From стиль "stil" (style)
 Spanish
Prêt-à-Poulpe
Means "Ready to Octopus" in French