MakoMart
MakoMart is a multiplayer stage in Splatoon 2. It is modeled after a supermarket or grocery store.
Layout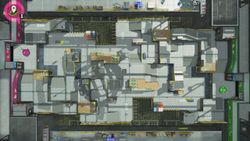 The stage has a left-hand side which can be used to take out enemies from behind, and a right-hand side leading to the enemy team's base, allowing for early kills. Due to having a direct path to the center, MakoMart facilitates a quick pace.

Ranked Battle Terrain
Splatoon 2
Splatoon 2
MakoMart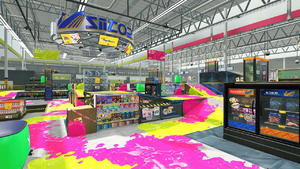 MakoMart was released on November 24, 2017 at 02:00 UTC.
Version history
Version
Adjustments
2.1.0

Fixed an issue on MakoMart in which if a certain wall was hit with a bomb, ink would splash onto a nearby wall that players were occasionally unable to submerge into.
Fixed an issue on MakoMart in which a certain railing could be seen through by pulling the camera close to it.
Slightly adjusted the tower path in Tower Control on MakoMart in order to fix a rare issue in which the player could be sandwiched between the tower and terrain, causing them to be pushed inside the terrain.
Adjusted the direction of the turf map on MakoMart to display the Alpha team's start point on the left-hand side of the screen as like other maps.

2.3.0

Changed the location of some Inkrails in Rainmaker on MakoMart making it so that they cannot be used to carry the Rainmaker to a high platform in your team's base.
Maps
Gallery
Quotes
Trivia
Nintendo specifically made sure to get MakoMart ready for Black Friday in the US and Canada.[1]
The stage name is a reference to the genus Isurus, known as mako sharks.
Names in other languages
Language
Name
Meaning
 Japanese
ザトウマーケット
zatō māketto
Humpback-whale Market
 Dutch
Bultrugbazaar
Humpback-whale Market
 French
Supermarché Cétacé
Cetacean Super Market
 German
Cetacea-Markt
Cetacea Market
 Italian
Mercatotano
 Russian
Горбуша-Маркет
Gorbusha-Market
 Spanish
Ultramarinos Orca
Orca Corner Store
References