Zipcaster
Jump to navigation
Jump to search
Fuuuuuture!




This article or section discusses unreleased content. Information is subject to change.
Please review our policy on rumors and leaks before adding leaked information.
The Zipcaster is an upcoming special weapon in Splatoon 3.
Appearance
Activating the Zipcaster coats the user in team-colored ink. It also gives the user a "helmet" resembling their squid or octopus form and a "scarf" resembling their tentacle, both of which depend on the user's species. The user can also stretch their arms while in this form.
Splatoon 3
Splatoon 3
Zipcaster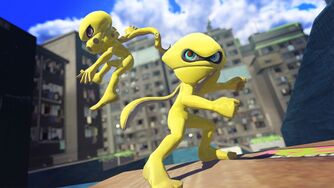 Category
Special
Class

Sub

Special

Special points

Special depletion

Range
Damage
Impact
Fire rate
Charge speed
Ink speed
Mobility
Durability
Handling
Acquirement

Level

Cost

Requirement
Specifications

Weight

Base 

damage

Base duration
Ink consumption
Base range
Rate of fire
Muzzle velocity
Base accuracy

MPU

effect

SPU

effect

SPU

effect
Other variant
Description
The Zipcaster transforms the user into a form with long, stretchy arms. While in this form, the user is able to grab onto far off walls and travel quickly to the targeted spot, creating a small explosion upon arrival. When the ink runs out, the user will travel back where the special was activated, ending the special. Like the Inkjet, the return spot is visible to all players.
It appears to be part of the Splash-o-matic's and the Octobrush's set.
Gallery
Names in other languages
Language
Name
Meaning
 Japanese
ショクワンダー
shokuwandā
Shock Wonder
 Dutch
Tentakabel
Tentacable
 French (NOE)
Super Mollusque
Super Mollusk
 German
Haftsprung
From haften (to stick) and Sprung (jump)
 Italian
Guerriero molluscatto
Mollusc-click Warrior
 Russian
Краскотрос
Kraskotros
Ink cable
 Spanish (NOE)
Gancho tentacular
Tentacle (grappling) hook
 Korean
쇼크 원더
syokeu wondeo
Shock Wonder