Sprinkler
The Sprinkler is a sub weapon in Splatoon and Splatoon 2.
The Sprinkler continually sprays Ink in a circular ring around itself, in a staggering motion, until it is broken by enemy fire or it once the player who placed it gets splatted. It can be thrown onto virtually any surface, including ones that are upside-down. If the user throws another sprinkler with one already in use, the first one will automatically break. Sprinklers will have an infinite duration unless they are destroyed, replaced, or the owner of said sprinkler is splatted.
Splatoon
Splatoon
Sprinkler

| | |
| --- | --- |
| Category | Sub |
| Class | |
| Sub | |
| Special | |
| Level | |
| Cost | |
| Availability | |
| Base Damage | 30 |
| Base Duration | ∞ |
| Ink Consumption | 70% |
| Special Points | |
| Sp. Depletion | |
| Range | |
| Damage | |
| Impact | |
| Fire Rate | |
| Charge Speed | |
| Ink Speed | |
| Mobility | |
| Durability | |
| Handling | |
"
This device functions just like a lawn sprinkler, spreading ink over a modest 360-degree radius. The narrow streams of ink don't inflict much damage, but Sprinklers are a good way to maintain ink coverage in high-traffic areas during both Turf War and Splat Zones. Instead of tossing it on the ground, where it's likely to be spotted and destroyed, consider throwing it high on a wall—it will stick to any surface, like a Suction Bomb. But you can only deploy one Sprinkler at a time. If you toss a second one out, the first one will disappear. Enemy Sprinklers can be destroyed by shooting them. If left untouched, a Sprinkler will continue spreading ink indefinitely.
"

— Splatoon Prima Guide
Sets
Weapons with Sprinkler in Splatoon
Splatoon 2
Splatoon 2
Sprinkler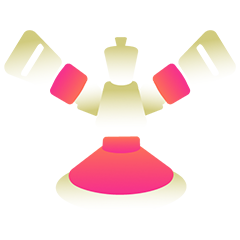 Category
Sub
Class
Sub
Special
Level
Cost
Availability
Base Damage
20
Base Duration
High-power: 5.33s


Mid-power: 16s
Low-power: ∞


Ink Consumption
60%
Special Points
Sp. Depletion
Range
Damage
Impact
Fire Rate
Charge Speed
Ink Speed
Mobility
Durability
Handling
The Sprinkler was tweaked in Splatoon 2 to have its inking power start out stronger but weaken over time. There are four distinct phases:
Deployment phase: This phase starts when the Sprinkler lands on the ground and ends when the Sprinkler fires its first drop of ink. This phase lasts one second.
High-power phase: The Sprinkler spins the fastest and has the most inking power during this phase. It lasts 5.33 seconds.
Mid-power phase: The Sprinkler slows down and inks less in this phase. It lasts 16 seconds.
Low-power phase: The Sprinkler slows down even further, with very low ink output and range. This phase lasts for the remaining lifetime of the Sprinkler.
Version history
Version
Adjustments
Base game

▼

Base damage per hit: 30 → 20

1.3.0

▲

Of the three levels of ink spray the Sprinkler gives off after placement, duration of the medium level of ink spray was extended by 5 seconds.

▲

Ink consumption: 80% → 70%

1.4.0
3.0.0

▲

Decreased ink consumption from 70% to 60% of ink tank capacity.

▲

Decreased degree to which less area is inked proportional to distance between Sprinkler and terrain floor when placed in a location with a different height than surrounding terrain.

▲

Increased durability by roughly 20%.
Due to the above fix, damage dealt by certain attacks has also changed.

▲

Decreased damage dealt by Sting Rays by roughly 58%.

▲

Decreased damage dealt by Ink Storms by roughly 67%.

▼

Increased damage dealt by Nozzlenose weapons by roughly 20%.

▼

Increased damage dealt by Blaster weapons by roughly 20%.

▼

Increased damage dealt by vertical swing attacks with Roller weapons by roughly 20%.

▼

Decreased range of ink droplets and area of coverage during time after placement until Sprinkler output begins to weaken.
Sets
Weapons with Sprinkler in Splatoon 2
Tips
The most effective spots for Sprinklers are those that are hard to see or reach. These include on top of boxes, sideways on walls, or on objects over the stage.
Exploring stages in Recon mode makes it easy to find strategic locations for Sprinklers without the pressure of a battle.
Putting a Sprinkler directly at one's feet can allow a chance to react should an enemy launch a sneak attack.
Sprinklers placed on or near the tower in Tower Control can provide some cover for the user and their allies.
Like Squid Beakons, Sprinklers can be used as light shields in a pinch, taking some damage in place of the user.
Also like Beakons, Sprinklers work as bait to attract players and abush them while reaching to destroy the sprinkler.

Even when not used as shields, the attention drawn by an unguarded Sprinkler can be used to one's advantage for an ambush or escape.
Countering
One should avoid getting too close to enemy Sprinklers - while their damage is low, multiple hits can be dangerous.
A Sprinkler may be bait, especially if stuck to a high wall or ceiling. It would be wise to keep an eye on one's surroundings when destroying it.
Trivia
The Dolphin logo can be found on the lower part of the Sprinkler
Marie calls throwing a Sprinkler in the last few seconds of a battle in order to gain a bit more turf Last Seconds of Summer.
Gallery
Concept art of various Sub Weapons, with the Sprinkler at the upper left.

Sprinkler covers the ground around him making it difficult for the enemy Inklings to walk.
Names in other languages
Language
Name
Meaning
 Japanese
スプリンクラー
Supurinkurā
Sprinkler
 Dutch
Inktsprinkler
Ink sprinkler
 French (NOA)
Gicleur
Sprinkler
 French (NOE)
Fontaine
Fountain
 German
Sprinkler
Sprinkler
 Italian
Spruzzatore
Sprinkler
 Russian
Распылятор
Raspylyator
 Spanish
Aspersor
Sprinkler