REEF-LUX 450
From Inkipedia, the Splatoon wiki





The REEF-LUX 450 is a main weapon in Splatoon 3.
Appearance
The REEF-LUX 450 appears to be based on a knot assist, a tool used for fishing, and a reflex bow. The bottle at the tip also shares similarities to a yakult bottle.
Splatoon 3
Splatoon 3
REEF-LUX 450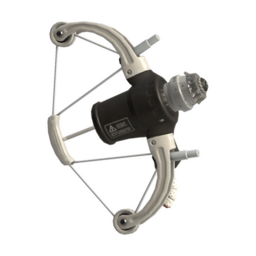 The REEF-LUX 450 was first shown in a Salmon Run gameplay video[1] before being officially announced or seen in-game. Compared to the Tri-Stringer, it is faster, lightweight, has a shorter range, has non-explosive shots and can hold a full charge for a short while in swim form.
While the weapon image and data for the REEF-LUX 450 could not be found in the files for the Splatoon 3 Splatfest World Premiere, dataminers were able to locate Sheldon's description of the weapon, which also names the sub and special weapons in its kit. It was officially announced on 6 September 2022.[2]
Version history
Quotes
Sheldon's Introduction

The REEF-LUX 450 is a lighter version of the Tri-Stringer that's a bit more user-friendly for folks who are new to stringer-type weapons. Like most lightweight weapons, it doesn't pack the biggest punch or range - no exploding charged shots here - but it does offer the ability to store a charge. This set comes with Curling Bombs to help you close the gap into enemy turf quickly, letting you take full advantage of the nimble nature of your main weapon. And when you want to make a big impact in a hurry, don't forget about your Tenta Missiles. You can make it rain missiles on opponents out of range of the REEF-LUX. This is a highly mobile loadout that lets you fight with flexibility and still take down powerhouse opponents. I hope you give it a try!

"
SRL here with findings on a new stringer: the REEF-LUX 450! We believe the "450" refers to the 45 damage this exceedingly mobile stringer deals with each shot. It can store a charge, but be warned - ink shots do NOT explode on impact. You'll need to hit opponents directly!
"

— @SplatoonNA on Twitter

[3]
Badges
Main article: Badge#Weapon freshness
Reaching certain Freshness levels with the REEF-LUX 450 will reward the player with special badges that they can use on their Splashtag.
REEF-LUX 450 Badges
4★ REEF-LUX 450 User
5★ REEF-LUX 450 User
Gallery
Trivia
Etymology
REEF-LUX is a play on "reflex bow", "reef", and possibly "acid reflux" and "deluxe".
"450" refers to the 45 damage the weapon deals per shot.
Names in other languages
Language
Name
Meaning
 Japanese

LACT-450


rakuto-yonhyaku-gojū
From lactic or Lactobacillus. The weapon's front design resembles a bottle of Yakult, a popular Japanese lactic drink (fermented milk with Lactobacillus), notably popular for relieving the symptoms of acid reflux, an aspect reflected in its English name.
 Dutch
RIF-LEX 450
From rif ("reef") and reflex, similar to the English name
 French
Coralux 450
From corail ("coral")
 German
LACT-450
LACT-450
 Italian
ARCO-RAL 450
A pun between arco ("bow") and corallo ("coral")
 Russian

КО-РАЛЛ 450


KO-RALL 450
CO-RAL 450
 Spanish
AR-CR0 450
From arco (bow) and Arcromatizador (Stringer)
 Chinese

LACT-450

LACT-450
 Korean

LACT-450

LACT-450
References