Tri-Slosher
Jump to navigation
Jump to search
The Tri-Slosher is a main weapon in Splatoon and Splatoon 2.
It is a slosher-type weapon that is separated into three sections and is similar in appearance as a Japanese brush washer bucket. As its appearance implies, it can throw in three different directions. It covers a straight line forward and two splotches to the side. The range is short compared to other sloshers.
The weapon consumes 6% of the ink tank capacity with each slosh, allowing players to slosh sixteen times before needing to refill. Each slosh does enough damage to splat opponents in two hits.
Splatoon
Splatoon
Tri-Slosher

The Tri-Slosher was released on 26 September 2015 at 02:00 UTC.[1] It comes with

Disruptors and the

Bubbler.
Version history
Version
Adjustments
2.2.0

▲

Damage against Rainmaker shields increased by about 33%.

2.7.0

▼

Special gauge loss: 50% → up to 60%
Gallery
Demonstration
Splatoon 2
Splatoon 2
Tri-Slosher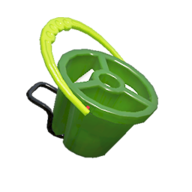 The Tri-Slosher returns in Splatoon 2, looking identical to how it did in the first game. It comes with

Burst Bombs and

Ink Armor.
Version history
Version
Adjustments
Base game

▼

Movement speed while firing: 0.70 → 0.60

1.1.2

▼

Points to fill special gauge: 180 → 210

1.3.0

▼

Damage per shot reduced: 62.0 → 52.0

▼

Range decreased by about 9%.

1.4.0

—

Fixed an issue causing Slosher-type weapons to shoot ink from a higher position than they appeared to.

2.0.0

▲

Increased movement speed while firing by 10%. : 0.6 → 0.66

▲

Damage per shot increased: 52.0 → 62.0

▲

Points to fill special gauge: 210 → 190

4.2.0

▲

Changed the weapon from a middleweight to a lightweight weapon.

4.3.1

▲

Increased the effect of the Main Power Up gear ability.

▲

The boost to the radius of ink coverage for the middle portion of shots that strike an object mid-shot when the maximum number of Main Power Up gear abilities are equipped has been increased from roughly 20% to roughly 25%.

▲

The effect provided by Main Power Up is now more easily triggered, even with fewer instances of the gear ability equipped.

4.5.0

▲

Extended forward the central shot's point of impact.
Gallery
A female Octoling leaning on a Tri-Slosher.
Demonstration
Quotes
Etymology
Tri-Slosher is derived from the verb 'to slosh' and 'tri', a shortening meaning 'three'.
ヒッセン Hissen means 'Brush Washer'. 筆洗 Hissen are segmented buckets that are used for cleaning paintbrushes.
Names in other languages
Language
Name
Meaning
 Japanese
ヒッセン
Hissen
Brush Washer
 Dutch
Triomorser
From trio (tri) and morsen (to spill) and -er, suffix used for machinery
 French (NOA)
Seauceur trio
Trio slosher
 French (NOE)
Dépoteur
 German
3R-Schwapper
3R Slosher ("3R" is a pun on German word "Dreier" for a trio or triplet)
 Italian
Secchiostro triplo
Triple Slosher.
 Russian
Ведроган 3 в 1
Vedrogan 3 v 1
Slosher 3 in 1
 Spanish
Derramatic triple
Triple Slosher. Derramatic comes from derramar (to spill) and automático (automatic)
References