Dualie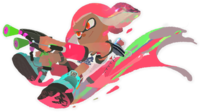 Dualie is a main weapon type introduced in Splatoon 2. Weapons of this type have the capability to dodge roll, allowing for both defensive and offensive maneuvers.
List of dualies
Series
Description
Variants
Games

Dapple Dualies
These dualies have a quick dodge roll, a fast firing rate, and high-damage shots that splat opponents in three hits. However, they are quite lacking in range.
Dapple Dualies
✓
Dapple Dualies Nouveau
✓

Splat Dualies
The first pair of dualies in the Splatoon series. They feature balanced performance, having no particular strength or weakness.
Splat Dualies
✓
Enperry Splat Dualies
✓
Hero Dualie Replicas
✓
Kensa Splat Dualies
✓

Glooga Dualies
A long-range, high-damage pair of dualies with a low fire rate. Shot damage and range increases after a dodge roll, splatting opponents with two hits.
Glooga Dualies
✓
Glooga Dualies Deco
✓

Dualie Squelchers
This pair of dualies has the longest range in its class, as well as the most mobile dodge roll. The dodge roll is quick, and allows the user to continue to slide instead of being locked in place.
Dualie Squelchers
✓
Custom Dualie Squelchers
✓

Tetra Dualies
These dualies put a significant emphasis on mobility. They allow up to four consecutive dodge rolls instead of the normal two, and also allow shooting while rolling.
Dark Tetra Dualies
✓
Light Tetra Dualies
✓
Gallery
Promo renders
Trivia
The Dualie's losing animation was changed from the Splatoon 2 Global Testfire version and the official release. The testfire had the Inkling swing the Dualies down while looking at them annoyed or looking off annoyed if they were a boy or girl respectively; the official release has both of the genders swing them down and spin one of them around their finger disappointingly.
Names in other languages
Language
Name
Meaning
 Japanese
マニューバー
manyūbā
Maneuver
 Dutch
Dubbelknallers
Double shooters
 French
Armes doubles
Double arms
 German
Dopplerklasse
Double class
 Italian
Armi "duplo"
Double arms
 Russian
Двойной класс
Dvoynoy klass
Double class
 Spanish
Clase Dual
Dual class